Amplicom™ USA, Wantagh, NY, is introducing a new modular generation of amplified telephones and accessories designed to offer the hearing loss community the highest quality, functionality, and versatility.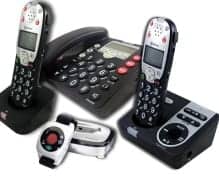 The new PowerTel 7-Series collection includes more than 20 different configurations of phones, accessories, and special features, including cordless and corded phones, answering machines, handsets, wireless shakers, Bluetooth connectivity, DECT, and voice navigation. According to the company, the series, which can be purchased according to the user's needs, offers the same excellent induction level, exceptionally low distortion (versus conventional amplified phones) for which Amplicom products have always been known, along with an unprecedented level of customization.
The series also features a sleek modern ergonomic design, with black, white, red, and titanium accents, and an option for talking buttons on the units, facilitating use for low-vision consumers.
"No case of hearing loss is identical to the next, and telephone solutions for those who have some degree of the condition are not one-size-fits all," says Michael Abramowitz, president of Amplicom USA. "That's why we feel it is important to offer our consumers a modular approach so they can customize their telecommunications packages to fit their needs as well as their lifestyles."
According to Amplicom, PowerTel 7-Series corded and cordless amplified telephones and accessories have met and exceeded the TIA-1083 standard for "superior" hearing aid compatibility developed by the Telecommunications Industry Association in conjunction with the Hearing Loss Association of America. Products are said to be fully compatible with both hearing aids and cochlear implants and do not require users to remove these devices.
The phones allow settings to be adjusted and set for multiple hearing profiles; this means that each member of the household can switch to his or her own preferred volume and frequency at the touch of a button.
For more information on the PowerTel 7-Series, visit: http://www.amplicomusa.com
Source: Amplicom USA