In the December 2013 Hearing Review Digital Edition…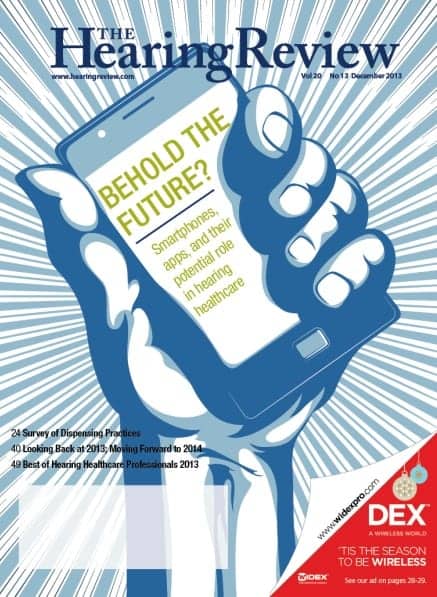 Utility of Smartphone-based Hearing Aid Applications as a Substitute to Traditional Hearing Aids, By Amyn M. Amlani, PhD; Brian Taylor, AuD; Charla Levy; and Rachel Robbins
Results from this study indicate that the intended use of smartphone-based hearing aid applications is to provide temporary assistance to individuals with hearing deficits. However, for previous users of smartphone hearing aid applications to adopt hearing aids, manual volume control and/or frequency-gain response may be needed in the subsequently prescribed hearing aids.
2013 Survey of US Dispensing Practice Metrics, Part 1, By Phonak Marketing
A look at some "Best in Class" dispensing benchmarks and what distinguishes these practices from the rest.
Role Play in Clinical Interaction, By Lisbeth Dons Jensen
Role play may suggest to the reader a notion of dishonesty and hiding of the truth. On the contrary, role playing is a mode of collaboration, a constructive adaptation that serves to facilitate positive outcomes of the interaction for all participating individuals.
Looking Back at 2013; Moving Forward to 2014
HR's annual look, from the perspective of industry participants, at the new product and service offerings and events in 2013, as well as what might be expected for 2014 and beyond.
Best Hearing Healthcare Professionals of 2013
A directory of top hearing care providers and select businesses and organizations.
Departments
Staff Standpoint | Total Communication Devices, By Karl E. Strom
Blog Page | Trimming the Sails: Incubators for Market Expansion, By Christopher Schweitzer, PhD
Back to Basics | What Is "Effective Quiet" for Music and Noise?, By Marshall Chasin, AuD
Final Word | Diary of a Cricket Hunter: Localization and Mic Location Can Be Important, By Dennis Van Vliet, AuD