Westone, Colorado Springs, Colo, has added a new impression material to its cartridge line. SiliClone® X-act combines the accuracy and dimensional stability of Westone's S-50 cartridge material with clean and easy flow characteristics similar to those seen in a higher viscosity syringe material, like Westone's Pink Silicast® or Silicone Singles.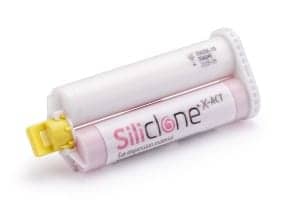 Requiring only nominal hand strength, X-act is easily expressed from a manual impression gun or it can be used with an electric impression gun. With its faster curing time of 3-4 minutes, and better flexibility, the material greatly improves patient comfort. X-act is ideally suited for pediatrics, special needs, and elderly patients with loose ear anatomy or collapsible canals.
Westone is a major provider of professional supplies, custom earpieces for hearing aids, custom hearing protection products, in-ear musicians' monitors, premium earphones for personal listening, and specialty communication products for military and law enforcement agencies.
Source: Westone