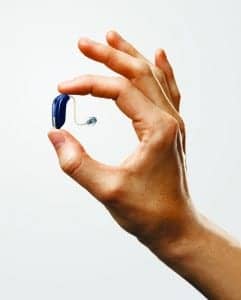 Advanced audiology and hearing aid technology company Oticon has announced that the Oticon Opn™ won awards in two categories in the CES 2017 Innovation Awards. The international awards program recognizes innovative design and engineering in some of the world's most cutting-edge consumer technology products and services.
According to Oticon, Opn is the world's first internet-connected hearing aid. Oticon's newest BrainHearing™ solution offers a range of features to benefit people with hearing loss, including the ability to connect seamlessly to smart devices and smartphones and manage the challenge of noisy environments with multiple speakers. As a hearing device, the Opn is considered to embrace the "Internet of Things That Matter" and leverages the benefits of smart devices and connected homes.

At the CES Innovation Awards, the first award the Opn received, Tech for a Better World, celebrates products that share a common goal or ability to impact the world in a positive way. The second award, Wearable Technologies, covers the burgeoning wearables market of electronic devices that utilize sensors for navigation, information-gathering and transmission, or other sensory enhancements.
"We are proud to have Oticon Opn recognized by the CES Innovation Awards for excellence in two categories that resonate so powerfully with consumers," said Oticon President Gary Rosenblum. "Opn is a discreet, state-of-the-art wearable technology that contributes to a better world for people with hearing loss and empowers them to take full advantage of both the world of sound and the almost limitless possibilities of the Internet of Things."
The CES Innovation Awards are sponsored by the Consumer Technology Association (CTA) ™, the producer of CES 2017, the global gathering place for all who thrive on the business of consumer technologies. Oticon will exhibit at the upcoming CES 2017 from January 5-8 2017 in Las Vegas. Oticon Opn™ will be among the outstanding consumer electronics showcased in a gallery of 2017 award honorees on the conference floor. For more information, please visit the Oticon website.
Source: Oticon