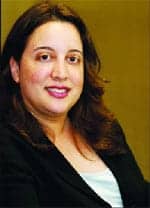 With all of the examples of hatred and discrimination throughout the world highlighted daily in the news, it was disheartening to read about recent events unfolding at Gallaudet University, Washington, DC. The board of trustees' selection of Jane K. Fernandes, PhD—currently the campus provost—as Gallaudet's ninth president has been met with outcries from faculty, students, and others. Some claim their protest stems from a dislike of Fernandes' work as provost, while others claim she would not be a good representative of the university. According to reports, Fernandes believes the uproar comes down to her not being "deaf enough" for her critics.
Fernandes was born deaf, but grew up speaking, learning American Sign Language—the main communication at Gallaudet—in her 20s. Ironically, Gallaudet's faculty gave her a no-confidence vote, with one professor stating Fernandes does not "represent truly our deaf community."
Fernandes appears to be in a gray area: Is she in the Deaf or the Hearing Community? How much hearing loss does someone have to have to belong to one or the other? I'm not talking about decibels on a chart, but a sense of belonging.
Fernandes' life experiences could be just the right match to represent the Deaf Community and its culture, while creating a link with the Hearing Community so that the two better understand and appreciate each other's "differences."
Fernandes received the support of I. King Jordan, PhD, Gallaudet's current—and first deaf—president. Jordan's own appointment came after student protesters demanded a deaf president. Hard to believe that in more than 100 years since the university's creation, not one of the seven presidents before Jordan was deaf. Jordan called the uproar over Fernandes a squabble about "what it means to be deaf."
The selection of a university's president should not rest on their level of hearing loss, religious beliefs, or skin color. Fernandes should be judged on her capabilities and accomplishments—including being a published author of various scholarly publications and the soon-to-be-released book Signs of Eloquence: A Study of Deaf American Public Address; and a guest speaker at numerous conferences, including one in May in Bangkok, Thailand, where she was selected as keynote speaker at the First World Congress on "The Power of Language: Theory, Practice, and Performance"—not on the extent of her hearing loss.
Unfortunately, the only sounds that rise to the surface with this issue are the tolls of discrimination. Gallaudet was founded in 1864 by an act of Congress, its charter signed by President Abraham Lincoln—the same man whose actions eventually made it possible for the first African American to head a university. On its Web site, the university states that it leads the world in programs for "deaf, hard-of-hearing, and hearing students"—an all-inclusive statement.
So, where does this leave Fernandes? As this goes to press, she is expected to take over as Gallaudet's president in January 2007. I, for one, certainly hope she does.