Phonak has launched the Child Hearing Assessment Toolkit (CHAT). The new web-based tool allows hearing care professionals working in education to manage patient assessments on any computer or tablet device.
CHAT is a free resource and is located at www.chatbyphonak.com. It loads in any web browser; however, as soon as the tool has been used once when connected to the Internet, it can subsequently be accessed on the same device without the need for an Internet connection. Therefore, if a school does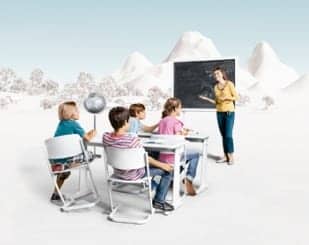 not offer visitors access to the Internet, a hearing care professional can still access CHAT to fill out new assessments and view previous results.
CHAT spans five categories of hearing assessment and related functions: Listening, Communication Access, Placement, Self-Advocacy, and Educational Performance. It currently features more than 10 assessments, which include: The Functional Listening Evaluation by Cheryl DeConde Johnson; the Children's Auditory Performance Scale (C.H.A.P.S.) by Smoski, Brunt, and Tannahill; and the Classroom Participation Questionnaire by Stinson, Long, Reed, Kreimeyer, Sabers, and Antia.
CHAT also includes other features:
Assessment data are saved automatically
Click-To-Score?, where assessment scores are calculated at the click of a button; no calculator required
Completed assessments can be printed and downloaded as PDF files
Individual assessments can easily be shared; just click to create a unique assessment link, then email this to a parent/child to have them input their answers (all other data remain private)
?Select and fill out assessments without the need for an Internet connection
Manage?/add new assessments under an existing child's name, edit previous assessments, view a child's assessment history, and create patient profiles (including audiogram results)
Maarten Barmentlo, group vice president of marketing for Phonak, said, "Since we work closely with these professionals every day, we know that many of them find dealing with paper assessments a hassle. We developed CHAT to ease this pain, automating many of today's time-consuming tasks, such as organizing assessments and calculating scores, and allowing professionals to focus on what's really important—helping students with hearing difficulties enjoy the most successful educations possible."
SOURCE: Phonak