Oticon introduced a new mid-level hearing device, called Oticon Nera, today during a live-audience and virtual Internet launch from Oticon headquarters in both Somerset, NJ, and Kongebakken, Denmark. The launch featured many of Oticon's personnel including Oticon A/S President Soren Nielsen, Oticon Inc President Peer Lauritsen, and Executive Director Rasmus Borsting, along with Vice-presidents Sheena Oliver, Donald Schum, and Jim Kothe, to name only a few. The broadcast also featured short interviews from a live audience in Somerset, including comments from audiologist Kathy Landau-Goodman, and input from the online attendees of the launch.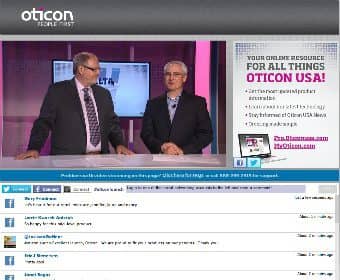 Oticon's Peer Lauritsen and Jim Kothe explain the
new Nera hearing aid line during a live interactive
Internet broadcast.
Oticon's new Inium wireless signal processor is reportedly driving a range of efficient and powerful audiological features in Oticon Nera. A combination of advanced technologies enables Nera to deliver excellent performance, reduced effort, and more personalized fittings not previously available in a mid-priced hearing solution, reports the company. The Inium chip at the core of Nera is designed to provide exceptional performance, small size, and ultra-low power consumption in a hearing device that can be shaped to individual patients' hearing needs and sound preferences. Nera gives users the ability to communicate more freely and better maintain an active lifestyle throughout each day.
"With Nera, for the first time, we bring the Inium platform and its outstanding performance and personalization capabilities to the mid-level category," says Oticon President Peer Lauritsen. "Nera goes beyond any mid-level hearing solution we have ever produced, raising the bar for speech understanding, sound quality, and listening effort. And Nera's extensive fitting personalization capabilities enable hearing care professionals to empower and satisfy more patients than ever before."
According to Oticon, the new Nera device provides:
Advanced capabilities to support active lifestyles. Hearing care professionals can now offer more patients exceptional clarity and sound comfort in a solution personalized to individual hearing and lifestyle needs.
Spatial Sound Advanced in Nera Pro combines broad bandwidths, flat frequency responses, real-time binaural processing, and open fittings to convey a higher dimension of spatial awareness and create a more realistic soundscape for users.
Inium feedback shield protects users against unwanted feedback and artifacts to ensure signal fidelity, optimal audibility, sound quality, and comfort, even in difficult listening situations.
Free Focus Advanced provides four modes of directionality, including the new Optimized Omni mode that mimics the natural front focus of the pinna, giving users the freedom to focus on the sounds that are most important to them.
More options to empower and satisfy. Hearing care professionals can address each patient's unique perception and enjoyment of sound with YouMatic Advanced, embedded in the updated and improved Genie 2013.2. Oticon's Personalization Process is designed to create a richer, more engaging and productive experience for patients and builds a foundation for achieving a higher level of patient satisfaction.

The new Oticon Nera mid-level product line styles run
from CICs to BTEs, including RICs and thin-tube BTEs.
Nera's wireless connectivity is designed for users to take full advantage of the newly updated Oticon ConnectLine system, offering multiple opportunities for integrated wireless connectivity. Users can connect easily and wirelessly to landline and cell phones, most digital office phones, TVs, music, video chatting and streaming, teleloop, FM, and more, says the company.
With a full range of style options, including the flexible Inium custom manufacturing process, Nera is designed to meet more patients' personal needs for comfort and performance. Nera RITE and miniRITE solutions use a new generation of receivers and domes called miniFit that set new standards in performance, physical fit, and reliability. All Nera RITE- and BTE-style solutions are IP57 classified to prevent water, dust, and debris from getting inside.
For more information, visit on MyOticon.com or pro.oticonusa.com.
Source: Oticon