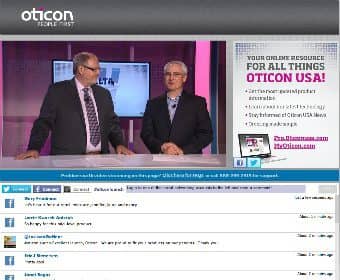 The September 17 live online
launch of Oticon Nera reportedly
drew over 2200 viewers. A follow-up
live interactive
Internet broadcast
featuring Dr Donald Schum will take
place this Wednesday (October 9).
Oticon, Somerset, NJ, will continue the dialogue on its recent mid-level product launch of Nera by hosting another live online event tomorrow (Wednesday, October 9) from 3:00 to 3:30 PM EST at www.facebook.com/oticonusa.
The company held Oticon's first virtual launch event to introduce Oticon Nera on September 17 when reportedly more than 2200 hearing care professionals logged on for the live streaming event. The launch event was staged similar to a network talk show, transitioning from on-site discussions to off-site visits in Denmark for a message from Oticon A/S President Soren Nielsen and a tour of Oticon's state-of-the-art Custom Labs in Somerset.
According to the company, the 30-minute interactive event achieved the goal of reaching more professionals, more efficiently, and in a manner that not only informed but also engaged online participants. Nera and its benefits were unveiled with the support of expert commentary, videos, and give-and-take interaction with the live audience in Somerset and viewer posts and tweets from across the country.
"With the virtual introduction of new Oticon Nera, we actually realized two 'firsts' for Oticon," said vice president of marketing Sheena Oliver, AuD, MBA, in a press release. "In additional to our first virtual launch, this is also the first time we have brought the Inium platform and its outstanding performance and personalization capabilities to the mid-level category. It seemed fitting that the two firsts should go together. With both, we are expanding reach to more people than ever before."
The ability to expand reach to hearing care professionals in a way that worked for busy clinic schedules was a key factor in Oticon's decision to unveil Nera virtually. "We wanted to make the launch event something that would enable the entire staff to participate," says Oliver. "There was no decision making on who from each clinic could attend. It was 'virtually' open to everyone." Another benefit is Oticon's ability to capture the virtual event for easy online viewing at www.MyOticon.com.
Audience engagement began several weeks in advance with practitioners invited to submit photos with their unique interpretation of the words "performance", "effort" and "personal." Winners were announced throughout the virtual event and the visual play on words served to reinforce key benefits of Nera, including excellent performance, reduced listening effort, and more personalized fittings—a combination of audiological features not previously found in a mid-priced instrument, says the company.
Facebook Event This Wednesday. The upcoming Facebook event with Oticon Vice President of Audiology and Professional Relations Donald Schum, PhD, will be held on Wednesday, October 9 from 3:00PM EST to 3:30PM EST at www.facebook.com/oticonusa. For more information on Oticon Nera, visit www.oticonusa.com.
Source: Oticon Inc