Audigy Group, Audigy Medical, and Stratus Dental—reportedly the nation's largest consortium of private-practice hearing care providers, ENT specialists, and dental professionals—convened its membership September 19-22 at the Cosmopolitan Hotel in Las Vegas to focus on three fundamental aspects of a thriving independent business: belief in what is possible, achieving operational effectiveness, and promoting positive leadership.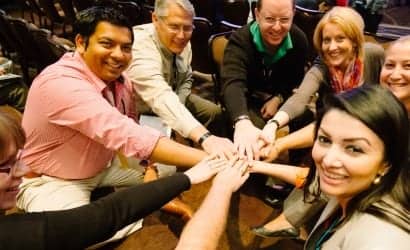 The 2013 Team Summit, hosted by the group's founder and managing member Brandon Dawson, brought together more than 1,200 audiology, ENT, and dental experts, 50 students from 30 universities, and world-renowned business and leadership experts. Appearing at the conference were best-selling authors John C. Maxwell (The 21 Irrefutable Laws of Leadership) and Jim Collins (Great by Choice), workforce and talent management expert Seth Mattison, and American physician and retired NASA astronaut Story Musgrave.
Since hosting the first Team Summit in 2009 to just 120 attendees, the event has grown 10 times its original size due to the impact it has on businesses, reports the company. Historically, members and their teams that attend the Team Summit have experienced a 9.4% increase in revenue over an 8-month period versus those businesses that did not take part in the event.
"This is the biggest, most exciting Team Summit we've ever devised," said Dawson. "It brings together some of the most talented, dedicated audiologists, ENT doctors, and dentists in North America. It invigorates their teams, reminds them that they each play a key role in the practice, and introduces them to proven systems that can take their independent businesses to the next level. Our members can do anything. I can't wait to see what they achieve next."
Source: Audigy Group
Also see:
Audigy Group Awarded Inc Magazine's Inaugural "Inc. Hire Power Award" and "Inc. 5000" Honors
Audigy Group Unveils New Look for Corporate Website
Audigy Group Hosts AGX Technology Summit