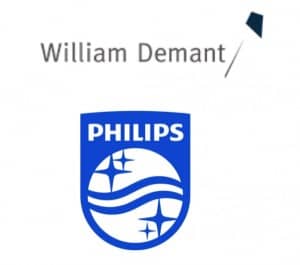 William Demant, Copenhagen, has announced a licensing agreement with Philips, Eindhoven, The Netherlands, to bring Philips-branded solutions to hearing healthcare.
The agreement highlights the multi-brand strategies being used by today's global hearing aid manufacturers, and how companies are trying "to widen the definition of hearing healthcare to the benefit of the end-user and hearing care professionals." William Demant is the parent group for Oticon, Sonic, and Bernafon hearing aids, as well as Oticon Medical. According to the company, combining William Demant's hearing aid technology with Philips' global brand presence in healthcare will enrich the hearing healthcare experience and support the healthy lifestyle and active life of even more people with hearing loss. Additionally, the solutions will present unique opportunities for hearing care professionals in an ever-evolving market, says the company.
Philips has a rich history as a leader in consumer and healthcare products, with a brand known for everything from the world's first VCR to electric toothbrushes and semiconductors. The company is also no stranger to hearing aid distribution. Philips was once a well-known hearing aid brand, manufacturing hearing aids in 1990, embarking on a technical collaboration with Telex, then exiting in 1999 when Beltone purchased Philips' hearing aid technology. The Hearing Review published numerous news and technical articles about Philips technology in the 1990s, particularly concerning its unique XP Peritympanic deep canal and digital Freedom hearing aid lines. The company is now divided into three units: Philips Consumer Life which includes consumer electronics, appliances, and personal care, Philips Healthcare, and Signify N.V. (formerly Philips Lighting, the largest supplier of lighting products in the world).
"I am happy and proud to partner with Philips—one of the world's best known and highly trusted healthcare brands," says Søren Nielsen, President & CEO of William Demant. "We clearly see a great match between William Demant's technological know-how and Philips' broader healthcare offering. By partnering with Philips, we get a unique opportunity to take connected hearing healthcare to the next level and offer new and exciting solutions within integrated healthcare services to the benefit of both professionals and people living with hearing loss."
"We are excited to partner with William Demant, as they bring audiological leadership and innovative hearing technology to the market," says Andrew Mintz, SVP, Head of Global Brand Licensing at Philips. "Together, we will be able to help improve the lives of even more people living with hearing loss and deliver on our shared vision of creating a healthier world through innovation."
According to the companies, health, caring, and innovation are cornerstones in the vision of both William Demant and Philips, which makes the partnership a great match for the future. Furthermore, the partnership is expected to strengthen and add value to both companies' ambition to improve people's lives.