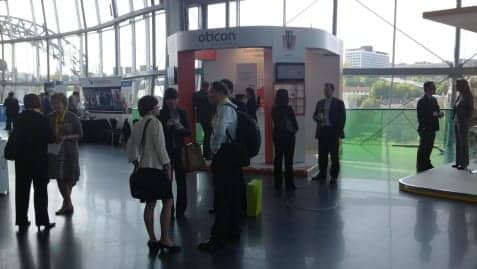 Oticon Medical recently presented the newest findings and technology in bone anchored implant systems at the Fourth International Symposium on Bone Conduction Hearing—Craniofacial Osseointegration in Newcastle upon Tyne, England.
The multidisciplinary conference brought together an international delegation of more than 200 physicians, clinical audiologists, and industry leaders in the ear and craniofacial surgical community. As a major sponsor of the conference, Oticon Medical held a general session and conducted a series of interactive workshops on the newest advances in Oticon Medical technology and professional support.
"Oticon Medical is pleased to support the research and knowledge sharing that will drive advances in hearing implant systems and benefit physicians, audiologists, and their patients," said Oticon Medical President Jes Olsen. "Our participation in Osseo 2013 gave all of us at Oticon Medical an opportunity to reflect on our company's evolution from industry 'newcomer' at our first Osseo conference in 2009 to today's leadership position in both the surgical and audiological arenas of hearing implant technology."
A series of Oticon Medical Workshops staged throughout the conference focused on Oticon Medical's advances in both surgery and audiology. A surgical workshop looked at the Ponto System's OptiFit™ and OptiGrip™ design concepts and the unique geometry of the Ponto abutment family that accommodates different skin thicknesses.
The smooth abutment shoulder is placed above the skin so that, regardless of the abutment size, the skin meets an even surface along the abutment interface, with no pockets for bacterial formation. The Ponto abutment family is designed for a variety of surgical techniques and studies have investigated its benefits for tissue preservation surgery. "For patients and surgeons, tissue preservation may be one of the most important surgical developments in the bone anchored treatment as it will improve cosmetic outcomes for patients without increasing complications," observed Olsen.
A workshop on "what's next" in bone anchored hearing solutions previewed the new Ponto Plus sound processor and the possibilities for wireless communication through the new Ponto Streamer. Another workshop on Oticon Medical audiological support tools showcased enhancements in Genie Medical 2013.1 and the new Interacoustic SKS10 Skull simulator, a coupler that can measure the force output level of any bone anchored hearing device. Also shown was the Visible Ear Simulator (VES), funded by a grant from the Oticon Foundation, that is designed to create a safe and realistic virtual training environment for temporal bone surgery.
Neurelec, the newest member of Oticon Medical, introduced the company's cochlear implant technology, R&D capabilities, and modern manufacturing facilities to conference participants. Presented side-by-side with the competencies seen at other Oticon Medical workshops, Neurelec's excellent capabilities in cochlear implant technology provided a glimpse of the synergies that will expand Oticon Medical's ability to bring patient-centered implant technology to more patients than ever before.
Also at the Osseo conference, the topic of tissue preservation was the focus of research findings presented by leading researchers and clinics from around the world.
Malou Hultcrantz, MD, PhD, of Karolinska Institutet in Sweden followed three groups of 10 patients, each group implanted with a different surgical technique (flap technique, dermatome technique, and no skin reduction technique) over five years. Compared to the flap and dermatome techniques, the tissue preserving/no skin thinning technique with longer abutments resulted in fewer peri-implant infections, no numbness, no skin pockets, and shorter surgery time. The technique was deemed safe and useful even after five years.
In his presentation, Shyam Singam, FRCSI, Associate Specialist ENT Surgeon, Torbay Hospital, Devon, UK, observed that certain medical comorbidities can increase operating time, delay wound healing, and increase postoperative morbidity. He noted that patients with chronic soft tissue inflammation and thickening around the abutment respond well when changed to a longer abutment.
In his study, 25 participants underwent bone anchored surgery without soft tissue reduction, using 8.5 mm abutments and Ponto 9 mm and 12 mm abutments. The study results to date have been promising with consistently good outcomes including decreased operating time and decreased postoperative morbidity.
Avi Goldfarb, MD, of the Edith Wolfson Medical Center, Holon, Israel, discussed ultrasonography as a method to more accurately assess skin thickness in patients undergoing bone anchored implantation surgery. In addition to providing improved accuracy over transcutaneous needle assessment, the non-invasive ultrasonography enables surgeons to pre-plan and order an appropriate length abutment prior to surgery.
Goldfarb used Ponto abutments in his study and concluded that implant and abutment design and selection are of great importance in clinical practice when applying new developments, such as tissue preservation, and provide significant benefits for the patients, including minimal soft tissue trauma with reduced numbness and scar tissue formation, quicker healing, and improved cosmetic results.
SOURCE: Oticon Medical