With a click of a button, today's hearing aid users and hearing care professionals have a wealth of information at their fingertips. Patients have the chance to be well informed about the latest hearing aid products, and hearing care professionals have the opportunity to research the best possible products for their clients. In this Web site guide, HR has invited some of the hearing care companies to describe their Internet offerings.
---
American Hearing Aid Associates
AHAA is the industry's leading provider of services that help independent hearing care providers run their practices more efficiently and more profitably. Its Web site, AHAABizLink.com, provides general information about AHAA's many services, including business and marketing planning, education programs, upgrade programs, managed care alliances, and reference library. The site also has pages accessible only by its 2,000-plus network members that contain benefits, such as marketing and advertising ideas, hearing product pricing/ordering information, purchase history, and customizable manuals.
---
Audigy Group
Audigy Group is the largest member-owned organization in the hearing care industry. We strategically select and certify the most elite practitioners in each market who exemplify our core values in the delivery of hearing and diagnostic services. Our shared mission: to deliver unsurpassed value to each of our patients through the provision of superior care, knowledge, and technical expertise. We invite you to Discover Audigy in Miami at the Marriott Biscayne Bay on February 21-23. Meet the co-owners of Audigy Group. Ask questions. Get answers on what Audigy Group can do for you and your business. For information, call 866-711-2026.
---
Audioscan
Visitors to www.audioscan.com can test-drive the Verifit hearing instrument fitting system, locate their Audioscan representative, explore our library that features an article on Speechmap®, find out about workshops in their area, or download any of our brochures. The site also allows Audioscan owners to download the latest Verifit or SL software for free! Visit audioscan.com today!
---
CareCredit
With CareCredit No Interest and Low Interest payment plan options, you can offer patients a convenient way to fit the cost of hearing aid technology into their lifestyles and budgets. Visit the CareCredit Web site to discover how you can use patient financing to increase your hearing aid sales and reduce your return rates.
---
Electone
Electone's Web site, www.electoneonline.com, provides complete technical information on the company's comprehensive line of custom and BTE digital and analog hearing instruments. Hearing care professionals can download spec sheets, technical drawings, and programming software. Also available are current and past issues of "Auds & Ends," Electone's technical newsletter. In addition, visit the marketing materials section for practice-building opportunities.
---
Frye Electronics
The Frye Electronics Web site www.frye.com is unusually comprehensive in providing both marketing and technical information about hearing aid and audiometric measurements. Extensive information about current products is available including marketing brochures, instructional booklets, operators' and maintenance manuals, and many articles. There is also a selection of CDs and DVDs containing PowerPoint presentations and videos that can be sent at no charge to the customer upon request. There are also photo albums of Frye employees at company events, showing that it is a family company in more ways than one.
---
Hal-Hen
www.halhenpro.com features easy, online ordering with 24/7 accessibility. Our site provides maximum ordering flexibility, combined with direct access to detailed technical information, for our extensive product offering. In addition, the site features online bulletins for new product introductions, special promotions, downloadable MSDS forms, and technical documentation. Log on today to receive a special 5% discount off of your first Web order.
---
Hansaton Hearing Systems
Visit our Web site at www.hansatonusa.com and find out more about Hansaton's hearing systems, Tinnitus concepts, Care products, the world's leading rechargeable battery system, as well as innovative marketing concepts.
---
Hearing Products Report
The Hearing Products Report Web site, www.hearingproductsreport.com, provides you with instant news and information on the latest hearing care products. As the industry's only product tabloid, HPR is an ideal source for articles and data on new hearing aids, testing equipment, impression materials and accessories, hearing conservation products, cochlear implants, and more.
---
Hearing Review
The Hearing Review's Web site is a comprehensive resource for hearing care professionals, featuring up-to-the-minute news, our current issue, the HR Web Poll, and more. The HR Archives contain published materials in HR, including articles, news and product items, and industry announcements. HR's award-winning Worldwide Registry is also featured online, offering product and contact information for the world of hearing health care. The Web site also provides a place to access the HR Insider weekly e-newsletter. And all are searchable via a keyword search engine.
---
HITec Group International
HITEC Group International is one of the largest independent distributors of assistive listening devices in the United States with a reputation for superior service, integrity, innovation, and competitive pricing. HITEC provides a wide variety of the highest quality assistive listening devices and other products. Dealers and distributors can review our entire line of products, as well as place orders online 24/7.
---
iCellTech Corp
iCellTech's Web site, www.icelltech.com, provides a company profile and complete technical information on the whole range of hearing aid batteries and batteries for cochlear implants. Visit our Web site and enjoy the latest technology. It is also available in six languages: English, French, German, Chinese, Japanese, and Korean.
---
Interacoustics
Interacoustics designs and manufactures state of the-art instrumentation for all sectors of the audiological world. The product range covers audiometry, balance-testing, immitance, and electrophysiology within ABR/AEP/OAE. Clinical Diagnosis, Rehabilitation, and Balance testing are key areas, and the Web site www.interacoustics-us.com provides a wide range of marketing and support information such as how-to articles, reimbursement documents, product information, and company news.
---
Murine
Murine™ Earigate™'s Web site, www.murine.com, provides a range of information and a live demonstration on this new, revolutionary product. You can learn more about Murine Earigate and how it effectively helps prevent ear wax build-up through its unique, patented, reverse spray nozzle. Site highlights include links to other Murine' and Prestige Brands OTC products, and Murine Earigate's new TV commercial.
www.murine.com/earigate.htm; www.murine.com
---
Oticon
Myoticon.com is Oticon's new business-to-business portal available to all account holders. It is designed to enable Oticon customers to conduct many important business transactions with Oticon. These include online ordering, order tracking by date of order entry and DHL tracking number, and the ability to view invoices, statements, and credit memos. Order forms and other important documents can be downloaded, and the site also includes a News and Events Section.
www.oticonusa.com; www.myoticon.com
---
Phonak
Hearing care professionals will get the "Full Life Experience" by visiting www.exelia.phonak.com. Exelía, the new paradigm of hearing excellence, will be introduced in early 2008, featuring a cutting-edge sound processing program, unique wireless connectivity, and cable-free fitting. Beginning in February, this site will provide the hearing professional with a movie, sound demos, and visual examples of patient benefits that hearing professionals can demonstrate during fittings.
www.phonak.com; www.exelia.phonak.com
---
Rayovac
Rayovac offers a Web site specifically dedicated to hearing care professionals. At www.thepowerofhearing.com, professionals can learn about ProLine Advanced's product; access easy to understand technical data; gain information on FREE marketing support programs; find a product consultant in their region; and download product brochures. By using the online ordering tool, customers can also quickly and easily place product orders at their convenience.
---
ReSound
New from ReSound: dot™ by ReSound. dot is the smallest micro-BTE hearing instrument available today, but maintains the technology and benefits of standard BTEs. This Web site provides consumer information about dot, including product specifications, color choices, general information about hearing loss, and more. Professional information includes detailed product specifications, audiological research, marketing materials, and more.
www.gnresound.com; www.trydotbyresound.com
---
Rexton Inc
With the myRexton professional Web site, you can access and maintain your account online 24 hours a day, utilizing features such as online bill pay, order custom instruments using the custom e-form, and download the newest Rexton product information. You can also check the status of an order, search warranty expiration information, and much more. Contact your Rexton representative at (800) 876-1141 to get online access to your account information.
---
Siemens Hearing Instruments
Siemens' Web Site, www.siemens-hearing.com, features easy-to-navigate sections for consumers and professionals. Packed with product and hearing information, consumers will find a Hearing Professional Locator, and professionals can learn about business support programs and services. Registered professionals can also access mySiemens, a one-stop resource to place orders, manage accounts, and more.
---
Sonic Innovations
www.sonici.com provides both customers and hearing care professionals a variety of useful tools and information. New for 2008 is our eCommerce site, where professionals can order products, forms, and literature online. Also included is helpful information about hearing loss and hearing aids, a Hearing Care Professional Locator, and co-operative marketing tool for professionals. Add www.sonici.com to your favorites for a helpful reference tool.
---
Starkey Laboratories
Starkey's Web site, www.starkey.com, has been updated to include the latest and most innovative resources for both hearing care professionals and patients. Visitors to Starkey.com will experience a new series of rich media videos and find helpful tools, whether they are a first-time wearer or have had hearing aids for a number of years. StarkeyPro.com has been updated to empower hearing care professionals with information, solutions, and resources to quickly and easily manage their practice needs.
---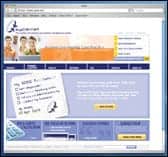 Simplify your life while increasing sales! Sycle, the number-one hearing care practice management system, makes scheduling, reporting, marketing, patient contact, and insurance billing effortless. It is Sycle's intuitive scheduling system, along with unparalleled referral tracking and automated direct mail, that makes life in the practice easier and increases sales. It's no surprise that 95% of current customers say they would recommend Sycle to their colleagues. Sign up today and try Sycle for 3 months at no risk. Training and support included!
---
TV Ears
TV Ears has launched a new Web site at www.tvears.com. TV Ears Inc recently launched its Web site, which features easy to navigate pages, enhanced graphics and information, an Authorized Dealer search-by-zip code function, and a special Authorized Dealer log-in page for ordering online with access to current marketing material and advertising campaigns. Call Jason Rimestad at (877) 854-1040 for more information.
---
Unitron Hearing
In 2007, Unitron Hearing announced the launch of www.myUnitron.us. At www.myUnitron.us, Unitron Hearing customers will find hundreds of files of consumer marketing materials, including art and logo files, advertisements, direct mail, press releases, and more. You can also order BTEs and accessories at any time, for stock or for your clients. If you haven't already done so, log on to www.myUnitron.us. Need some assistance? Call (800) 888-8882 for customer service.
www.unitronhearing.us; www.myUnitron.us
---
Westone
Westone is available when you are. Recently redesigned and now even easier to navigate, www.westone.com features a private section just for hearing care professionals (log-in required). Access the information you need, whenever you need it. Find the perfect earpiece for your patient or access technical and how-to articles along with time and money saving tips. You can even order impression materials and thousands of other supplies through the online store.
---
Widex
The Widex Professional Web site, www.widexPro.com, offers extensive resources to support hearing care professionals. Authorized Widex Professionals can access important technical information and product specifications regarding the comprehensive line of Widex products, including the new m-Series line of micro-sized ISP hearing instruments. Custom and behind-the-ear hearing aids, as well as common parts, supplies, service forms, and the full and colorful line of Widex marketing materials, can easily be ordered from the Web site.