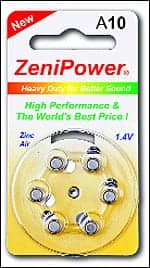 Hearing aid batteries not only contribute to your revenue, but they also represent an important marketing tool for your practice. By providing your customer with a high quality and affordable battery, you may expect more personal contacts, more exposure for your business, and more loyal satisfied customers.
Unfortunately, the current trend is that more and more batteries are sold by retail outlets than by hearing care professionals. Part of the reason is simple: Consumers can buy the batteries at a much lower cost from retail chains or via the Internet. In many cases, hearing care professionals have not only lost their battery sales, but they have lost their customers, too. That's why a battery source like ZeniPower has been provided in order to help you compete and to get your customers back.
The ZeniPower battery is a proven high performance product. For the last 18 years it has been successful in Asia, and the company could be your best profit source for batteries and serve as a powerful marketing tool. A high working voltage makes it suitable for the latest digital hearing aids, as well as for cochlear implants. It is also among the longest lasting hearing aid batteries in the industry, and is a world-leader in terms of economical price.
An alternative brand of batteries has proven to be quite effective for improving customer satisfaction. Providing customers with a choice in power sources makes good business sense. With the alternative of ZeniPower batteries, your customers will find a quality battery at much better pricing than even most mass-merchandising retail stores like WalMart. They will come back to you to buy this battery again and again. And, while it attracts more traffic, it will bring you more business and profits.

By selling ZeniPower batteries, you can maintain a higher margin and pass on your savings to your customers. These batteries also will promote your practice more effectively than traditional private-label batteries, battery clubs, or other rebate programs. The reason is simple: ZeniPower batteries provide top performance at an exceptional price. You will sell more batteries and get more profits, from both the batteries and the other sales that the batteries bring into your practice.
ZeniPower also provides you with private label batteries on request.
For information, contact:
ZeniPower Battery Co (814) 825 8398 www.zenipower.com