The Alexander Graham Bell Association for the Deaf and Hard of Hearing (AG Bell) announced the election of Jonathan Berger to its board of directors for the July 1, 2013 – June 30, 2016 term, and Rachel Arfa to the board for a second term
Berger has severe to profound bilateral hearing loss that was diagnosed at age 2. He received bilateral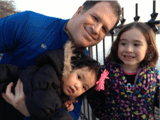 cochlear implants in his late 30s. His wife, Meredith Berger, is the director of Clarke Schools for Hearing and Speech in New York City. They have two girls, Noa, age 5, and Eila, age 2, who has bilateral microtia/atresia.
An attorney at Levisohn Berger LLP where he engages in a broad-based intellectual property practice, Berger has been a board member of the New York Chapter of AG Bell since 2007, where he also conceptualized and ran the Teen Socialization Workshop.
"As an AG Bell board member, I will draw upon my perspective as an adult with hearing loss in the mainstream, a parent of a child with hearing loss, as well as my legal training and profession, my experience on the boards of St. Joseph's School for the Deaf and the New York chapter of AG Bell, my wife's role at the Clarke School, and my own problem-solving skills," said Berger.
Berger has a strong desire to instill in children, young adults, and their families that hearing loss should not limit or define their self-worth; rather, it's how they meet their challenges, hearing loss-related or otherwise, that develops their resilience and character.
AG Bell also announced the appointment of Rachel Arfa to its board of directors for a second term. Arfa is an attorney at Equip for Equality, which is the state of Illinois' designated protection and advocacy agency whose mission is to advance the human and civil rights of children and adults with physical and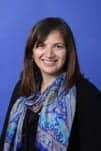 mental disabilities in Illinois.
She advocates on behalf of people with disabilities in employment and civil rights matters, regularly appearing on behalf of clients in federal court and in negotiations including with the Equal Employment Opportunity Commission (EEOC).
Arfa was born with a profound hearing loss, which was diagnosed at 18 months of age. She received a cochlear implant on her left ear 17 years ago and received a second cochlear implant on her right ear 3 years ago. She credits AG Bell for giving her a strong sense of confidence and support as a person who uses spoken language and in helping her to develop invaluable leadership skills.
"I am honored to continue my involvement with AG Bell and to continue to advocate for the rights and needs of the community of adults who are deaf and hard of hearing," said Arfa.
SOURCE: The Alexander Graham Bell Association for the Deaf and Hard of Hearing (AG Bell)