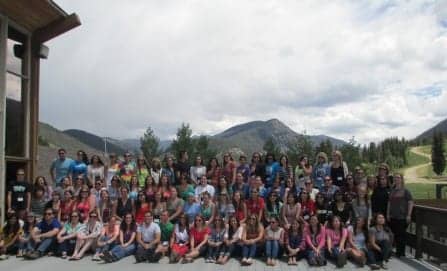 The 2013 Oticon Summer Camp brought together 96 audiology students from more than 30 universities across the United States for a 5-day knowledge sharing event in Keystone, Colo.
The annual summer camp gives senior level and recent graduate students an opportunity to explore a variety of professional and practical topics, ranging from signal processing and the newest counseling approaches, to patient recruitment and career paths with expert audiologists, researchers, and experienced practitioners.
This is the 16th year that Oticon has offered a summer enrichment experience that is designed to supplement and complement the education that students receive in their university programs.
"Our goal is to give students who are the future of our profession a forum in which they can experience the kind of knowledge sharing and professional interaction that many do not have access to until they have completed their degree programs," stated Don Schum, PhD, vice president of audiology and professional relations for Oticon who developed the camp curriculum. "This year we focused on the many factors that 'Personalize the Hearing Instrument Process' to help students better understand what it takes to build life-long relationships with patients."
Students participated in a series of seminars, informal discussions, and hands-on workshops throughout the week. Highlights included presentations by Schum on first-time users, patients with cognitive decline and atypical hearing loss, and fitting success from the patient's perspective.
A series of workshops by Oticon audiologists and trainers explored approaches to a more personalized patient experience with software-based patient educational and fitting tools, connectivity options, and case studies.
Practice owners Kurt Pfaff, AuD, and Donna Mallory, AuD, shared practical insights into professional career paths and patient recruitment and retention. In a panel discussion on International Perspectives, audiologist Isabela Carvalho (Brazil) and training specialist Robert DeBianchi (Italy) provided students with a glimpse of how audiology is practiced around the world.
For many of the students, a key benefit of the Summer Camp experience is the opportunity to begin to establish their own professional networks. Schum said, "The ability to share professional knowledge and ideas with peers and more experienced professionals lays the foundation for continued professional and personal growth that will benefit not only the practitioner but the patient."
SOURCE: Oticon