Oticon Opn™, reportedly the world's first internet-connected hearing aid, has been named a 2017 Edison Awards™ Finalist in the Health & Wellness category. The international awards competition—inspired by Thomas Edison's inventiveness and administered by Edison Universe, a charitable organization dedicated to fostering future innovators—recognizes innovation, creativity and ingenuity in the global economy. As a finalist, Oticon Opn will receive one of three awards (Gold, Silver or Bronze) that will be announced on April 20 at the 2017 Edison Awards Gala in New York City.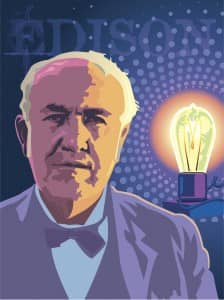 "We are honored to have Opn recognized among a stellar group of innovations that represent excellence in product development, human-centered design and innovation," said Oticon President Gary Rosenblum. "It is especially gratifying to be recognized with an award named in honor of Thomas Edison, a man who experienced hearing loss at an early age. Edison's inventions revolutionized everyday life and showed that hearing loss does not limit a person's ability to achieve, contribute and quite possibly, change the world."
According to Oticion, Opn is the first hearing aid to connect to and interact with Internet, making it possible to program hearing aids to talk directly with doorbells, smoke detectors, and other smart devices using the Oticon ON App. Using IFTTT-enabled services, Opn can be programmed to alert caregivers to low battery on an elderly parent's hearing aid. Alongside this connectivity, Oticon has made giant strides with Opn's core function as a listening device, says Oticon. By opening up a world of sound, Opn is designed to allow users to better manage listening to multiple speakers in difficult situations such as noisy restaurants—a problem even most advanced hearing aids of today can't solve.
The Edison Awards nominees are judged by more than 3,000 senior business executives and academics from across the nation whose votes acknowledge the Finalists' success in meeting the award's stringent criteria of quality. In addition to the Edison Award, Oticon Opn has captured the prestigious 2017 CES Innovation Awards in two categories, Tech for a Better World and Wearable Technologies. For more information, visit: www.Oticon.com/Opn
Source: Oticon