Sonic announced the expansion of its Radiant family to "benefit even more patients with the introduction of new styles, personalization, and fitting options." The new miniRITE T style, described as "the first wireless CROS/BiCROS solution, SmartMusic Pro program, and on-the-go Charger Plus offer hearing care professionals more opportunities to deliver personalized solutions that focus on what matters most to patients – sound that's natural, speech understanding in noise, simplicity, and style that stands out."
"With increased convenience, fitting flexibility, personalization options, and more, Radiant offers next-level technology that finds, filters, and fine-tunes the sounds users want to hear," said Carolyn Valentine, Sonic Vice President/General Manager. "We are pleased to provide a greater array of product options and fitting opportunities so that even more patients can experience the exceptional sound quality, listening comfort, and speech intelligibility that Radiant delivers."
Two Standout Styles
The expanded Radiant family now includes two style options. The new non-rechargeable miniRITE T uses a traditional 312 zinc-air battery and joins the miniRITE T R solution that features lithium-ion rechargeability. Sonic's newest compression and noise management strategies allow both styles to deliver "clear, brilliant sound to improve the user experience, even in noisy environments," according to the company. Three performance levels (100|80|60 technology levels), 2.4 GHz Bluetooth Low Energy wireless capabilities, and remote fittings help "empower hearing care professionals to deliver a truly personalized solution for patients with mild-to-profound hearing loss." For patients with unaidable hearing in one ear, Sonic now offers their first wireless CROS/BiCROS solution, with rechargeability, noise management, and dual-streaming capability.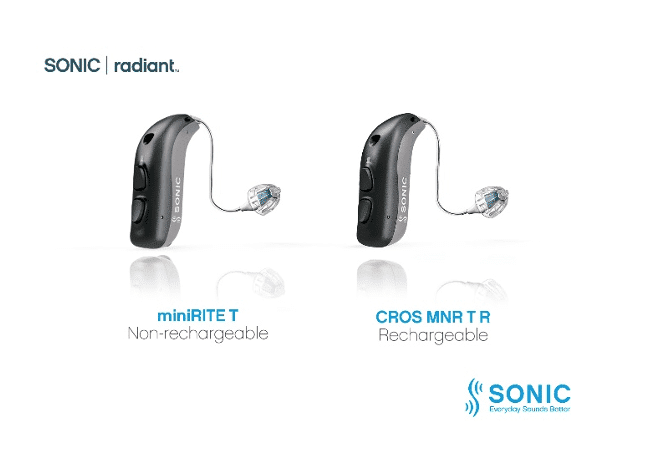 Improved Fitting and Fine-Tuning
To support patients who love music, the new SmartMusic Pro listening program consists of a fitting rationale designed exclusively for musical signals, not speech. The single dedicated program for recorded, streamed and live music optimizes compression and gain settings to "improve the amplification of music and enhance sound quality." SmartMusic Pro replaces previous music programs in EXPRESSfit Pro for new and existing Radiant products. 
­Sonic reintroduces "quick and easy fine-tuning with the Fitting Assistant to help hearing care professionals quickly adjust Radiant solutions based on each patient's comments." An updated Remote Fitting offers the "convenience of performing in-situ audiometry during remote fitting appointments." The new MicroShell provides practitioners with a "versatile, customized earmold option for RITE users with milder hearing loss or smaller ear canals."
On-the-Go Power
Coming soon is the new Charger Plus that makes charging on-the-go more convenient for the Radiant miniRITE T R, according to the company. With a built-in lithium-ion power bank, this portable inductive charging unit reportedly allows three full recharges of two miniRITE T R hearing aids without the need for a power source. The attached lid provides safe storage and transport of the hearing instruments, and a drying function controls moisture when the lid is closed.
For more information on the entire Radiant family, including the new miniRITE T style, CROS/BiCROS solution, SmartMusic Pro program, and Charger Plus, visit: www.sonici.com.
Bluetooth is a registered trademark owned by Bluetooth SIG, Inc, USA.
Source: Sonic
Image: Sonic