At the 60th International Congress of Hearing Aid Acousticians Congress, held October 14-16, 2015 as "EUHA 2015" in Nuremberg, Germany, Sivantos presented three new families of Siemens hearing aids in the Essential segment.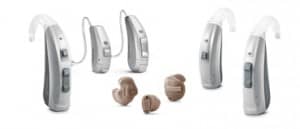 According to the company, the Intuis 2, Sirion 2, and Orion 2 product series, are all equipped with a range of current technologies. They can be remotely controlled depending on the model – also via free apps for Apple and android smartphones – and can be connected to modern communication and consumer electronics.
The former hearing aid division of Siemens AG has been operating under the name Sivantos since the beginning of 2015. It develops, produces and sells Siemens brand hearing aids. The company reports that, from a global perspective, hearing aids of the Essential segment appeal to two different target groups. In the highly developed industrial nations, the Essential line of hearing aids are chosen by users want a lower price point but who still seek good operating and hearing comfort; in emerging countries, the aids address people who want more than just a basic provision.
The Essential line of hearing aids is designed to be easy to operate with good hearing comfort. Users can choose between conventional behind-the-ear hearing aids (BTE), RIC hearing aids (receiver-in-canal), and more discreet in-the-ear hearing aids (ITE). The Feedback Stopper is a feature that suppresses feedback at source even before it becomes audible to the wearer. Bursts of static are managed in 12 channels depending on frequency. This feature is included in this entire product class.
The Siemens Intuis 2 is described by the company as its "best in class" with proven Siemens technology. Siemens Intuis 2 is available in three standard BTE models but also as ITE and in a CIC version. The Intuis 2 hearing aids sound good from the first day, says the company, because they provide the right balance between good speech comprehension and a pleasant sound. This means that, with or without hearing aid experience, wearers can quickly get used to their Intuis 2.
The Siemens Sirion 2 is said to be comfortably and remotely controllable, and offers better speech understanding in difficult hearing environments by aligning itself automatically to the conversation partner. The option of frequency compression for specific fitting cases and an acclimatization function for the familiarization phase contributes to greater hearing comfort. Sirion 2 hearing aids can also be remotely controlled using the touchControl app available free for both Apple and Android smartphones. As a result, wearers can control the volume and sound of their hearing aids or change the hearing program easily and inconspicuously. The Siemens Sirion 2 is available in the same models as the Intuis 2.
The Siemens Orion 2 has been designed to always be connected and in harmony. When fitted binaurally, the Siemens Orion 2 units are intended to connect wirelessly to form one system and synchronize automatically. Siemens has continued developing this technology since its initial launch, onto the market. It is said to improve directional hearing, spatial hearing, and sound quality to a greater degree than before. In addition, the Orion 2 units include a tinnitus noiser which smartphone owners can control along with other important hearing aid functions via a free touchControl app.
The Orion 2 hearing aids can connect to all Bluetooth-enabled phones, computers or music players via the optionally available easyTek accessory. Via an additional adapter they can also connect to televisions or home stereo systems, or to multiple devices simultaneously if required. The audio signals then come directly into the hearing aids. easyTek can also be used as a hands-free facility and, with a free smartphone app that provides additional control options, offers greater flexibility.
In addition to the models available for the Intuis 2 and Sirion 2, the Orion 2 is also available in two small RIC BTE versions which disappear behind the ear to be barely visible. With the new Intuis 2, Sirion 2 and Orion 2 hearing aids, the Siemens brand hopes to offer a complete portfolio of devices that are easy to use, versatile, and robust (IP 67 certified). For additional information about the new Siemens hearing aids, visit the Siemens website.
Source: Sivantos, Siemens