Simple Matters, a Santa Monica, California-based technology company that creates simple solutions for everyday problems, has announced an upgrade to a free mobile application for its Ditto® smartphone notification device. Ditto, a "universal notifier," is a tiny wearable device that selectively vibrates to notify users of incoming calls, texts, social media updates, emails, calendar alerts, alarms, timers, and more. Ditto lets the user choose what to ignore and what to be alerted to.
Ditto works with both iOS and Android phones and tablets, and the new free app is available immediately for both platforms. The latest software release can be found in the Apple AppStore and on Google Play, and will be automatically delivered to all current Ditto users. Ditto is now compatible with more than 60 mobile applications, ranging from travel, shopping, dating, ride-sharing, messaging, social media, utility, email, video relay services, video chat, news and fantasy sports, strengthening its position as the universal notifier for third party apps and services.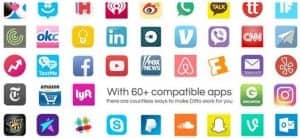 Ditto is now responsive to alerts from many of today's popular apps including Instagram, Snapchat, Amazon, AirBnB, Bumble, Skype, PayPal, Lyft, Uber, Kakao Talk, Yahoo News, Fandango, CNN, Venmo, DraftKings, and many more. Video relay service apps that serve the Deaf and Hard of Hearing, including Glide, Caption Call, P3Mobile (Purple) and Sorenson ntouch, are also among the newest apps compatible with Ditto. These apps were integrated with the Deaf and Hard of Hearing community in mind to make communication easier for this population.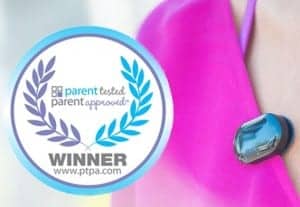 "With the latest app upgrade, Ditto is even more integrated with people's lives," said Marc Guren, CEO and co-founder of Simple Matters. "Our wearable enables people to customize how they stay connected to all that truly matters to them—be it calls or texts from loved ones, alerts about their Amazon packages getting shipped and rideshare car arrivals or special reminders. And, with the wide range of apps now available to users, Ditto is a great product for the mass market as well as customers with unique needs, such as the Deaf and Hard of Hearing communities, or anyone who has trouble hearing their phone. Now they can feel it from 50 to 100 feet away."
The company reports that this new release is intended to position Ditto as the universal notifier that is compatible with more third party apps than any other notifier on the market. Ditto is available online and at select retailers including Amazon for $39.95. The product comes in three different colors—black, white, and clear—and can be personalized to receive customized vibrations from selected callers through its free app.
Source: Simple Matters, Ditto