Comfort Audio's Contego HD
The Comfort Contego HD from Comfort Audio, Park Ridge, Ill, is a unique, high-definition wireless communication system designed to improve and enhance the quality of sound. Unlike other wireless systems, the Comfort Contego's digital radio system provides high-quality sound over 38 secure coded channels and can be used with or without hearing aids as well as with TV audio systems. Both the transmitter and receiver have user-adjustable microphones for maximum customization of sound. The microphones can be set for omni-directional or directional based on conditions, and volume level can be remotely adjusted.
(847) 656-5450
www.comfortaudio.us
---
Hearing Protection for Small Ear Canals
Etymotic Research, Elk Grove Village, Ill, offers a second size of high-fidelity hearing protection for children and adults with small ear canals. The earplugs, called BabyBlues, have the same flat 20-dB sound reduction as Etymotic's standard ETYPlugs HI-FI earplugs. All earplugs from Etymotic are flat attenuation to protect hearing and reduce noise fatigue while keeping music and voices clear, and can be used for playing and listening to music, attending concerts, and traveling.
(888) 389-6684
www.etymotic.com
---
New Generation of Video Otoscopy
GN Otometrics, Schaumburg, Ill, has recently launched the Aurical OTOcam 300—a new generation of video otoscopy, offering hearing care professionals the latest in advanced video technology and data management. The Aurical OTOcam 300 is a lightweight and portable professional tool providing an easy and effective support for diagnostics as well as counseling, training, and documentation. This new video otoscope is a fully integrated device that combines a powerful light source with advanced software for displaying crisp, full-color video and images on a standard laptop or desktop computer or even a large screen.
(800) 289-2150
www.otometrics.com
---
What's Next
Unitron Hearing, Plymouth, Minn, introduced its new Next series comprised of four product lines: Next 16, Next 8, Next 4, and Next E. Next features an advanced feedback management technology across all four product lines that detects and suppresses multiple feedback peaks faster, while maintaining superior sound. This feedback technology provides more useable gain, an expanded fitting range, more open styles, and larger venting for more natural sound, which in turn means more custom product styles are available, including a new Power CIC and full-shell power directional.
(800) 888-8882
www.unitronhearing.us
---
TOC of the Town
Open ear and RITE styles have changed the way hearing professionals are fitting patients, and Vivatone Hearing Systems, Shelton, Conn, has led this change since announcing Totally Open Canal (TOC) technology. With Vivatone's TOC, an advanced digital processor is placed behind the ear and connected to a tiny speaker located directly in the ear to keep the canal open. The result eliminates any "echo chamber effect" and preserves a patient's ability to perceive sound. Vivatone has recently expanded the fitting range by adding a power receiver (VivaPower) to make this style available to all patients—even those with severe and profound hearing loss. And Viva-Link is now available to provide wireless compatibility for telephone, television, and all Bluetooth devices. New VivaSet Fitting software supports the power and wireless applications as well as unique applications for tinnitus and music.
(877) 278-8482
www.vivatone.com
---
Super Sonic
Celebrating its 10-year anniversary, Sonic Innovations Inc, Salt Lake City, recently debuted its Velocity miniBTE, one of the smallest fully featured BTEs available. Using a size 13 battery, the Velocity miniBTE has a memory switch with access to up to four listening programs; it's convertible between thin tube and earhook fittings, and has digital volume control, an audio input, and a tamper-resistant lock.
(888) 423-7834
www.sonici.com
---
Breakthrough Technology
InSound Medical, Newark, Calif, presents breakthrough hearing aid technology in the form of its Lyric Hearing device, which is the first 100% invisible extended-wear solution that was developed by ENT physicians and audiologists to be used 24 hours a day, 7 days a week, for months at a time. Lyric is positioned completely inside the ear canal so it uses the ear's anatomy to provide natural sound quality. Lyric is considered appropriate for people with mild to moderately severe hearing loss. A patient's ear size and shape, medical conditions, and lifestyle are also taken into consideration.
(800) 599-5109
www.insoundmedical.com
---
Virtually Invisible
Magnatone Quality Hearing Aid Corp, Casselberry, Fla, introduces the new Evok. This mini-BTE is a versatile hearing instrument designed to fit cosmetic needs as well as a wide range of hearing losses. The Evok offers an ear hook that allows for high sound quality, comfort, and remarkable cosmetic appeal. Much like Magnatone's Monet Shadow, the Evok instrument is virtually invisible. It's also a multimemory, programmable instrument that is equipped with adaptive directionality, noise reduction, and adaptive feedback cancellation, and allows up to 52 dB of gain. Using a size 312 battery for longer battery life, the Evok has a power-on delay feature for feedback-free hearing aid insertion.
(800) 789-6543
www.magnatone.com
---
Virtually Invisible
Unveiled by ReSound, Bloomington, Minn, dot is one of the smallest hearing instruments presently available, and its tiny ergonomically designed size belies a micro BTE packed with more features than any RITEs. The proprietary technologies—and choice of 14 colors—enable maximum patient satisfaction.
(800) 248-4327
www.gnresound.com
---
A Brite Idea
v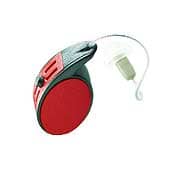 Swiss hearing system manufacturer Bernafon, Somerset, NJ, offers its "red dot" award-winning Brite line not just as innovative hearing instruments that offer state-of-the-art technology, but ones that offer fashion as well as functionality. Brite incorporates a hearing system that is fully programmable to each user's individual listening needs. Brite utilizes Bernafon's unique Lifestyle Profile where information about a client's individual listening needs and priorities is assessed during the fitting and used throughout the fine-tuning of the device. The choice of acoustic options is expanded by three additional micro-mold styles to further improve retention in the ear canal and enlarge the fitting range.
(888) 941-4203
www.bernafon.com
---
In-Vigo-Rating
Oticon Inc, Somerset, NJ, has delivered its new mid-priced Vigo and Vigo Pro product families. Both are based on Oticon's ultrafast RISE chip platform, delivering more bandwidth (8 kHz) and significantly higher levels of processing power. Vigo and Vigo Pro are available in a broad range of colors and a full range of styles from small CICs to slim BTEs. Both families offer a new Corda2 thin tube style and discreet RITE styles, providing users with the best options for natural sound quality.
(800) 227-3921
www.oticonusa.com
---
New Series of Monitors Available
Microsonic Inc, Ambridge, Pa, has introduced its new Epic line of Musicians' Monitors. Available in two models that fit any size ear, these universal monitors feature the patent-pending swiveling nozzle that offers the best fit of any universal product. Designed for a wide range of wearers, from the professional musician to the everyday iPod user, the EPIC Series offer a number of benefits, including noise isolation, comfort, and the very best in quality, and are available as custom-molded products.
(800) 523-7672
www.microsonic-inc.com
---
Small Audiometer, Big Features
Otovation LLC, King of Prussia, Pa, has announced the release of OTOPod, a wireless diagnostic audiometer whose small size makes it ideal for testing in the office or in a patient setting. Utilizing Bluetooth connectivity, the OTOPod can be used with a variety of transducers and wirelessly connects with a computer running Otovation's new Symphony software. Features includes manual and automated air and bone conduction testing, and speech testing with prerecorded wordlists.
(866) 686-8284
www.otovation.com
---
TV Ears Loop System
Westone Laboratories, Colorado Springs, Colo, now offers the latest addition to the TV Ears line. Hearing instrument wearers can now enjoy all the benefits of TV Ears without removing their instruments. TV Ears cuts down television background noise and amplifies the dialogue for better clarity and enjoyment. The TV Ears 2.3 Loop System allows users to receive the refined television audio through their hearing instrument's manual T-coil. Users can adjust their own volume and tone without turning up the TV and disturbing others. The TV Ears TV Loop is compatible only with the TV Ears 2.3 MHz system.
(800) 525-5071
www.westone.com
---
Impression Material
Precision Laboratories, Altamonte Springs, Fla, offers Blue Ultra ear impression silicone cartridges. This thixotropic formula has a low viscosity that resists slumping and distributes the material evenly. Pressure-free delivery eliminates distortion from stretching of the ear. Blue Ultra responds to the increasing need for high-quality ear impressions—a perfect fit for today's high-tech hearing aids.
(800) 327-4792
www.precisionweb.com
---
Digital Sound Level Meter Debuts
Hearing Technologies, Pinellas Park, Fla, introduced the SL-824, a new Digital Sound Level Meter, at the AAA show in April. The SL-824, ANSI accredited, is a portable and lightweight instrument available for use in a variety of sound measurement applications.
(800) 553-6003
www.hearingtech.com
---
All in the Family
The newest product from Hansaton, Tampa, Fla, is the Style family of hearing instruments combining technological innovation with exceptional design. Style hearing aids are available in eight different colors and three models—Style Premium, Style Exclusive, and Style Pro—each as a BTE or Mini BTE. Synchronized continuously with Hansaton's i-com technology, Style provides an enhanced binaural fitting with well-balanced sound, optimal speech comprehension, and clearer localization. All Style BTEs allow for conventional open fittings. Hansaton's eMote remote control can be used with all models.
(866) 449-9757
www.hansatonusa.com
---
New Software Version for Fonix FP35 Analyzer
Frye Electronics, Tigard, Ore, has announced that its FONIX FP35 Hearing Aid Analyzer is now available with a new release of software version 4.0. This release includes an improved new interface with simplified menus and a cleaner display. Also included is an Auto Stop feature that runs real-time measurements such as Digital Speech and composite curves for a set amount of time, eliminating the need for the clinician to stop the measurement manually.
(800) 547-8209
www.frye.com
---
Unique Combination
Phonak Hearing Systems, Weaverville, Ill, has introduced the Exélia Micro, a unique combination of cutting-edge technology, audiological expertise, and wireless connectivity that delivers hearing performance and user interaction together with easy access to modern communication and entertainment systems. At the heart of the Exélia system is its CORE (Communication Optimized Real-audio Engine) technology. The Exélia Micro's performance is based on SoundFlow, an automatic system that creates an infinite number of situation-specific programs. This is backed by VoiceZoom, an adaptive, multichannel directional system, and WhistleBlock technology, which sets a new benchmark in feedback cancellation.
(800) 679-4871
www.phonak-us.com
---
Headphones Provide Frequency Boost
Able Planet Inc, Wheat Ridge, Colo, offers Sound Clarity Noise-Canceling Headphones that feature Linx Audio technology, which alters the audio signal to increase the intensity of higher frequency harmonics and increases the perception of loudness without forcing users to crank up the volume to potentially damaging levels. Users with mild to moderate hearing loss will enjoy the same full, rich sound experience as those with normal hearing.
(303) 215-9770
www.ableplanet.com
---
Power of the Passion
Passion, the new and first RIC hearing instrument from Widex Hearing Aid Company, Long Island City, NY, offers Integrated Signal Processing (ISP). Automatic Passion hearing aids come in 12 colors and also offer the important NanoCare Wax Guard System for the ultimate protection against wax and moisture. Passion includes the Sound Harmony and Stable Sound Delivery features to provide optimum sound quality for open fittings. Patients can also choose to do a closed fitting.
(800) 221-0188
www.widexpro.com
---
Beltone Extends Reach
Beltone Electronics, Glenview, Ill, has introduced its Beltone Reach, the world's first digital hearing instrument with automatic Smart Beam Steering that automatically adjusts the width of the directional beam based on the location of the noise source. Reach also offers new monitored directionality, which helps patients hear sounds that they want to focus on and monitor sounds from other directions. In addition, the new automatic Smart Beam Steering works with the Speech Spotter, which automatically initiates the directionality when speech signals are challenged by noise sources competing for attention. In this way, the instrument automatically zooms in to focus on speech and switches back to omni-directional mode when directionality is no longer needed. The result for the user is a truly hands-free experience.
(800) 621-1275
www.beltone.com
---
Improved Audiometer Is NOAH and TIMS Compatible
MedRx Inc, Largo, Fla, has unveiled the new AVANT A2D+ diagnostic audiometer featuring an advanced ergonomic design that is available in black or white. The AVANT A2D+ is a two-channel, air, bone, and speech audiometer with a new integrated Quick SIN testing feature. This system offers an intuitive user interface for data collection, patient monitoring, and counseling. The PC-based audiometer comes standard with insert ear phones and custom carrying case, and weighs less than a half pound. The AVANT A2D+ is NOAH System3 and TIMS compatible.
(888) 392-1234
www.medrx-usa.com
---
Middle Ear Analyzer Steps Up
From Interacoustics, Assens, Denmark, comes the latest upgrades to the popular AT235h Middle Ear Analyzer. Four probe frequencies (226, 678, 800, and 1,000 Hz) give scope for multiple frequency tympanometry supported by a full test battery of acoustic reflex measures and ipsi- and contralateral reflex decay. The two probes (clinical and screening) are easy to change and are recognized automatically with calibration values adjusted accordingly. Two programmable reflex test sequences are available. A new manual pump function allows you to override automatic features, giving you control over pressure changes during tympanometry, and there are now two tests of eustachian tube function, one for perforated and one for intact eardrums. The AT235h also includes manual and automatic air conduction audiometry. Results are output from the built-in thermal printer or sent to a computer via the newly added USB port.
(800) 947-6334
www.interacoustics.com
---
AVANT REM Speech+
MedRx Inc, Largo, Fla, has introduced a new ergonomic Real Ear and Live Speech Mapping System. The AVANT REM Speech+ includes an improved housing design that is available in black or white. New features include the Sure Probe microphone system with lighted visual cues and an adjustable loop design that will fit any ear, ensuring the probe tube will always be correctly placed in the ear canal. Also new is a selectable dual probe measurement option that allows the user to do live speech mapping on both ears simultaneously. This new device weighs less than a half pound, connects to a USB port, and is NOAH System3, Sycle.net, and TIMS compatible.
(888) 392-1234
www.medrx-usa.com
---
In the Zon
At Starkey Laboratories, Eden Prairie, Minn, the new flagship RIC instrument is the Zon. Available in three configurations—Zon.3, Zon.5, and Zon.7—this line of instruments uses Starkey's new proprietary BluWave Signal Processing, which processes system data while managing inputs and allocating internal resources. In addition, Zon comes loaded with Directional Speech Detector, Active Feedback Intercept, Integrated Real Ear Measurement, Acoustic Signature, and Automatic Telephone Response. Starkey's Zon comes in six colors.
(800) 328-8602
www.starkey.com
---
Handheld OAE Screener
UK-based Otodynamics Ltd unveils Otoport, a handheld OAE instrument with the power and flexibility of the Echoport, with software tailored to the hearing professional's needs. The light, compact, handheld OAE system features "ILO" compatibility, an interactive graphic display, frequency band or waveform analysis, and 1,000-patient database accessed by a cell phone–style keypad. First in the family is the newborn screener, with later models designed to address pediatric screening and clinical diagnosis. Advance notice of features pending FDA clearance.
(800) 659-7776
www.otodynamics.com
---
Siemens Offers New Link
Siemens, Piscataway, NJ, Tek is a wireless accessory that allows connection of the company's Pure hearing aids to Bluetooth-equipped devices such as cell phones, personal audio, TV, PC, and more. Desgned to meet the needs of today's interactive hearing instrument wearer, Tek speaks the same language as other high-tech instruments.
(800) 766-4500
www.siemens-hearing.com
---
Quad VRA Reinforcer System
Pehratek Products, Chaska, Minn, announces the new WR-500 QUAD wired VRA system that is designed to control up to four reinforcer boxes simultaneously in the sound booth. The new product can control two or four boxes plus the centering box either independently or locked for upper and lower synchrony of operation. The control console has been redesigned with quiet membrane switches for good tactile feel to operate without needing to search out the correct button visually. The unit is versatile and smart offering programmable stimulus selection, presentation timing function, last right/left side presentation memory indicator, and optional footswitch.
(866) 470-3532
www.pehratek.com
---
Junior Fitting Mode Expanded
Phonak Hearing Systems, Warrenville, Ill, is expanding its Junior Fitting Mode by adding printable, tailored materials for parents, caregivers, and teachers. An invaluable counseling support, the reports provide important information needed to understand the child's hearing loss and their hearing system.
(800) 679-4871
www.phonak-us.com
---
New Vacuum Cleaner
JodiVac LLC, Portland, Ore, releases its newest vacuum model, the Jodi-Elite. The vacuum has improved performance with more power and runs more quietly than the Jodi-Consumer. Storage and portability have also been improved by having the vacuum hose, needle assembly, and new storage compartment fit into their own boxes. The Jodi-Elite will join the company's regular line of vacuum systems to continue its commitment to preserving the sound quality of hearing aids by users and hearing aid service providers.
(866) 856-5634
www.jodivac.com
---
New Mercury-Free Batteries
After more than 10 years of laboratory and field testing, Energizer has announced the launch of a line of mercury-free, zinc air hearing aid batteries. Set to hit shelves in October, the hearing aid batteries will be available in all four battery sizes–10, 13, 312, and 675.
(800) 426-8268
www.energizer.com