Biotechnology company EOSERA®, Inc announced that it has developed two new products for ear pain relief, Ear Pain MD™ and Ear Pain MD™ for Kids, is said to provide rapid pain relief for the symptom of ear pain, which is often associated with ear infections. Ear Pain MD is said to help avoid discomfort by desensitizing aggravated nerves and providing numbing relief but is not intended to address infection. The product is designed to be simple to use and reportedly provides the maximum strength available without a prescription. Ear Pain MD and Ear Pain MD for Kids are available at CVS stores nationwide and on Amazon.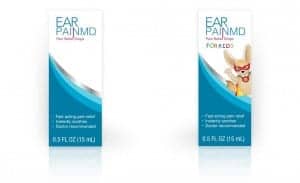 Ear infections are one of the most common reasons kids are taken to the doctor and can lead to harsh ear pain, which can be difficult to relieve and soothe. Watch this video to hear Dr Steve Martin discuss ear infections in children.
"The current standard of care for an ear infection diagnosis includes doctors typically prescribing antibiotics to treat the infection, and recommending oral pain relievers such as acetaminophen and ibuprofen, which can take up to an hour to work," said Eosera, Inc CEO and Co-founder Elyse Dickerson. "Our goal with the launch of Ear Pain MD is to provide more rapid pain relief that may be associated with ear infections and other ear-related issues." 
"Ear Pain MD is different than other over-the-counter pain relievers because it is applied topically as opposed to orally," said Joe Griffin, CSO and co-founder. "This allows the product to work faster and get to the actual site of the pain immediately. It is always recommended to talk with your doctor first before using any product in the ear." 
These new products come about 1 1/2 years after the launch of the company's flagship product, Earwax MD®, which is sold at CVS, select Target stores, and on Amazon.
Source: Eosera
Image: Eosera