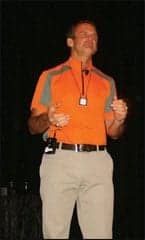 Keynote speaker Bill Barkeley spoke about his inspiring trip to the summit of Mount Kilimanjaro despite having a genetic form of Usher syndrome that has made him nearly blind with severe hearing loss. He now spreads the message that assistive device technology is changing the way people work and play.
Henderson, Nev—The Academy of Doctors of Audiology (ADA) held its 31st annual convention in Las Vegas on November 6-8, celebrating the organization's enduring goal of strengthening the profession of dispensing audiology, advancing its goals of autonomy, as well as celebrating the 20th anniversary of the AuD movement. About 500 people attended, including approximately 150 exhibitors.
ADA Convention Chair and Incoming President Charlie Stone noted that, although the saying, "What happens in Vegas, stays in Vegas," may be popular, it doesn't apply to the knowledge and ideas shared at the 3-day conference that featured over 30 educational seminars and an exhibit floor with over 50 companies' products and services represented.
| | |
| --- | --- |
| | |
| ADA Outgoing President David Berkey spoke about the recently published white paper, "Ensuring Audiology's Future in Healthcare: Owning the Profession Through a Culture of Practice Ownership." | On behalf of the Audiology Foundation of America, Deborah Price presented the David P. Goldstein, PhD, Outstanding Audiologist Award to ADA Past-president Larry Engelmann. Engelmann was also awarded the Joel Wernick Award from the Academy. |
Professional autonomy continues to be the dominant theme of ADA. A white paper1 generated from a committee chaired by ADA Past-president Larry Engelmann and disseminated in 2007-2008 took center stage at the General Session. In describing the publication, Outgoing President David Berkey commented that two-thirds of ADA members are private practice owners compared to only 15% of audiologists in general. The premise of the white paper is that the future of the audiology profession and the provision of comprehensive and effective patient care will be best served by audiologists securing practice ownership within the audiology profession, similar to other doctoring professions (eg, dentistry). The paper discusses challenges to the practice of audiology from outside the profession, the importance and benefits of "owning audiology" through practice ownership, and influences that could affect the breadth of ownership of the profession. It also provides recommendations for the future.
For his leadership, Engelmann was awarded both the David P. Goldstein Outstanding Audiologist Award, presented by Deborah Price on behalf of the Audiology Foundation of America (AFA), and the Joel Wernick Award, presented by Mary Anne Larkin on behalf of ADA. Darrell and Lee Micken of Boseman, Mont, were awarded the Leo Doerfler Award for their 50-year commitment to quality service and contributions to charitable pursuits.
| | |
| --- | --- |
| | |
| ADA President David Berkey shares a moment with the ADA's Leo Doerfler Award Honorees Darrell and Lee Micken, who run a thriving practice in Boseman, Mont, and dedicate a significant amount of their time to charitable causes. | ADA Convention Chair and Incoming President Charles Stone provided a preview of events during the General Session. |
Tabitha Parent Buck, AuD, was announced as ADA's new president-elect, and she will succeed Stone at next year's convention, which will be held October 29-31 in Clearwater, Fla. Bruce Vircks, AuD, was elected treasurer, and Gretchen Syfert, AuD, was elected secretary.
Providing the keynote address, Bill Barkeley told an amusing and inspirational story about how obstacles can be overcome using perseverance and assistive devices (ADs). Barkeley has a genetic form of Usher syndrome that has severely impacted his sight and hearing. Despite these physical challenges, he recently summited Mount Kilimanjaro in Africa—a 19,340-foot peak—using hearing aids as well as wireless transmission and sight ADs. Barkeley is past-president of the Association for the Blind and Visually Impaired and a member of the executive committee of the Hearing Loss Association of America (HLAA); his story has been featured in Outside Magazine, as well as in a film, Walk Your Own Path.
For more information on ADA, visit the association's Web site at www.audiologist.org.
Reference
Engelmann L, Berkey D, Parent Buck T, Syfert G, Tamres M, Williamson S. Ensuring Audiology's Future in Healthcare: Owning the Profession Through a Culture of Practice Ownership. Available at: www.audiologist.org/pages/about/docs/ada_position.pdf. Accessed: January 6, 2009.