David Berndtson is president and Deborah Berndtson, MS, is an audiologist at Net Power Marketing Inc, Fairfax Station, Va, which provides Web site development, search engine optimization, and pay-per-click advertising services for audiologists and dispensing professionals.
---
Do you "pay for performance" or "pray for performance" when it comes to the Internet drawing new customers to your practice? Here are the basics on Internet search engines, and how you can optimize your Web site so it attracts potential hearing aid users from your local area.
---
Have you noticed dwindling returns from your Yellow Pages, newspaper, and direct mail advertising? You are not alone. While the traditional advertising media are seeing shrinking or flat growth, Internet advertising is booming. The projected 2007 growth rate is 28.3% for all Internet advertising and 57.4% for local consumer ad spending.1 As consumers shift media consumption to a digitally based world, smart advertisers have followed as demonstrated by Figure 1.
Yellow Pages Aren't Dead, but …
People typically use the Yellow Pages or similar buying directories when searching for new buying sources. As such, the Yellow Pages is organized alphabetically by products and services.
Directory advertising has always enjoyed major advantages over other forms of promotion. These advantages include:
Timing. Your message is read by people who are actively searching for your product and service. No one browses the Yellow Pages. A person turning to the Hearing Aids section is generally considering a hearing aid purchase or ready to buy another.
Longevity. Your message has an effective life of a minimum of 1 year.
Reach. Yellow Pages are distributed for free to virtually every household and many businesses in a defined locality.
There is no doubt that the Yellow Pages has been considered a "must" for most dispensing professionals. Hosford-Dunn et al in their excellent textbook, Audiology Practice Management, state, "Yellow Page promotions are almost a necessity for every business." However, this text was written in 2000. If we fast forward to 2008, directory advertising on the Internet must also be considered.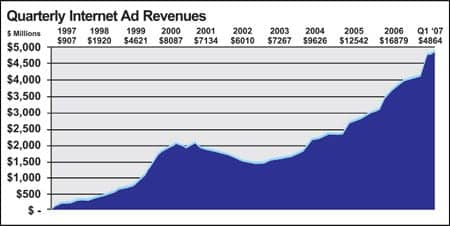 FIGURE 1. Spending on Internet advertising in the United States during the 10 years from 1997 to 2005 grew from $907 million to almost $17 billion, with the bulk of today's revenue growth coming from local online advertising.
The Internet is essentially one big directory, but has advantages over its print predecessor, the Yellow Pages, including:
Better and faster search capability;
Instant links to detailed information;
Easier access with a larger audience;
Local search capabilities;
Dynamic content; and
Immediate results.
Localized Internet Searches
A few years ago, the Internet returned poor results for locally based searching. Today, local search is much improved, accounting for roughly 40% of all searches.
About 89.5% of all Internet searches are occurring at the three largest search engines: Google, Yahoo, and MSN. Users performed 4.25 billion searches through Google in November 2007, representing 57.7% of US online searches performed that month.3 These search engines all provide advanced localized searching capabilities.
There are several ways people are searching locally. Using Google as an example, let's look at these ways.
Some people go to www.google.com and enter a local search phrase like "audiologists Boston" or "hearing aids Houston." The search results include information pulled from three sources: pay-per-click ads, Google Maps, and Google organic listings (Figure 2).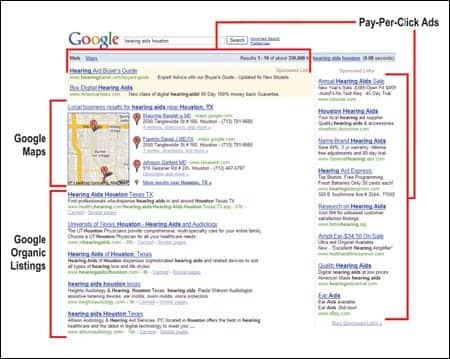 FIGURE 2. Pay or pray for performance? The three types of listings featured on Google. The Pay-Per-Click and Google Map ads are predominantly "paid positions," greatly influenced by a company's willingness to bid for the position of the listing. In contrast, Google organic listings are more a function of your Web site and its ability to match the particular key words in the search, as judged by Google's Web crawler.
Pay-per-click ads. These ads are placed by companies on a "pay-per-click" basis on a national or local level. In the latter case, a company may instruct Google to show their ads every time someone searches with a specific search term, like "hearing aids," and is within a specific distance from their practice location.
The price you pay per click is based on what you are willing to pay and is determined by a bidding process. In general, higher bids receive better ad positions. For example, today's competitive bids for the term "digital hearing aids" are $2.89 per click. However, it gets a lot less expensive as the per-click item becomes more defined. For example, the competitive bids for the term "Phonak Audeo" at this writing are $0.05 per click (Table 1).
Pay-per-click advertising is how Google generates nearly all of its revenue, and pay-per-click is really the only way to ensure first-page placement in Google. This form of advertising is results-based, because you pay only when someone clicks through to your Web site. You never pay to show an ad, but only when your ad is clicked.
It should also be noted that this area is getting quite complicated, and without guidance, a fair amount of marketing dollars can be wasted. A marketing firm with a "Certified Google Adwords Professionals" (a professional certificate from Google) can help optimize your pay-per-click activities. More on this is found at net-powerinc.com/ppc.htm.
Google Maps. Google Maps was previously called Google Local and serves as a local search engine. If you look carefully at Google's home page, you will see a small link labeled "Maps" in the upper left-hand corner. Google has realized that many people are not yet aware of Google Maps. As such, they are pulling information from Google Maps and placing this information directly on the main Google search results screen. Google does this at their discretion when they believe you are really searching locally. However, consumers are catching on to the system, and many are now going directly to Google Maps, as demonstrated by the fact that usage for Google Maps was up 51.6% in 2007.4
Google organic listings. The organic listings are free listings determined by Google with a piece of technology called a "crawler." The crawler visits your Web site (usually on a monthly basis) in an attempt to determine what you do. It then assigns relevancy to your Web pages on an almost-infinite number of potential search terms.
Good organic rankings are valuable but do not happen by accident. The process of trying to obtain good organic rankings is called search engine optimization. Most Web designers create pages that are pleasing to human visitors. However, the pages may not be pleasing to search engine "spiders" that crawl your site. These spiders determine your ranking in the major search engines.
Therefore, the goal is to design Web sites that are "spider friendly" and visually pleasing. The best sites are optimized around specific researched key-word search terms. An Internet marketing firm can perform research relative to how your target market is searching. This is critical to ensuring that your site is attracting high-quality traffic.
Finally, the ranking of your Web site also depends on your "link popularity." Link popularity is a measure of incoming links to your Web site. For optimum results, a customized link popularity program should be created that improves your rankings and sends qualified traffic to your site.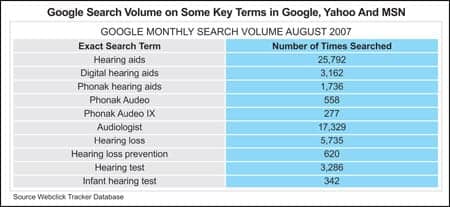 TABLE 1. Combined search results for August 2007 of some key words from the three major search engines, Google, Yahoo, and MSN. Broader terms, such as "hearing aids" and "audiologist," are naturally searched more often by consumers than comparatively narrow terms, like a specific product name.
Three Components of Internet Marketing: Driving, Converting, & ROI
Creating a Web site is relatively easy; however, creating an Internet marketing strategy that achieves predefined objectives is more difficult. Any good Web site strategy entails three basic elements: 1) Driving qualified traffic to your Web site; 2) Converting your traffic, and 3) Measuring results and assessing your return on investment (ROI).
Driving qualified traffic to your Web site. When it comes to driving qualified traffic to your Web site, you have two choices: "pay for performance" or "pray for performance." Pay for performance refers to pay-per-click advertising. This is the only way to ensure that your Web site will be found on the first page of the major search engines relative to your key search terms.
Your other choice for driving qualified traffic to your Web site is through your own free organic rankings. This is called "pray for performance" because it is difficult to obtain top organic rankings on specific search terms, and once obtained, it's unlikely that your business will remain on top indefinitely. The fact is that a combination of "pray" and "pay" techniques works best.
Converting your traffic. Once qualified traffic is delivered to your site, you need to convert it. A conversion is a desired action taken by your Web site visitors. Once on your site, what action(s) do you want a prospect to take? Typical types of conversions are:
Generate a phone inquiry;
Generate an e-mail inquiry;
Download product information, new patient forms, or coupons;
Click to start a live chat;
Place an order for batteries, ALDs, accessories, etc;
Schedule an appointment; and/or
Sign up for your newsletter.
One of the most common mistakes is driving qualified traffic to a Web site that lacks quality content. This will lower conversion rates. Another common mistake is to "hide" these conversion opportunities or otherwise make it difficult for the visitor to contact you.
Return on investment (ROI). Making informed advertising decisions (online or in print) requires marketing data. For many practices, Internet marketing provides the best possible ROI for precious marketing dollars. However, only Web tracking software can prove this to you! Internet tracking shows:
How many users are coming to your Web site.
How users are finding your Web site.
The terms searchers are using to find your Web site.
Your conversion rates for your Web site traffic.
This information is vital for revising your advertising investment and Internet strategy to maximize ROI. For example, you may want to know how many people downloaded your coupon from your Google organic listings or how many times your phone rang in February as a direct result of your Yahoo ads, then compare your investment to other marketing vehicles. Tracking allows you to make informed decisions and craft an overall marketing plan that best suits your business.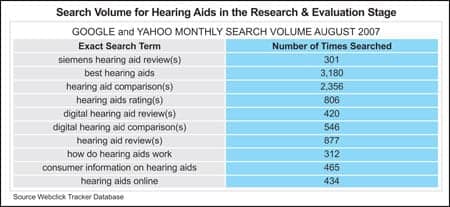 TABLE 2. The Internet helps consumers in the research and evaluation stage, the initial period when they are starting to collect information that will shape their ultimate purchase decisions. It is during this stage that you want to have your office/practice to appear in front of consumers in your local area.
Online Rewards and Risks
Early consumer education. Search engines have an amazing power to attract buyers in all stages of the buying cycle. General consumer research5 suggests that the Internet is being used in all four major stages of the buying cycle:
Awareness (9% of buyers)
Research and evaluation (68%)
Decision (43%), and
Purchase (28%).
Search behavior specific to hearing aids suggests the research and evaluation stage is especially strong, as shown in Table 2. The opportunity for dispensing professionals is to be found early in the consumer's buying cycle—during the research and evaluation stage. It is during this period we can differentiate our true offerings—quality hearing care products and services—as opposed to online hearing aids.
The final stage of the buying cycle for hearing aids, purchase, is best suited to a personal consultation and always will be. Professionalism and personal credibility are the greatest assets and competitive advantages we have to offer. Imparting a clear message of personalized care tailored for that individual's specific needs is essential.
A professional responsibility? The risk for dispensing professionals, as independent practitioners, is to underestimate the impact of consumer searches as a marketing vehicle. Underestimating the power of search engines allows other dispensing outlets—mail order companies, large retail networks, as well as hearing aids that are sold as "assistive devices"—often headquartered thousands of miles away to dominate the Web in your local market.
Google is probably the most powerful marketing force ever invented; yet most dispensing practices have no specific Google plan. To date, many Google pay-per-click ads lead to Web sites suggesting that hearing aids are a commodity. As such, low price rules. In this environment, consumers may be led to believe that:
Digital hearing aids are all the same and do not require custom fitting or electroacoustic modification;
Creating your own earmolds is easy or one-size-fits-all products are as good as custom-fit products;
It's easy to adapt to amplification and acclimation issues; professional help and guidance are "frills."
It is time for us to get our message of quality care to the public. The Internet is the ideal medium to do so. In fact, the alternative is to continue to allow other parties to define "value" in hearing care.
References
Interactive Advertising Bureau. Interactive advertising revenue report, August 2007. Available at: www.iab.net/insights_research/iab_research. Accessed February 18, 2008.
Hosford-Dunn H, Roeser R, Valente M. Audiology Practice Management. New York: Thieme Publishing; 2000:170.
Nielsen Online. Nielsen online reports. Available at: www.nielsen-netratings.com/press.jsp. Accessed February 18, 2008.
comScore Inc. comScore releases November US search engine rankings. Available at: www.comscore.com/press/release.asp?press=1984. Accessed February 18, 2008
Enquiro Research. Available at: www.enquiroresearch.com/download-research-whitepapers.aspx. Accessed February 18, 2008.
---
Correspondence can be addressed to [email protected] or David Berndtson at . A free Webinar is offered at www.net-powerinc.com/audiology_form.html or by calling (703) 425-7576.