Hearing technologies have advanced more than could have been predicted just 10 years ago. Digital signal processing (DSP) has had a tremendous impact on the products, patients, professionals, and hearing aid fitting process. However, despite the multitude of advances and advantages within the instruments themselves, there has been another benefit of equal importance—the development and distribution of multimedia tools to support the entire hearing health care process, from diagnosis to counseling, to ongoing aural rehabilitation (AR).
The Problem—They're Not Getting It!
Sometimes, while counseling clients/ pat­ients, we think we have done an extraordinary job communicating our message. We may believe a particular explanation or example was so good that we use it again and again, day after day, with other patients. Although the explanation seemed appropriate and worthwhile from our viewpoint (as highly educated, interesting, and likeable people), there is a reasonably high probability the patient probably didn't capture most of what we told them, let alone grasp the entire concept.
It has been shown that patients recall very little of what is said to them.1 The presentation of materials and information is very important; not only to get the message across, but more importantly, for patients/clients to retain the information.
In general, only 50% of the information delivered to patients by professionals is retained, and some 40% to 80% may be instantly forgotten. One study found that 68% of patients could not recall their medical diagnosis. Margolis noted that information worthy of retention needs to be written or printed, and cartoons, graphs, photographs, and other relevant take-home materials may increase patient recall.
Part of the Solution: Multimedia Tools
Multimedia tools to improve and enhance the patient experience are available. These tools are easy to use and are generally available at no cost to hearing care professionals. Exceptional integration of the audiogram with real-world listening environments, hearing aid information, aural rehabilitation suggestions, easy-to-follow simulations, counseling tools, and printouts help the patient better understand and retain the hearing care message. By being involved in the process, the patient is more receptive to it. Multimedia allows the patient to experience, understand, and retain more of the entire hearing aid fitting process.
Multimedia in Other Settings
Multimedia already enhances the patient's experience in many health care situations. In cosmetic surgery, for example, amazing digital imagery is used to document and create compelling photos of the patient at the time of presentation, and as the surgeon envisions the post-op result. The post-op anticipation is extremely important as it allows the surgeon and the patient to be certain they have the same goals and expectations before surgery.2 In dentistry, dental professionals use imagery and computerized presentation software3 to enhance understanding. Even in health clubs and gyms, trainers and sales associates use multimedia presentations to show the pre-treatment body type and shape versus the new and improved body type that can potentially result from their fitness programs. Professional multimedia tools increase efficiencies, allow better communication, and enhance professional relationships.
Multimedia are extremely popular in non-health care settings as well. One does not have to look far to see passengers on airplanes and trains with their own personal DVD playback systems and headsets. Children playing hand-held video games are virtually everywhere, and the benefits of digital technology in education are nothing less than staggering. Simulators are used to train jet fighter and commercial pilots, as well as in driver's education classes in public schools. Multimedia in the home continues to push back the boundaries with large flat-screen TVs, digital audio and video, and surround sound. We all appreciate multiple modality input: The better the quality, the better the experience.
Importantly, as consumers and clients become more accustomed to excellent multimedia presentations across all applications—from health care to education to entertainment—they anticipate and expect technological presentations and solutions from their hearing care providers as well.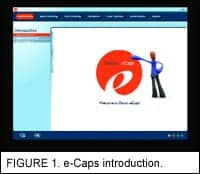 Explaining Difficult Concepts
Let's face it: Trying to explain directionality, split directionality, noise management, feedback cancellation, compression systems, and myriad other advanced high technology hearing-based concepts and solutions—while only using words—is difficult. Visual images evoke strong emotions and cognitive processes. The synergistic impact of audition and vision provides the most powerful message with the highest recall—and that is the best way to present complicated information to patients.
Effective multimedia presentations allow the professional to quickly and efficiently incorporate the patient's test results with their personal needs, their personal acoustic environments, their hearing aid options and alternatives, hearing aid maintenance issues, aural rehabilitation, and goals for follow-up appointments in one easy to understand, custom-made, interesting, fun, and unique presentation designed specifically for the individual.
Multimedia Selection Criteria
Multimedia approaches within hearing care have been slow to gain acceptance, and understandably so. With previous multimedia tools, customization was difficult, applicability across unique patient presentations was lacking, it was difficult to integrate particular systems into practice, and the high cost of multimedia software restrained growth. All of that has changed. Professionals can now acquire and use multimedia systems due to better choices, more functionality, and lower (or no) cost.
Key selection criteria for multimedia tools were previously described.4 Cur­rently, the authors offer three key selection criteria to be considered when choosing a multimedia protocol:
Universality: Multimedia designed for one particular type of hearing instrument will not have broad applicability, and therefore will not be integrated into every patient experience. Multimedia should be universally applicable to enhance the patient experience at every office visit.
Customizable: Multimedia should enhance dispensing protocols. Multimedia must be flexible and pragmatic. The system needs to coalesce different examples and explanations as needed. In other words, the multimedia tool should allow the professional to readily address different patients, all types and degrees of hearing loss, individual needs and desires, and a multitude of patient-based solutions.
Process Oriented: A multimedia system should have applications appropriate for every situation from the identification and diagnosis of hearing loss to hearing aid selection and fitting, hearing aid maintenance, aural rehabilitation, and assistive listening devices, and should provide a printed, comprehensive report for the chart, the referral source, and the client/patient.
A New Multimedia Tool
In 2005, Oticon released a multimedia package called the Electronic Client Assisted Product Selection, or e-Caps (Figure 1). e-Caps was developed after careful analysis of "best practices" derived from focus groups and input from many professionals. The system provides dynamic animation, lively narratives and a user-friendly approach, which addresses the entire patient experience. It focuses on the process more than the products, thus allowing and reinforcing the professional-patient relationship, rather than the salesperson-consumer relationship.
The professional customizes the e-Caps protocol by clicking on slides, movie clips, auditory and visual samples, and images (accessed through on-screen tabs) to create an experience that best addresses the needs of individual professionals and their patients. Information is easily recorded and printed for the patient. Concise and timely reports given to the patient help document goals and progress. Additionally, timely reports reduce buyer's remorse while highlighting key points and serving as a progress report to document success toward agreed upon goals and objectives.
e-Caps has seven primary tabs:
1) Introduction: A brief review of the history of e-Caps, an outline of the stages of hearing care (initial consultation, fitting session, follow-up sessions, on-going improvement), and an outline of the e-Caps counseling agenda.
2) About Hearing: Offers a close look at the functional components related to the anatomy and physiology of hearing, as well as easy-to-follow pictures and diagrams of representative conductive and sensorineural hearing loss.
3) Your Hearing: This section features a click-to-create audiogram, showing the sounds heard and not heard with particular audiogram configurations. The Envirogram is explained and reviewed5 to detail the patient's personal listening environment using the Sound Activity Meter.6 Speech-in-Noise is clearly explained, and sound samples offer an opportunity to understand the concept and the difficulties associated with poor speech-in-noise listening situations. The National Council on the Aging study7 is presented here, based on more than 4,000 respondents.
4) Situations: This section provides a multitude of common daily listening environments and detailed personal listening goals. Situations include "Home," "Group," and "Outdoors." A large selection of listening samples, both audio and video, are available in this section.
5) Your Solution: Offers the opportunity for the professional to facilitate a discussion based on multiple technologies and advanced hearing aid features. Binaural benefits and hearing aid styles are reviewed.
6) Aural Rehab: The AR section is multi-faceted, addressing topics such as communication strategies, assistive listening devices, hearing aid use and maintenance, and related topics. All of these sections are comprehensive and are supported with excellent graphics. "Hearing Aid Use and Care" movies are easily clicked to demonstrate techniques and alternatives.
7) Report: The report is quickly generated, resulting in a "Personal Treat­ment Plan" for the individual.
Within these tabs, overviews and details can be found and customized.
Implementing Multimedia
In most hearing aid dispensing offices, computers have an integral presence. Strom8 reported that more than three-quarters of all hearing aid dispensing occurs via computerized fitting tools. Yet, with regard to follow-up verification tools and AR, few practices (17% and 24%, respectively) use commercially available tools and processes. We believe the lack of verification and AR has to do with professional time, the ease of implementing new and effective tools, and financial matters (the cost of professional tools and time).
Because verification and AR are important components within the hearing aid dispensing process, e-Caps is available to hearing care professionals on a complimentary basis from Oticon. The program is designed to be intuitive and ideally serves as the foundation from which to review the ear, the audiogram, speech in quiet versus speech in noise, the National Council on Aging Study regarding hearing loss and quality of life, daily listening environments, individual listening goals, recommended technologies and their impact, communication strategies, assistive listening devices, hearing aid use and care protocols, and the professional can use it to print individual reports for the patient, their family, and their physician.
In most practice situations, hearing aid adjustments, counseling and aural rehabilitation occur in patient-friendly, comfortable environments. The standard office contains a desk and chairs—located on opposite sides of the desk—for the professional and the patient, with a computer on the desk to facilitate hearing aid fittings and adjustments. To add multimedia to the dispensing process, practical and efficient use of resources and space, and proximity to a computer screen, speakers, and keyboard is important. It is not necessary to have the printer and the computer in the room, as long as they can be readily accessed. We recommend incorporating e-Caps into the hearing aid fitting process, within the primary computer used for patient hearing aid fittings and adjustments, as e-Caps is ideally used to facilitate communication and retention across diagnostics, the hearing aid fitting process, counseling, and AR.
A large easy-to-read viewing moni­tor/screen (17 inches or larger) and high-fidelity speakers are best for multimedia-based demonstrative purposes. De­pending on the technology and space available, a second, patient-view monitor will readily enhance client/patient viewing. Depending on the physical space, this alternative may allow easier seating and viewing.
Summary
Clients/patients are not very good at recalling their diagnosis or the details of their hearing, hearing loss, and/or hearing aids. Professionals using multimedia tools are in the best possible position to transfer retrievable health care information to their patients. It is very important to work with patients in tandem with multimedia tools to better explain concepts and ideas, and more importantly, to enhance their ability to accurately recall information.
e-Caps is a new multimedia tool designed to exceed the three criteria outlined for multimedia tools, and is available to the hearing care professional on a complimentary basis. The system has been designed to serve as the foundation from which ear and hearing analysis, counseling, verification, and ongoing AR occurs. w
References
1. Margolis RH. In one ear and out the other: What patients remember. Audiology Online. 2004. Available at: http: //www.audiologyonline.com/articles/arc_disp.asp?article_id=54.
2. Kothe J. Helping consumers choose from a range of technologies and prices. The Hearing Review. 2004;11(7):40-43.
3. Poticny DJ. Say it with pictures. Dental Economics. 2004:94(2):34-39.
4. McGuire R. Make your move. Advance for Audiologists. 2005;7(2):41.
5. Beck DL, Schum DJ. Envirograms and artificial intelligence. News from Oticon. Somerset, NJ: Oticon Inc; 2006.
6. Flynn M. Envirograms: Bringing Greater Utility to Datalogging. The Hearing Review. 2005;12(12):32-38
7. Kochkin S, Rogin C. Quantifying the obvious: The impact of hearing instruments on quality of life. The Hearing Review. 2000;7(1):6-34.
8. Strom KE. The HR 2005 Dispenser Survey. The Hearing Review. 2005;12(6):18-36,72.