Hearing testing and fitting equipment has come a long way from its roots. Today's equipment is no longer the bulky, strictly delimited, button and knob encrusted analog equipment of just a decade or so ago. Today's equipment is compact, versatile, streamlined, and digital. "The classic instrumentation industry has historically been a very static industry in terms of design and function," says Terry Ross, vice president of sales for MedRx Inc, Largo, Fla. "It wasn't until the mid 1990s that we began to see real technological change occur, when a revolutionary PC-based design was introduced by Madsen Electronics, which, at the time, was a division of Danavox."
And though the computer was revolutionizing the way many industries—including audiology—were doing business, there was still a clear divide between the digital and analog worlds. "If you went back 10 to 15 years, hearing diagnostic devices were stand-alone units with no integration," explains David Speidel, director of audiology services at Interacoustics, Eden Prairie, Minn. "There was little computer interaction, and if you did use it, you had to reenter all of the data manually. There was no interface and there was no way to see the data in real time."
Although it took a few years, manufacturers across the board realized that personal computer-based technology was the next step, leading to devices that offer myriad features for hearing health professionals.
DIGITAL DIAGNOSIS
Although each diagnosis device available on the market has very distinct differences, they have just as many similarities, including portability and being digital.
Ross notes that many of the earlier diagnostic devices doubled as office furniture, taking up valuable retail and treatment floor space for equipment that had essentially one purpose. "Some of the newest devices are about the size of a man's wallet," he says.
The development of computer-based designs was a reaction to the market, Ross adds. "Today we are observing a massive 'upgrade' from traditional designs to newer high technology solutions that are PC-based," he says. "It is what the professionals are demanding, and it is what the consumers expect to see when they are visiting a clinic or professional hearing instrument retailer."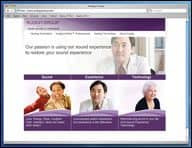 Vivosonic Integrity
Speidel notes that these new digital devices have another distinct advantage: they are multifaceted. For instance, Interacoustics' Affinity can be used for hearing aid, real ear, and audiometric examinations. The device is both a hardware and software platform and can be customized to the needs of the audiologist who uses it. The hardware easily interfaces with a standard computer system through a USB connection.
But it is not just the equipment that has changed. The method by which hearing is tested has changed as well. This is particularly true for pediatric hearing testing.
Toronto-based Vivosonic's Integrity is a wireless diagnostic device that can be used with both pediatric and adult patients. The components of the device are small—with the hardware housing equaling the size of a standard videocassette— that can be packed, along with the accompanying laptop computer, into a standard computer case. The device, which was introduced in February 2007, uses wireless Bluetooth technology.
The main benefit offered by the device is that patients do not have to remain perfectly still in order to have their hearing tested. As such, the primary market for the Integrity is pediatric patients. "The Integrity is a sea change in the way children are tested because they no longer need sedation," says Yuri Sokolov, PhD, MBA, president and CEO of Vivosonic. "With the Integrity, you can test 100% of infants without sedation," he says. This includes children with diseases such as cerebral palsy, since the Integrity's findings are not affected by muscular artifacts or movements.
The device also can be used on adult patients, such as senior citizens, who have difficulty being still and prone for long periods of time. With the Integrity, they can sit up and be tested within 15 minutes, Sokolov says.
The Integrity also has the benefit of working in a variety of environments because of both its portability and Bluetooth connectivity. For instance, Sokolov notes that in many hospitals, it has traditionally been nearly impossible to test patients' hearing because of environmental factors.
The Integrity also allows for more precision in testing, giving more accurate hearing thresholds and not overstimulating the children once they are fitted with hearing aids— which could impact the device's use.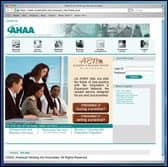 Interacoustics Affinity
Interacoustics' Affinity has also changed the way audiologists measure hearing. Speidel notes that the device comes with adult and pediatric presets, allowing quick transitions between the two patient demographics. The tests are faster and customized for the patient. Old tests also can be pulled up and superimposed over new tests to chart progress. It is a powerful educational tool for the patients. But with the advantages comes an obvious downside: the more complex the product, the longer the learning curve, Speidel says. The advantage: more flexibility while using the device.
MedRx's Ross has some qualms about the effectiveness of wireless technology, saying that it is still not reliable enough. Indeed, Sokolov acknowledges that some of the first versions of Integrity did have a hardware problem— but that only resulted in a small hiccup in the effectiveness of the device and has since been corrected.
Both men do agree that the smaller, portable devices are causing testing to become a more active part of hearing health care. Sokolov says that in England, hearing professionals are making house calls to test children's hearing. Ross has seen a resurgence in itinerant testers, particularly in rural areas.
But testing hearing before a patient has been fitted for hearing devices is only one part of the equation. The second half is making sure the hearing aids function properly after they are delivered.
DIGITAL FITTING
Like diagnostic equipment, fitting equipment also saw methods and devices change with the digital revolution of the mid 1990s. "The advent of digital instruments really changed the game," says Dave Cole, marketing coordinator of Audioscan, Dorchester, Ontario. "Features like compression, adaptive directionality, feedback suppression, and noise reduction made the old way of verifying function obsolete. Digital aids dynamically interacted with their environment and made automatic and continuous adjustments based on the acoustic environment. Much more sophisticated test equipment using advanced stimuli was needed to effectively verify and demonstrate function."
Audioscan reacted to the digital development by introducing Verifit, which employs stimuli such as calibrated speech, speech/noise, and dual direction noise along with advanced analysis methods. The fitting device is used in a wide variety of practice settings from solo practices to large ones to governmental agencies and the military.
As with the demand of digital diagnostic equipment, Audioscan entered the digital market at the behest of its customers. It is reacting to customer demands that allow the company to stay current. An example of this is the Verifit's Sensory Loss Simulator. "After a customer request, we went to work and developed a cochlear hearing loss simulator," Cole says. "We make all of these upgrades available for free so that every customer has the latest technology."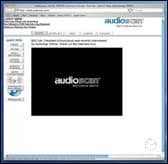 MedRx Mobile Office
MedRx also has introduced its own hearing aid testing device, the Avant. The device is able to give a complete polar plot of directional hearing devices. Ross explains that the ability to make sure that the devices are correctly adjusted and matched is extremely important, given the fact that the return rate for these hearing aids is about 20%. "It's a huge advantage to be able to do this from an audiologist's point of view," he says.
While both diagnosis and fitting have left their analog roots behind and digital has become the gold standard, the industry is still looking ahead.
THE NEXT STEP
Speidel says that there are constant improvements in the ways Auditory Brainstem Response (ABR) is being tested and that there are some new and accurate ways to test Auditory Steady State Response (ASSR).
One of the biggest changes he expects has more to do with marketing than technology. He says that the aftermarket for pediatric testing has yet to peak. This market is made up of pediatricians and other primary care physicians who, increasingly, are interested in doing follow-up to the infant screening done by many hospitals.
Ross says that the key to the future is how software is developed and how userfriendly it is. He, like Speidel, also sees future developments including nontechnological considerations. "You have to successfully engage the patient," he says. "By doing that, you're going to get a better result."
For Cole, the big change—the digital revolution—has come. Now it is a question of having audiologists use fitting devices like Verifit. "Regardless of what hearing aid companies build into their software and instruments, we feel that as a piece of medical equipment, a hearing instrument must be objectively verified," he says. "In fact, as hearing aids become more complex, and hearing instrument companies try to shift more control toward the instrument itself, we feel it becomes more important to place the control where it belongs, in the hands of the hearing health care professional. As for our future marketing, we don't see it changing. There are still too few people using hearing instrument fitting systems like the Verifit. In fact, only slightly more than 30% are regularly verifying their fittings. We feel that this should be 100% to ensure strong growth in the hearing instrument industry as a whole. Increasing this number is our marketing priority."
While new technology is a benefit to audiologists and patients, as Sokolov learned with some of the growing pains of the Integrity, it can also be "challenging." The only thing that is certain about the next chapter in hearing diagnosis and fitting is that it will bring even more change.
NEW and IMPROVED
MedRx Polar
With the advances in hearing diagnosis and fitting technology come new products. Among them are the following:
Vivosonic Integrity V500 is a wireless system for auditory electrophysiological assessment and hearing screening. The device is fully portable, utilizing hardware that is about the size of a videocassette and interfaces with an accompanying laptop. The device is particularly useful for pediatric screening since it does not require the child to be sedated.
MedRx's Mobile Office includes the Avant REM Speech and Avant A2D Audiometer. It, too, is about the size of a laptop and is completely portable. According to Terry Ross, vice president of sales for MedRx, the live speech mapping component is among the most popular products that have been released in the last 18 months. The device has either the audiologist or spouse speak to the patient. According to Ross, studies indicate that it reduces return rates 35% to 50%.The company's Avant Polar HIT Chamber is a stand-alone device but can also be combined with the AVANT REM Speech REAL EAR system to provide full testing and verification capability in future releases. All test results are automatically stored in NOAH for retrieval and can be printed on any computer printer.
Interacoustics recently added the FireWire VNG System to its product lineup. The system includes a laptop and a printer and delivers fast eye tracking at 105 Hz binocular, 174 Hz monocular; high-resolution, powerful analysis; goggles-to-PC video transfer; and OtoAccess database. According to company materials, the VO425b reduces test time in half through its FireWire Connection benefits, offering a rapid sampling rate, real-time analysis, and flexible configuration.
---
C.A. Wolski is a contributing writer for Hearing Products Report.