The inability to hear can negatively impact a person's quality of life in significant ways—from missing out on parts of conversations to not being able to enjoy some of the simpler things in life.
"Watching TV and listening to music, these are things people miss, and which can create a problem in relationships—a loud TV can drive everyone crazy," says Eric Stubbert, audiology sales manager with Sennheiser Electronic Corp, Old Lyme, Conn.
Assistive listening devices (ALDs) often provide a positive impact on people's lives, while also introducing them to the value of hearing care products or completing a hearing care package that improves the patient experience and increases satisfaction. "A model that incorporates communication technology besides just the hearing aid, and that considers a patient's lifestyle, can provide a complete package of solutions," says Michele Ahlman, president of ClearSounds® Communications, Burr Ridge, Ill.
Today, more than ever before, there are more ALDs available to meet users' specific needs and situations. "Hearing loss is often like a fingerprint," Ahlman says. As such, each user needs to find the product that works best for him or her—the one that fills their specific hearing gaps.
Most ALDs on the market today provide assistance in one of three areas: the telephone, the television, and in-person conversation. "ALD products are unique because they are not medical products or electronic devices but hybrid—a nonprescription solution to overcome a medical condition. They are easy to use and operate, and are widely accessible and affordable," says Chad Engel, communications manager with Williams Sound® Corp, Eden Prairie, Minn.
ALDS AND HEARING AIDS IN PERFECT HARMONY
While ALDs are available to end users without a prescription, many manufacturers and distributors focus their marketing efforts on hearing health care professionals. "Audiologists are at an advantage to offer [an ALD] product…because they can speak to its benefits," Engel says.
"ALDs are a great introduction to hearing aids and provide a realistic way [for users] to learn the potential of a hearing care product," Engel says. "Systems such as television listening devices don't have the negative connotation of hearing aids, but enhance the listening experience."
Stubbert concurs. "If someone comes in and is not ready for a hearing aid, the audiologist doesn't have to send them away with nothing, but can [instead] provide them with a $200 ALD and follow up in a year. The audiologist has locked in a new customer," Stubbert says.
The same philosophy also applies to patients who do use hearing aids. "They can hear better with additional tools," says Ahlman, who adds that patients are often grateful to learn about such additional options.
"A hearing aid is good at what it does, but is not that great for watching TV," Stubbert says. "When you've already spent $5,000 for a hearing aid, another $200 will not make a considerable difference in the expense—but [it] will make TV listening and the hearing care experience that much better."
MEETING THE NEEDS
Stubbert notes that only about 25% of people with mild to profound hearing loss will visit an audiologist. With an estimated 31 million Americans experiencing some level of hearing loss, that leaves a significant number who need to be reached by other means.
To meet that need, Sennheiser has altered its marketing focus to include more end user-targeted material. "Baby Boomers are the first generation to have grown up with high-fidelity sound, and they will want to maintain that quality in their homes, so they are a large target," Stubbert says.
While most ALDs are intended for use in the home, there are just as many needs outside that environment. Classrooms, for instance, provide another opportunity for ALD market growth. "Education is underserved," Engel says. "There are some ALDs for this market, but not enough."
Individuals in educational settings could benefit from the use of sound field systems and personal FM systems that use microphones worn by teachers to enhance sound. "But these systems can be expensive," Stubbert says. "There are some opportunities that are not met because those in need require public financial support."
Outside of classrooms, additional ALD opportunities exist in other everyday venues. "There is a push to include induction loops or microphones in public places," says Stubbert, mentioning areas such as boardrooms and taxicabs.
Products tend to be insular, but compatibility may eventually be an advantage. "There may be more universal appeal later for products that work together," Stubbert says.
Along these lines, Sennheiser hopes to introduce soon a television listening device soon that will feature microphones and switchable frequencies, allowing it to be used in theaters. "It won't be tiny, and it won't be cheap, but it's an evolution. Everyone gets better at making things smaller, less noticeable, more comfortable, and better quality," Stubbert says.
Ahlman agrees that technological advances will continue, and stresses that the first priority should be sound. "When talking about hearing loss, it's not just about making sound louder, but also clearer. External features should remain simple," Ahlman says. She suggests that older patients—currently the common demographic for ALDs—want some extras, such as spoken caller ID, but nothing complex. Spoken caller ID will be available soon on a new phone from ClearSounds. "It's great for seniors whose vision often makes it difficult to see the screen [on the phone]," Ahlman says.
The evolution of ALDs will occur on the outside and inside of the instruments. Newer model designs are already more streamlined and ergonomic than their predecessors. "The market is introducing more products with ergonomic styling and aesthetics driven by the iPod and other technologies," says Engel, who also envisions more Bluetooth®-equipped devices. "As Bluetooth becomes more available and affordable, I expect to see it integrated into more ALD products."
Wireless communication, environmentally friendly components, and increasingly advanced technology are trends in the hearing care industry overall that are also affecting ALDs. These advances have the benefit of appealing to the Baby Boomer generation, which will soon begin to seek products to assist their diminishing hearing—and it won't be just about the hearing aid.
Renee DiIulio is a contributing writer for  Hearing Products Report. For more information, contact [email protected]
Take a Listen
Assistive listening devices (ALDs) can help patients hear more clearly in a variety of settings. Their increasing availability and relative affordability have made ALDs increasingly popular purchases—mainly among individuals who are hard of hearing, but in some cases, even for the average consumer. Here are some of the ALDs available on the market to meet diverse needs:
Williams Sound's Pocketalker Pro
Williams Sound Corp
According to Chad Engel, communications manager with Williams Sound® Corp, Eden Prairie, Minn, the company's most popular product, hands-down, is its Pocketalker®. The portable device amplifies sounds closest to the listener and reduces background noise, making it ideal for use in one-on-one conversations, listening to the television, participating in small group conversations, and other similar settings. The product is designed to be rugged, with durability a focus for the company's product development.
The Pocketalker Pro was first introduced about 25 years ago; the newest model, the Pocketalker Ultra, debuted 2 years ago. The next-generation model features a sleeker design, created to appeal to the Baby Boomer generation.
"The device can be used in a variety of environments, [just] like reading glasses," says Engel, who notes that its value as an entertainment tool has great potential. "It can enhance the overall viewing of a movie or TV."
The SoundPlus™ TV infrared listening system is the company's ALD specifically for television viewing. The system connects directly to a television, VCR, or DVD; sound is transmitted through earphones, headphones, or a neckloop. The stethoset receiver—headphones worn as a stethoscope—turns on and off automatically when the arms are pulled, preventing drain on batteries.
The company's Teletalker™, an amplified telephone, features similar features with large buttons, adjustable tone and volume controls, and a flashing ring indicator. The device enhances phone-signal quality, improving speech understanding and eliminating feedback.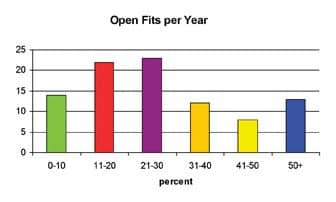 ClearSounds' CST25
ClearSounds Communications
ClearSounds® Communications, Burr Ridge, Ill, focuses primarily on telephone communications, offering analog and cordless telephones and accessories. "The cellular industry has shifted the conversation from using a phone for comfortable, easy conversation to functions such as taking a video and downloading it to a MySpace page. But we want our products to provide what users have been missing—clear conversation," says ClearSounds' president Michele Ahlman, who notes that the best sound quality today is found in analog, corded phones.
Not surprisingly then, the company's most popular product is its ClearSounds CSC50, the UltraClear Sound Shaping Telephone with caller ID. The analog, corded phone provides maximum amplification (up to 50 dB) and a broad range of adjustable tone. "Analog phone lines do have limitations in the range of tone that can move through the line," Ahlman says. "The range on [the CSC50] phone gives people maximum flexibility, allowing users with mild to profound hearing loss to find that sweet spot on the phone."
Flexibility, Ahlman notes, is a driving force behind ClearSounds' product portfolio. The CSC50 phone also features some of the simpler "bells and whistles," such as large buttons, speakerphone, a headset jack, and a phone book to store numbers.
The recently launched CST25 Amplified Impressions Sight and Sound Phone is also an analog, corded phone with volume amplification (up to 25 dB) and caller ID. Its extras include speakerphone, an extraloud ringer and flashing ring strobe, and a 7.4-square-inch caller ID screen.
ClearSounds also features cordless phones, listening systems, wireless products, and an alarm clock. The A50 UltraClear Sound Shaping Expandable Cordless Telephone with Caller ID can amplify sound up to 50 dB, control tone, and alert users to incoming calls using an extraloud ringer or vibrating pad. The WS1 Wake and Shake UltraClear Sound Shaping Alarm Clock features a vibrating unit that, when placed under a person's pillow, will wake the sleeper using motion rather than sound. It also features volume control, tone control, a flashing strobe light, large display, and telephone ringer signaler.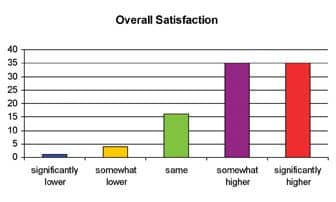 Sennheiser's SET820
Sennheiser Electronic Corp
Sennheiser Electronic Corp, Old Lyme, Conn, has focused its product portfolio on television listening systems, but also offers a personal FM listening device and tools for the classroom. "Television and music are really our primary drivers," says Eric Stubbert, Sennheiser's audiology sales manager.
The company's biggest seller is the SET100J, or Direct Ear™ SET 100. The mono system includes an infrared transmitter that connects directly to televisions, VCRs, and other compatible audio sources, and a cordless receiver with volume and left/right balance and tone controls. It can be used with the SET810 Personal Listening System, which uses infrared to transmit sound between a stereo/mono transmitter and stereo/mono stethoset receiver. It features automatic turn on/off, large-button volume control, and a compression driver to stabilize volume between commercials and programming. The SET810S version, or Set 810-S Personal Listening System, includes a bodypack receiver.
The SET820 system works using radio frequency (RF) rather than infrared, which eliminates the need for line of sight. "With an RF system, you can go anywhere in the house and continue to hear the television or stereo output uninterrupted," Stubbert says.
The SET810 and SET820 systems can be customized by an audiologist to fit each patient's volume and frequency response needs; the systems also provide conversion for use with neckloops and direct audio inputs of hearing aids.
—RD