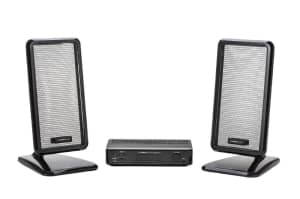 According to preliminary data from the latest clinical study by Turtle Beach Corporation, an audio technology company for over 40 years, the company's HyperSound Clear™ 500P directed audio system may have the potential to help people with tinnitus. To further research and test their latest tinnitus findings, Turtle Beach will show a prototype version of its new tinnitus add-on feature for the HyperSound Clear 500P at this year's AudiologyNOW! Convention and Expo in Phoenix, Ariz, April 13-16, in order to garner additional feedback.
Commonly known as "ringing in the ears," tinnitus is the perception of sound when no actual external noise is present, and there is currently no cure for most types of tinnitus. Additionally, the American Tinnitus Association states that "Millions of Americans experience tinnitus, often to a debilitating degree, making it one of the most common health conditions in the country. The US Centers for Disease Control estimate that 15% of the general public – over 50 million Americans – experience some form of tinnitus, with approximately 20 million struggling with chronic tinnitus, and two million living with extreme and debilitating cases."
"When we initially discovered HyperSound's ability to help people struggling to hear the television we knew we had something huge, something important, and we jumped at it full force to develop our first consumer-facing product to help this audience of millions of people around the world," said Rodney Schutt, SVP and general manager for the HyperSound business at Turtle Beach. "Now, having just launched the HyperSound Clear 500P a few months ago, we find ourselves in a similar position regarding tinnitus. Through our commitment to research and developing progressive clinical capabilities for how HyperSound® technology can help people living with hearing issues, our latest research suggests we may be able to improve the quality of life for people living with tinnitus. This is another significant milestone and achievement for the technology, and for helping to alleviate this condition that affects so many people."
Turtle Beach reports that late last year, it launched the HyperSound Clear 500P, the company's directed audio system for the home that's been shown to significantly improve sound clarity and speech intelligibility in individuals with hearing loss. HyperSound technology is a fundamentally new approach to sound delivery that generates a directional, narrow beam of audio in the air that can be pointed to a very specific location. Similar to how a flashlight directs a beam of light, the HyperSound Clear500P directs a beam of audio to targeted listeners, delivering an immersive, 3D audio experience. Turtle Beach's HyperSound Clear500P helps people hear and understand the television more clearly, allowing them to once again enjoy home entertainment with family and friends while watching their favorite shows, listening to music, or playing video games while hearing crisp, clear audio.
With the HyperSound Clear 500P now in the market, Turtle Beach continues to move HyperSound directed audio technology forward. The company's recent clinical study was conducted to assess whether HyperSound's higher-frequency directed audio using ultrasound technology, has the potential to reduce tinnitus, with promising initial results.
"Our latest study included 11 adult patients with chronic tinnitus who listened to a selection of customized acoustic stimuli through HyperSound's work-in-progress tinnitus application," said Dr Ritvik Mehta, founder and medical director of the California Hearing & Balance Center. "While sitting in the HyperSound Clear 500P's directed audio beam, subjects in the study experienced impressive reductions in tinnitus loudness and annoyance. This early data is very exciting because HyperSound technology now also may have the potential to help people manage chronic tinnitus without wearing any type of headset, offering a future sleeping solution for many tinnitus patients suffering from insomnia. Again, these are early findings and there's certainly more research and product development to be done, but even preliminarily, this is great news for the hearing healthcare market."
The HyperSound team will be at booth #1159 at the Phoenix Convention Center, located at the opposite end of the Main Entrance, by the Concessions area between Hall 4 and Hall 5.
To learn more about HyperSound technology and the HyperSound Clear 500P, please visit the official HyperSound website.
Source: Turtle Beach Corporation