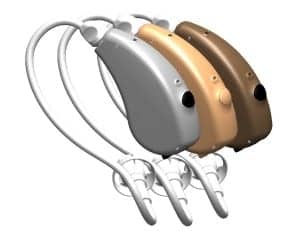 Audina Hearing Instruments Inc, based in Longwood, Fla, has announced the release of the Arro® Family of Open Fit Instruments, offering next generation hearing technology in a compact case design. Audina is exhibiting the Arro product line in booth #4MR at the AudiologyNOW! 2016 conference in Phoenix, April 13-16.
According to Audina, the Arro case features a 312 battery, and the new "Power Seal Thin Tube," capturing the entire frequency range. The Arro is intended to deliver a personalized fit at multiple technology levels: 2, 6 and 12 channels. The Arro Open Fit Power Seal Thin Tube system, sound processor, and environmental recognition system combine to reduce unwanted background noise and minimize occlusion, thus providing for a more natural listening experience. Audina reports that the P2i nano-coating is available for increased moisture protection.
Audina is an independent American company that blends the latest technology with sophisticated design and engineering, while offering the highest level of personalized service. In business for over 26 years and exporting to over 45 countries, Audina offers a comprehensive product line to accommodate all hearing loss needs.
Source: Audina