Telehealth, self-adjusting hearing aids, PSAPs, running a sustainable audiology practice. . . these trends are already influencing the future of hearing care and hearing care professionals. Are you future-ready?
The question comes from Ida Institute, which has just announced "Fit for the Future," the newest addition to its collection of resources in the Ida Toolbox that aim to inspire hearing care professionals (HCPs) to think about what is needed to be "future-ready," and to future-proof their practice for the changing world of audiology and technology.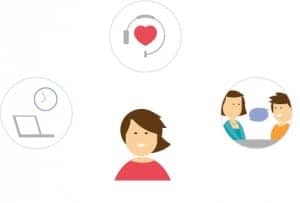 The new "Fit for the Future" resources from Ida are designed to help clinicians identify the actions they need to take as their current responsibilities–from hearing evaluations and programming hearing aids to client counsel and rehabilitation–undergo change in the future. Based on the insights developed by more than 100 hearing care professionals involved in the Ida Institute's Vision 2020 process, these quick and easy-to-use resources encourage HCPs to create a personal strategy for making necessary changes to their daily practice.
Vision 2020 participants deemed three areas in particular that will be critical to successful hearing care services in the future: Person-centered workspaces, expanding pre- and post-appointment communications, and starting to use Telehealth.
Transform your Clinic: A Person-centered Workspace
Fit for the Future offers inspiration on transforming a workplace and office to create multiple opportunities for client engagement. A welcoming and attentive front office staff and a waiting room designed for client comfort help to set the tone for the appointment and ease client anxieties. Educational materials, including videos, inform and prepare clients for a successful and productive encounter.
Communications Beyond the Clinic: New Ways to Relate
Fit for the Future also looks at ways HCPs can use a well-maintained practice website to improve the before- and after-session client experience. Pre-appointment information provided via the website educates clients and primes both the client and clinician for an efficient session with more time to focus on person-centered care. Post-appointment virtual connections via the practice website support rehabilitation and engage not only clients but also their communication partners for better outcomes.
Community education through schools, social and civic groups builds awareness and understanding of hearing loss and helps to break down barriers to hearing care.  As ambassadors of communication, HCPs shift focus away from the "problem" of hearing loss to a more holistic look at hearing health and overall well-being.
Telehealth: A Future of Expanded Possibilities
Fit for the Future encourages clinicians to make virtual "house calls" for everything from remote screenings and instrument adjustments to ongoing support and rehabilitation. By addressing the needs of clients who can't come to the office or those who prefer treatment at home, telehealth expands access to quality care and makes it truly universal.
Online Group counseling sessions create time and cost-efficient options that benefit clinician and client. Via Skype, video calls and even specially designed apps, HCPs can facilitate support networks among clients with hearing loss who may be isolated and/or at a distance from medical centers where aural rehabilitation support groups are available.
Reframing the Role of the HCP
Fit for the Future provides insights and knowledge to help HCPs to start reframing their current practice for a more holistic approach that fosters trust and builds life-long relationships with clients. Incorporating strategies to encourage shared decision-making allows clients to take ownership of their hearing health and make a stronger commitment to treatment.
"While the changes in hearing care may present many challenges, they also represent an opportunity for hearing care and hearing care professionals to build a strong bridge to the future and establish a new brand identity for themselves," says Managing Director Lise Lotte Bundesen, Ida Institute. "Through Fit for the Future, we hope to inspire hearing care professionals worldwide to craft a plan for the future that works best for their individual practices and enables them to provide person-centered care to more people than ever before."
For more information about Fit for the Future and the entire Ida Toolbox, visit and download on the Ida Institute website. Learn more about Ida's Telecare program in this Hearing Review article.
Source: Ida Institute
Image credit: © Rangizzz | Dreamstime.com