The 93-year-old Queen Elizabeth II was photographed on Sunday—for the first time ever, according to multiple news sources—wearing a hearing aid.
The device was photographed in her right ear by the British newspaper, Daily Mail, and was partially hidden by her hair. Below is an enlargement of the exposed portion of the device from the photo.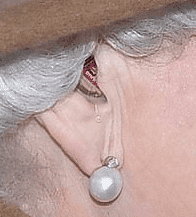 This sent the audiological social media world all atwitter, because upon closer examination it's pretty apparent the Queen is wearing a Signia Silk completely-in-the-canal (CIC) hearing aid. Although an exceptional hearing device, the Silk is an instant-fit device—a surprise choice for the storied monarch who most would expect to have been fitted with a custom hearing aid. Additionally, it appears that the CIC is not optimally positioned in the Queen's ear, leading to suggestions by hearing care professionals that she could benefit from counseling on a better insertion technique.
Apart from the audiological nit-picking, most social media posts lauded the Queen for taking proactive steps for improving her hearing status. Others speculated that the Queen's hearing aids might provide a boost in hearing awareness and hearing aid sales throughout the United Kingdom, similar to how Ronald Reagan being fitted with hearing aid (see photo of Siemens/Signia's Thomas Powers fitting President Reagan below) was said to give the US market a sales boost—sometimes referred to in the industry as the Reagan Effect.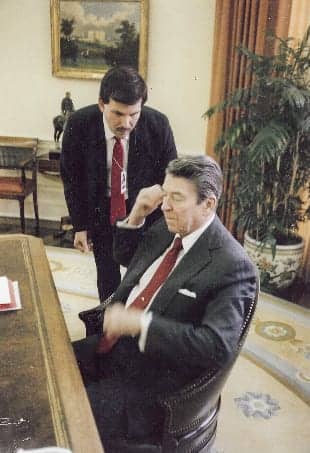 Image: © Lorna Roberts | Dreamstime.com