Plural Publishing announced the release of the third edition of Clinical Audiology: An Introduction. Authored by Brad Stach, PhD, and Virginia Ramachandran, AuD, PhD, the book is described as "a comprehensive enhancement of all the introductory material available in previous editions of this stimulating textbook." Students can gain an understanding of the scope of the field of audiology and feel prepared to dive deeper into the subject as they progress through their courses, according to Plural's announcement. Clinical Audiology focuses on the clinical nature of audiology to familiarize students with the many challenging questions encountered by an audiologist. This textbook is intended primarily for beginning-level students in the fields of audiology and speech-language pathology. It is intended for the first major courses in audiology, whether it be at the undergraduate or graduate level.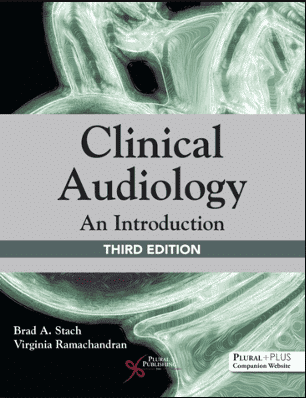 New to the Third Edition
New co-author: Virginia Ramachandran, MSW, AuD, PhD,
Two new chapters on implantable hearing technology and hearing assistive and connectivity technologies,
New case studies and enhanced perspectives on avoiding clinical errors,
Updated descriptions of hearing disorders and their causes,
Expanded focus on diagnostic approach strategies,
Expanded audiological treatment section,
Updated hearing aid technology and verification approaches,
An introduction to vestibular system assessment,
PowerPoint lecture slides for instructors and sketch notes and flashcards for students.
Key Features
Learning objectives at the beginning of each chapter preview the concepts to be discussed.
End of chapter discussion questions help aid students in applying concepts.
End of chapter summaries outline the key points from the chapter.
Margin notes provide key terms and definitions.
Clinical notes describe particular techniques students might consider using.
Comprehensive glossary and index.
Book Details
Title: Clinical Audiology: An Introduction Approach | Author: Brad A. Stach and Virginia Ramachandran | Published: 09/15/2021| ISBN: 978-1-94488-371-3 | https://www.pluralpublishing.com/publications/clinical-audiology-an-introduction-1
About The Authors
Brad A. Stach, PhD, is director of the Division of Audiology, Department of Otolaryngology-Head and Neck Surgery, of the Henry Ford Hospital in Detroit, Michigan. He also serves as a faculty member and oversees the clinical education component of the AuD program at Wayne State University Department of Communication Sciences and Disorders. Dr Stach is the author of a number of scientific articles, books, and book chapters and is the Audiology Editor-in-Chief for Plural Publishing. He is a founding board member of the American Academy of Audiology (AAA) and has served as its President and the Chair of its Foundation's Board of Trustees.
Virginia Ramachandran, MSW, AuD, PhD, is an educational and training specialist at Oticon, Inc. She is also an adjunct instructor at Wayne State University and Western Michigan University. Her professional leadership services have included serving on the executive board of the AAA, serving on the board of directors of the Accreditation Commission for Audiology Education, and serving as president of the Michigan Academy of Audiology. Dr Ramachandran serves on the editorial board for Plural Publishing.
About Plural Publishing, Inc.
Plural Publishing produces academic, scientific, and clinical publications in the fields of speech-language pathology, audiology, otolaryngology, and professional singing. Plural Publishing, Inc aims to fill a space in the field of communication sciences and disorders with publications written by experts in order to improve and enhance the knowledge base of each profession, from the classroom to clinical practice. Plural Publishing prioritizes the intellectual growth of the disciplines it serves and strives to improve and advance these fields through its publications.
Source: Plural Publishing
Image: Plural Publishing