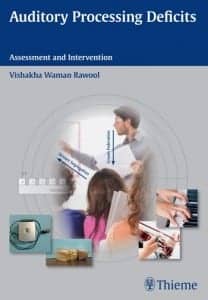 A new book, Auditory Processing Deficits, recently published by Thieme, is designed to provide readers with clinical information on auditory processing deficits (APD), an important, growing area of interest in the field of audiology. According to the publisher, the book contains the latest guidelines on screening, diagnosis, and intervention of auditory processing deficits and includes key information on related assessment tools and management strategies.
Written by an experienced authority on APD, with knowledge and experience in three related fields including audiology, speech-language pathology, and teaching for the deaf, this book is said to be an essential clinical guide for graduate students in audiology, as well as practicing audiologists.
Author Vishakha W. Rawool, PhD, CCC-A, FAAA, is a professor of audiology, communication sciences and disorders at West Virginia University in Morgantown, West Virginia. Rawool also has contributed articles to The Hearing Review.
The book's publisher, Thieme Publishing Group, is a medical and scientific publishing house employing more than 900 staff and maintaining offices in seven cities, including New York, Delhi, Rio and Stuttgart, Germany. Thieme publishes 150 peer-reviewed journals and more than 450 new books annually. The company has a rapidly growing array of web-based products in medicine and science.
Source: Thieme Publishing Group