Eargo, Mountain View, Calif, the company that created a virtually invisible in-ear hearing device that is designed to help people live with, and feel better about hearing loss, announced that it has raised $25M in Series B funding. This financing was led by New Enterprise Associates (NEA), a venture capital firm with expertise in technology and healthcare. The new funds allow Eargo to scale business operations and accelerate production of its hearing products.
The company reports that nearly 50 million people in the US experience mild to moderate hearing loss starting in their 30s, yet the majority of people choose not to address the condition due to the high cost and stigma that can be associated with traditional hearing aids. For these reasons, Eargo zeroed in on empowering people to feel better about living with hearing loss through technological innovation. Eargo developed patented Flexi Fibers, invented by ENT surgeon and Eargo co-founder Florent Michel, MD, to suspend the Eargo devices in the ear canal, making them virtually invisible. Eargo devices, which fall into a market segment sometimes referred to as "hearables," are designed to be comfortable, breathable, and natural sounding by leaving the ear canal open to let natural bass sounds pass through.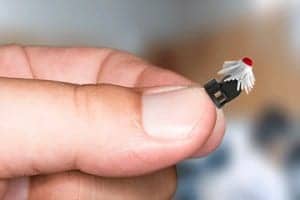 "Eargo is one of the fastest-growing consumer medical device manufacturers in Silicon Valley, and its groundbreaking technology is changing the way people think about hearing loss," said NEA General Partner Josh Makower, MD. "Because Eargo is at the intersection of consumer technology and healthcare, and is poised to disrupt the traditional hearing aid industry, it is the perfect brand to add to our consumer healthtech portfolio."
Focused on users' on-the-go lifestyles and desire for simplicity, Eargo devices are intended to be easy to use and work right out of the box, and cost less than half the average cost of a pair of hearing aids in the US. The devices reportedly last a full day on a single charge and come with a portable charger that fits in a pocket or purse. Eargo comes with four pre-set sound profiles, which are designed to work for the majority of people living with mild to moderate hearing loss. According to the company, Eargo devices are available for purchase online at the Eargo website, though they are not available in all US states. The company's in-house audiologists and dispensers across the US will custom-program devices for users who send their audiograms to Eargo.
Eargo was recently named one of Popular Science's Best of What's New 2015. The Eargo hearing system includes a pair of new hearing devices, the portable charger, and the charging base. According to its website, Eargo offers a no money down 60 day test drive of its in-ear hearing system. To learn more about Eargo's new hearing device, please visit the Eargo website or its YouTube page.
Source: Eargo
Image credits: Eargo