The nation's first educational program specifically tailored to deaf and hard-of-hearing people pursuing graduate degrees in biomedical or behavioral science begins September 1 in Rochester, NY.
The National Institute of General Medical Sciences, part of the National Institutes of Health, awarded the $2.1 million grant to the University of Rochester Medical Center's Clinical & Translational Science Institute (CTSI) and Rochester Institute of Technology's National Technical Institute for the Deaf, Center on Access Technology. The objective is to build a model program that integrates activities at each university to improve the experience of deaf and hard-of-hearing students seeking advanced degrees. Called the "Rochester Bridges to the Doctorate," the program will facilitate a transition from master's degree programs offered at the various colleges at RIT to PhD programs at UR.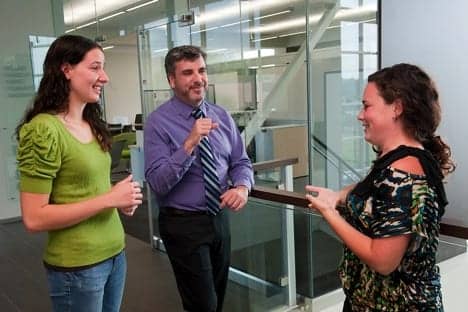 Peter Hauser chats with graduate students Gloria Wink of Rochester (left) and Gina DeNaples of Greensboro, NC (right). Photo by Mark Benjamin, RIT/NTID.
"Deaf and hard-of-hearing students are woefully underrepresented among PhD candidates in the sciences, and this landmark training program aims to bridge the gaps—in communication, mentoring, and across languages and cultures—to address the critical shortage," said Thomas A. Pearson, MD, MPH, PhD, principal investigator for UR, senior associate dean for clinical research, director of UR's National Center for Deaf Health Research (NCDHR), and CTSI director.
"Until now, deaf people interested in science faced a glass ceiling at the master's degree level," Pearson said. "We've already received scores of inquiries from interested students, and we believe we're addressing a huge, unmet need."
The 5-year grant will offer many new opportunities. Mentoring faculty will hold special seminars and skill-building workshops on topics like grant-writing and responsible conduct of research and will provide tutoring, counseling, graduate assistantships, and a summer-in-residence program. The program will also help prepare research faculty and their labs to work with deaf and hard-of-hearing students. Researchers will track graduate degree completion and other career-development outcomes among deaf and hard-of-hearing students in the program, compared to students not enrolled in the program.
"This is an amazing opportunity for aspiring deaf scholars who have long been under-served and under-recognized," said Peter C. Hauser, PhD, principal investigator for RIT, director of the Deaf Studies Laboratory at NTID and Science Mentorship Leader for the NSF Science of Learning Center on Visual Language and Visual Learning (VL2). "We applaud NIH for recognizing the deaf population as a minority group and awarding this grant to broaden the participation of deaf and hard-of-hearing individuals in biomedical and behavioral sciences."
Two graduate students will enroll in the first year, with three students per year in each of the following four years. The goal in the initial five years is to provide a total of 14 students with the knowledge and skills required for a successful career in the biomedical and behavioral sciences.
SOURCE: Rochester Institute of Technology's National Technical Institute for the Deaf