Hearing-impaired author and professor emerita Nancy Shuster offers a first-hand look at captioned phone options.
Just recently I participated in a telephone trial for captioned telephones. This took place in Florida, one of the states involved in the phone trial. This exciting new product looks like a traditional telephone with extra buttons to allow for special features. For instance, there is a caption button that lights up. By pushing the button, you will be connected to a relay operator who listens to your call and monitors a voice recognition technology to provide captions of the dialogue that is being sent, thus enabling the listener to hear and read the contents simultaneously.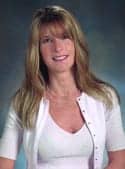 Nancy Shuster, MAT, MEd
The caption phones can send and receive calls in the same manner as traditional telephones; it is only when the caption button is pressed that a different procedure takes place. Behind the scenes are specially trained operators who edit the voice recognition system as it occurs. As a result, you will see corrections to the text of the dialogue.
The behind-the-scenes relay operators use a special attachment called a "stenomask" so they can speak without being heard by other people. This keeps the dialogue private. The operator using this equipment can be trained to analyze what is being transcribed. This same system is used for court reporting, live closed-captioning television, and other similar productions.
Answer with Captioning
For example, if you have received a call from a person with the captioned phone and they want you to call them, you must first connect with a relay operator. Unless you own this special equipment, you are required to call a special relay phone number. This number differs in each state. Often it is easier to instruct the other party that you will call them and they will be automatically connected as a result. This service must be set in place before a phone call. It cannot be connected in the middle of a call.
This unique phone enables the user to review the conversation by scrolling back, just like you would on a computer. Once the conversation is over and you hang up, that feature is over. It only works during a call. You can also adjust the volume of the phone during a call. It works as an amplified telephone as well.
Not Yet on the Market
Since the trials are still ongoing, the phone is not yet available to the consumer. Although the service was approved by the FCC in August 2003, the product has not been priced, and not all states provide the service. However, one of the companies manufacturers caption phones are exhibiting the product at conferences and trade shows. The product is new, innovative, and another breakthrough in telephone communications.
Professor Emerita Nancy Shuster, MAT, MEd, is a hearing-impaired writer, based in Rhode Island and Florida, where she teaches writing courses to retired seniors. Shuster's new book, Hearing Loss and Winning Solutions, was published in April 2004, and can be ordered by sending an e-mail to [email protected].