The American Academy of Audiology (AAA) will hold its 15th Annual Convention and Exposition in San Antonio on April 2-5. This section of The Hearing Review is intended to provide a preview of the companies participating in the convention and allow readers to gain a sneak-peak into their latest technology and service offerings. Descriptions of the products and services listed here were provided by the companies upon request of The Hearing Review. To obtain more information on the products, visit the exhibits or fill out one of the enclosed Action Cards (found on page 100).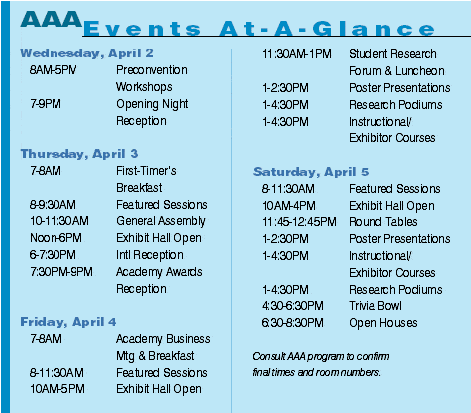 ---

Action Marketing specializes in the design and production of highly effective direct mail advertising. Their approach focuses primarily on new patients, and their clients are said to enjoy predictable and consistent business growth every year. All products are tested extensively before inclusion in the product line, a step which eliminates the risks inherent in any new advertising approach. Attendees are encouraged to visit the company's booth #1622.
---

American Hearing Aid Associates (AHAA) offers its nationwide network of more than 2,000 independent hearing aid professionals—a virtual franchise with no loss of autonomy. AHAA services include customized business and marketing plans, and materials and staff training. AHAA reports that it is the only organization that does national TV, magazine, and newspaper consumer advertising for an independent network. AHAA's Web site, www.AHAABizLink.com, is said to be the industry's only online source for obtaining pricing information and purchasing products from the top vendors. Visit AHAA's booth #934.
---

Come visit Beltone at booth #1525 to discover how a Beltone partnership can increase your value in today's competitive environment. Beltone will be exhibiting the latest version of its multi-media fitting software, BeltoneAVE, along with the new Oria O75D digital BTE. Oria features include speech pattern detection, Satisfy automatic adaptation manager, dual microphones, and 12-channel curvilinear WDRC.
---

Bernafon presents its comprehensive digital product offerings: Flair, Smile plus, and Symbio. With these three innovative digital hearing systems, the company reports that you can choose the most suitable hearing system for your patients with regards to price, user control options, audiogram configuration, and signal processing. For more information, visit the company's Web site at www.bernafon.com or stop by exhibit #1137.
---

CareCredit offers patient financing for professional audiology services and hearing aids. Financial concerns frequently discourage patients from pursuing appropriate care. With CareCredit, you can offer patient-friendly choices that include interest-free and long term, low interest financing options. CareCredit reportedly pays your practice within two days. Visit the company at Booth #1437.
---

Discovery Hearing Aid Warranties, a comprehensive, one-source provider, works with a national network of dispensing professionals who recognize the critical importance of protecting clients' hearing aid investments. Discovery offers protection for loss, damage, and component failure on all makes and models. The plan features profitable compensation for dispensers. Discovery Hearing Aid Repair is a rapid response, full service, all make repair lab which offers competitive pricing on repairs for non-warranty customers.
---

Duracell will be showcasing Duracell® Activair® with EasyTab®, reportedly the first easy-to-replace hearing aid battery. The "pillbox" package is designed to make it easy for patients to store, carry, and remove batteries. The longer tab makes it a cinch to see, hold, and insert. And EasyTab batteries now last up to 30% longer than previous Duracell Activair dial pack batteries. Visit the company's booth to receive a special gift from Duracell.
---

E-A-R Auditory Systems will feature both the original (3A) and next-generation (5A) E-A-RTONE insert earphones, E-A-RLINK' foam and PVC infant eartip couplers, and other auditory systems products. Visit the E-A-R auditory systems booth to learn more about the benefits of insert earphones, get answers to any questions you may have, and pick up a copy of the company's new brochure, "The Inside Story about E-A-RTONE Insert Earphones."
---

Now available in two models, Dry & Store makes it easy for your patients to enjoy peak performance of their hearing aids wherever they are—at home or on the go. Come see the newest addition to the Dry & Store family, the Global. It's designed for travel, and it's also suitable for all kinds of cochlear implant hardware. Dry & Store offers excellent results and ease of use due to "Better hearing through better hearing aid care."
---

Egger is now represented in the United States with its own facility. As a world-wide operating system supplier from Germany, now customers in the US and Canada are being supplied from Atlanta. Egger will introduce new impression materials and presentation products during the AAA show in San Antonio. Moreover, audiologists, oto-labs, and hearing aid producers can learn everything about the latest developments of the Egger photo-polymerization technique. Egger looks forward to your visit at booth #1152!
---

Stop by Booth #560 and learn about Electone's new digital hearing instrument, Aurora. Aurora is said to be an exceptionally marketable hearing instrument that allows you to offer your patients superior digital performance while being sensitive to their financial resources. Featuring two channels, adjustable crossover frequency, adjustable input and output controls, up to three optional programmable memories, and more, Aurora is designed to provide versatility in fitting for a wide range of hearing needs.
---

Energizer manufactures premium zinc air hearing aid batteries. The company will be displaying its traditional spin packs, as well as the EZ Change hearing aid battery dispenser. Attendees will also be able to gather information on the latest product improvements, including the increased capacity of Energizer hearing aid batteries. The company will have giveaways, including daily drawings for a 24" plush Energizer Bunny.
---

The BAHA®, by Entific Medical Systems, is an implanted bone conduction hearing system based on osseointegration—titanium implants integrated with living tissue. Cleared by the FDA to treat mixed and conductive hearing losses, as well as unilateral sensorineural hearing loss or single-sided deafness (SSD), the BAHA is a hearing restoration solution for adults and children ages five years and older. The system consists of a detachable sound processor anchored to bone by an abutment behind the ear through minor outpatient surgery.
---

Let ESCO show you how their after-market hearing instrument insurance is a win-win business decision for you and your patient. Your patient's investment in today's advanced technology hearing instruments is protected for long-term value; your reputation as a patient advocate will be enhanced and rewarded, creating loyal customers and increased revenues, according to the company. Take a look at ESCO's super bill resource (from template to final forms). The company says it will assist you in the creation of a professional quality form that will increase practice revenue and make collection of fees easier.
---

Visit Etymotic Research Inc at booth # 544 and #263. At booth #544, learn about the company's progress with Digi-K hearing aids, and ER's expanded solutions to the problem of hearing-in-noise such as the Linkit array microphone that provides 7-10 dB improvement in signal-to-noise. At booth #263, find out how to build your practice by providing high-fidelity hearing protection and high-end, high-accuracy, noise-isolating earphones for travel and personal listening.
---

Not all digitals are created equal. In fact, according to Gennum, the limitations of many digital products result in inadequate sound quality and a less-than-satisfying listening experience. Stop by Booth #1052 to find out what Gennum is doing to raise the standard of sound quality in hearing instruments.
---

GN Otometrics, with the Madsen and ICS Medical brands, will be featuring its full line of advanced audiologic instrumentation and balance/vestibular equipment at booth #717. The company will be introducing PediHear™, a comprehensive approach for hearing health care professionals to meet the needs of the pediatric population with hearing loss. The company invites you to visit its booth to see how screening, diagnostic, and fitting equipment, continuing education, and information management software can be combined into one solution for early identification and effective intervention of those infants and children with hearing loss.
---

GN ReSound is proud to introduce the ReSoundAir™ product family. ReSoundAir is the company's digital high frequency, high performance solution for difficult to fit hearing losses. ReSoundAir combines innovative hardware and software solutions to address the most common patient complaints. The company invites you to stop by the GN ReSound booth at AAA for your first look at this innovative problem solver.
---

Grason-Stadler features the GSI Audera with superior ASSR and 2-channel AEP capability, including electrocochleography, click and tone pip ABR, and middle latency response testing. The Audera, in conjunction with the GSI AUDIOscreener, provides a complete solution for newborn hearing health care. The GSI AUDIOscreener with two-in-one technology combines OAE and ABR screening in an easy-to-use unit. It reportedly provides fast, accurate newborn hearing screening results, while significantly reducing program costs.
---

Hagemeyer Tech Care Products, in booth # 146, will be introducing their new catalog. For 15 years, Hagemeyer (formerly Warner Technologies) has been committed to providing the broadest line of products for dispensing practices, with an aim of being the audiologists' distributor of choice. The company will be featuring its full line of Tech Care products, including earwax removal kits, lubricants, disinfectants, wipes, and impression materials. Dreve Otoplastik will once again have representatives in the Hagemeyer booth, happy to answer any questions you may have regarding hearing aid repairs and manufacturing of earmolds and hearing aid shells.
---

Sometimes the most effective solution is the simplest…and the most natural. You want to achieve the closest approximation to natural hearing for your patients. A significant part of the solution could be a simpler, more natural hearing component, reports Hearing Components. Visit the company's booth (#748) to see how Snap Tips, the natural hearing comfort tips, are building a reputation based on research that is partially funded by the National Institute of Health.
---

HIMSA, St Paul, Minn, presents NOAHlink™ at the AAA show. This product is designed to mobilize your dispensing practice with omni-directional wireless connectivity and improved speed. NOAH System 3 allows hearing aid fitting systems, diagnostic instruments, and office-management systems to operate together as a single, integrated system. Also, coming soon to your desktop or notebook, eTONA, allows 24/7 access to electronic hearing aid orders, repairs, and status updates.
---

HITEC is a national distributor of assistive technology with a large dealer program designed to help build your ALD business. Visit the HITEC booth to see amplified telephones, TV listening devices, cellular products, and more. Stop by to try out the products and pick up information about the company's dealer program which will soon offer on-line ordering.
---

Interacoustics will be introducing the new AA222 Audio Traveler at AAA. The AA222 combines clinical immittance and clinical audiometric functions all in one, small, portable package. The AA222 is suitable for outreach programs, secondary offices, or when space is at a premium. It is also compatible with NOAH and the IABase 2000 database platform. The company invites you to stop by the Interacoustics booth #1627 at San Antonio to see this "one of a kind" product.
---

Intrason will launch TRANSPARENCE, a new line of digital products which utilize the patented adaptive dynamic range optimization ADRO™ algorithm. A breakthrough in signal processing for the hearing impaired, ADRO™ uses no compression but fuzzy logic rules to provide intelligibility and comfort. The brand new 700 series BTE line will also be introduced.
---

Knowles Electronics provides a full range of hearing aid components featuring omnidirectional, directional, and matched-pair microphones, including the Thin Mic family with the TO, TD, and TP series. Receiver technologies include D-amp, High-Output, Ferrofluid damped, and Pantograph mass-balanced receivers. Cerumen management components include the MicroWaxBuster active wax protection system. Deltek electromechanical components include switches, trimmers, volume controls, telecoils, programming accessories, and introduces the new 7000 volume control and 2700 moisture-proof switch.
---

Maico Diagnostics invites you to stop by to see the complete range of EROSCAN hand-held OAE devices, ranging from a basic screener to an advanced clinical combination unit. A new update to the EROSCAN is the capability to test an extended high frequency range to 10,000 Hz. A remote corded probe unit is standard with all models, a feature that the company believes is most advantageous for difficult-to-test patients.
---
For over 20 years, Micro Audiometrics has reportedly been known for manufacturing reliable, durable, portable, and cost-effective hearing testing equipment. The Earscan Acoustic Impedance instrument is designed to perform exams as quickly as 1 second, can perform ipsilateral reflex tests, and can also be upgraded to perform manual and automatic puretone audiometry. The DSP Pure Tone audiometer is a 10-oz, battery operated, hand held air conduction puretone audiometer suitable for multiple applications. The company invites attendees to stop by for a product demonstration of the Earscan.
---

At this year's AAA convention, Micro-Tech will be featuring a complete line of digital instruments, from the smart digital Alpine to the brand new trimmer digital Tacana—all come available with either the Touchless Telecoil or Touchless Telephone Response. Micro-Tech reports that its products are the result of careful scientific research, corroborated by clinical trials and backed by sound service personnel who hold your needs as their top priority. The company was founded in 1986 with a focus of providing solutions for challenging high-frequency loss. Today, it reportedly stands by their tried-and-true instruments and customer service. Check out the latest in digital technology and enter Micro-Tech's raffle at booth #1509.
---

Midwest Hearing Industries has been providing loss and damage coverage to the hearing industry for over 40 years. Three programs are available, including the new refitting allowance program, which pays you a refitting fee on each claim submitted. All programs are easy to understand, and use a 3-tier premium level, offering your patients the lowest premium around. Coverage is available on all makes and models. For more information and a free brochure, stop by booth #1634.
---

Stop by Mid-States, at booth #1335, and let the company give you a big Texas "Howdy." Mid-States will be demonstrating how to make a perfect impression with user-friendly Yellow Stuff II that does not droop. Also check out the company's exclusive NASA-based materials. And find out about Mid-States' customer service with a smile approach to doing business. Look for the great big yellow earmold, take advantage of the company's convention specials, and enter the free giveaway drawings.
---

SUMO stands for Super Power Maximum Output, the latest innovation in Oticon's broad range of power instruments. With 142 dB SPL MPO, 82 dB gain, and high levels of LF MPO, SUMO reportedly delivers more power than any other Super Power BTE, analog or digital. SUMO is powered by a new amplifier and receiver design, Output Optimization Technology™. It also features: multiple fitting algorithms; effective feedback management;active 4th order response shaping; dynamic battery management system for long battery life; dedicated pediatric applications, including DSL and RECD compensation; small, thin and light case and a reliable and robust design; programmable telecoil with 6 dB boost; full FM and DAI compatibility, and a unique interlocking shoe design. Visit www.oticonus.com and exhibit #509 for more information.
---

Otodynamics will be celebrating 25 years of OAEs with the introduction of three exciting new products: ILO 292 USB DP Echoport, a new generation clinical OAE system; OAE2 binaural OAE technology; and ILO V6 clinical software. See the whole range of OAE screening, diagnostic, and research instruments. Plus, visit The OAE Experience and collect your 25th Anniversary OAE souvenir.
---

Phonak presents "The Art and Science of Better Hearing" at AAA 2003. Visit the company's booth to learn about the latest advances in digital technology and how art and science come together to provide the ultimate in hearing performance. Phonak FM system technology keeps getting better; come by to learn about the latest in universal FM systems that use synthesized technology.
---

Powerone batteries reportedly deliver the highest useful voltage, life span, and sound quality. Suitable for all analog, digital, high power, and cochlear implant devices, they feature an advanced cathode design, on-demand capability, and efficient catalyst to deliver excellent reliability. State-of-the-art German manufacturing results in "premium" batteries at "standard" pricing. Visit booth #931 for valuable promotions, giveaways, and to learn more about Powerone technology.
---

Precision Laboratories Inc, Altamonte Springs, Fla, is a full-service manufacturer of custom earmolds for all amplified and non-amplified applications. Departments include special products (Challenger division), hearing protection, monitor earphones, glow-in-the-dark, sparkles, veins, and total hearing health care supply source providing over 300 supplies from bench grinders to batteries and impression materials. Precision is also a maker of new hearing aids ranging from generic fit to custom fit, analog, digital, programmable, and all-make hearing aid repair service.
---

Qualitone's full range of DSP hearing instruments and professional software allows audiologists to offer practical solutions to people with hearing loss. Qualitone's business and marketing programs will support all your efforts to maintain patient satisfaction and attracting new patients, according to the company. Look for MARQUISE, TRILLIANT, EVOLUTION, and QUANTUM to provide the right combination of value and technology. The Qualitone family of dedicated and skilled people is your hearing-solutions partner.
---

Patented technology has made Rayovac ProLine more powerful than ever, effective in all hearing aids—including high gain/high power aids. ProLine's ultra-convenient packaging features a spin and lock dial, longer tabs, and a securely closing door design. Stop by the company's booth to hear more about the newest technologies.
---

RTI is a world supplier of hearing aid components, volume controls, trimmers, switches, faceplates, integrated circuits, hybrid packaging, and microphones. Products include Clari-D' Digital-One Trimmer Version, Clari-D' Digital-One Multi-Memory Clari-D' Digital-One 4 Channel, Clari-D' 285 analog, Clari-D'2 Programmable, Clari-D' 272 output circuits, directional products, Intellimic' slide with switch, M75 mini trimmer, and programmable faceplate systems.
---

Offering an extremely diverse digital product line is just the beginning of what sets Rexton apart. A knowledgeable sales staff, accommodating customer service representatives, and some of the industry's top-notch manufacturing talent continue to provide the support needed to thrive in today's competitive marketplace. Stop by booth #1317 to learn more about Rexton products and services.
---

SeboTek Hearing Systems, with 15 years of hearing aid manufacturing experience, introduces PAC, the newest hearing aid style since the CIC. PAC features an extremely soft, minimum contact fit with four channel, digital circuitry, directional microphones and four memories. An incredibly discreet instrument that fits mild to severe hearing losses, PAC offers same day fittings and on-site repairs. See PAC demonstrated at AAA, booth #350 or visit www.SeboTek.com. Introductory product assortments will be offered.
---

Sennheiser introduces its Direct Ear Soundfield Amplification System, for use in classrooms to help students hear better, pay more attention, learn easier, and score better on tests. It also reduces teacher vocal strain, lessens fatigue, and creates an overall classroom environment. Using the same award-winning RF wireless technology as used on Broadway, it offers excellent sound quality. Sennheiser invites attendees to see its complete line of assistive listening devices for TV and stereo.
---

Visit Seimens at booth #1144.
---

SONIC Innovations is announces NATURA® 3, with clinically proven technology that includes exciting new features, such as voice management, feedback management, binaural balance, programmable volume control, enhanced personalized noise reduction™, and enhanced directionality—all designed to make fitting patients easier and more successful than ever before. NATURA 3 is available in all models from the new high-gain and high-output BTE to the small, discrete CIC. As always, SONIC innovations is committed to continuing education, and NATURA 3 product and software training will be available at booth #1544.
---

AVR Sonovation has returned to using its official name, Sonovation Inc. Look for the new logo and ImpaCt Xp, the first software expandable line of DSP hearing instruments. Available in CIC and ITC models, ImpaCt Xp uses revolutionary adaptive Dynamic Speech Re-Coding (DSR) algorithms that perform real-time phoneme analysis and frequency compression.
---

Are you a convention attendee interested in proven and affordable digital solutions for the widest variety of patients? If so, stop by and experience the results of Starkey's most exhaustive R&D efforts. The company is showcasing the new Genesis 4.0 product family—Axent II, Arista, Sequel, and Endeavour. Learn about the variety of new enhancements featured in PFS 4.0 and the new CARE patient counseling software. Starkey invites attendees to discover just how well a single digital product line can meet all your patients' needs.
---

Unitron Hearing presents Conversa, designed to be a breakthrough approach to feedback technology, telephone management, and speech intelligibility in noise. Conversa's real-time feedback canceller reportedly reduces undesirable feedback without diminishing gain. With Conversa's ClearCall technology, clients can use the telephone without switching programs or experiencing feedback. Like other Unitron Hearing products, Conversa ensures fast fittings and high first-fit acceptance. Visit Unitron at booth #1125 for a demonstration of Conversa's ClearCall technology and receive a "scratch-off ticket" to win various fun prizes.
---

Since 1959, Westone has been the source for the highest quality earmolds and one of the most extensive lines of clinical and consumer supplies in the industry. Stop by island booth #725 in San Antonio to tour Westone's gallery of earmolds, check out new earmold materials, learn about hands-free mobile phone products, hear the live band, and experience Westone music products for yourself. All this and much, much more awaits.
---

Widex presents the Senso Diva, a perfect example of the synergy between dual microphone technology and digital signal processing, according to the company. The Diva line is comprised of CIC, ITC, ITE, and BTE hearing instruments. Features include the Diva locator, exceptional noise reduction with eSIS to increase listening comfort in noise, Diva active feedback cancellation, and more. Widex also presents mid-level Senso Plus CIC to power directional BTEs, Senso Super Power BTEs, and lower-cost Bravo digital CIC to super power BTE hearing instruments.
---

Williams Sound is reportedly the worldwide leader in hearing assistance technology. Visit booth #358 to see the new stereo Infrared TV Listening System—part no. WIR 952. In addition to the stereo TV listening system, you can see the classic Pocketalker Pro, Personal FM System, and Teletalker amplified phone.
---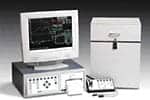 Frye Electronics will introduce its newest, top of the line instrument, the FONIX 7000 Hearing Aid Test System. New features include a high resolution display, a menu driven user interface, and a fast single pass screen printer. New software for the FP35 and for the WinCHAP data base program will also be displayed.
---

Celebrating its 57th year, Hal-Hen offers comprehensive one-stop shopping for the hearing healthcare professional, including: assistive devices, impression materials, hearing aid and standard batteries, diagnostic equipment, otoscopes, earlites, pocket video otoscope, earmold and fitting supplies, and educational materials. We will be featuring special promotions, along with our new Web site, www.halhenpro.com.
---

Hearing HealthCare News®, a customized patient newsletter published since 1986, and Audiology HealthCare News®, a newsletter for physicians and other healthcare providers, are both edited by Dennis Hampton, PhD, a dispensing audiologist. The newsletters are valuable resources for marketing your practice to patients and physicians. Bring your business card to booth # 132 and receive a laminated luggage tag.
---

Lightning Enterprises will introduce the Lightning Vac Traveler, a portable vacuum pump system designed for professional hearing aid repair and maintenance. The Traveler includes the popular Lightning Vac suction unit, vacuum jar desiccator for drying, NP-1 Professional Needle Pack for cleaning various size openings, and durable carrying case. See us at booth #146.