The AG Bell Association has published 101 Frequently Asked Questions About Auditory-Verbal Practice: Promoting Listening and Spoken Language for Children who Are Deaf and Hard of Hearing and Their Families.
More than 100 Listening and Spoken Language Specialists (LSLS®) share their knowledge and distilled wisdom in this resource for practitioners and parents of children with hearing loss. The book was developed and edited by Warren Estabrooks, MEd, Dip Ed Deaf, LSLS Cert AVT, president and CEO of WE Listen International Inc.
"The field of auditory-verbal practice continues to evolve as the clinical and educational landscape changes. This book represents listening and spoken language techniques that have proven to be successful," says Estabrooks.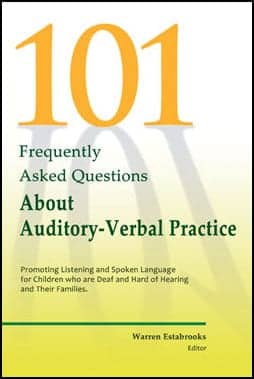 For practitioners, the book is designed to enhance their understanding of the possibilities for children who are deaf and hard of hearing today and to provide an understanding of the philosophy and outcomes of auditory-verbal practice.
It also gives insights about collaborating with parents to create an optimal listening environment in the classroom or treatment room, and provides specific strategies for speech and language development.
101 FAQs also highlights the evidence-based outcomes of auditory-verbal practice through a review of recent research studies in the field with children who benefitted from early identification and early cochlear implantation.
For example, findings of one of the largest studies conducted to date demonstrate that the rate of language growth for the majority of children who received auditory-verbal intervention was comparable to that of peers with typical hearing and that most children were able to close the language gap with their peers. Research also shows that the majority of these students attended mainstream educational programs in high school. After completing their K-12 education, these children continued to use listening and spoken language and functioned in mainstream environments.
According to Estabrooks, the book's greatest strength is its demonstration of strategies and techniques that promote effective development of listening and spoken language. For parents, the book helps them to become their child's primary teachers on the journey to lifelong language development, literacy, and independent thinking skills.
101 FAQs is available in print from the AG Bell bookstore. The e-book version is available in a format compatible with every major e-reader device on the market through Amazon and Lulu.
SOURCE: The Alexander Graham Bell Association for the Deaf and Hard of Hearing (AG Bell)