The Hearing Review has recently aired a free 16-minute webinar, The Top-3 Ways to Attract More Patients, by Kevin St Clergy, MS, co-founder of Medical Practice Builders, or MedPB (formerly EducatedPatients.com). This webinar summarizes and provides pointers on three key activities involved in attracting new patients: diagnosing your own marketing situation, using three tried-and-true marketing strategies, and putting together your 12-month marketing plan. The webinar series, which focuses on new and first-time patients, is brought to Hearing Review readers courtesy of CareCredit.
In the increasingly competitive environment of hearing healthcare, it's all too easy to pour money down the drain on marketing activities, online, direct mail, and advertising that do little to get the phone ringing and more patients scheduled. The secret, according to St Clergy, is using 3 simple proven patient attraction strategies. In his short webinar, attendees will learn be able to:
Identify how to determine what type of marketing will work for their practice in their market;
Understand which 3 marketing strategies work at the local level to get the phone ringing, and
Put together a proven 12-month marketing plan that gets results.
Attend this Webinar: The webinar is now available on-demand. You can register and attend this free webinar by clicking here.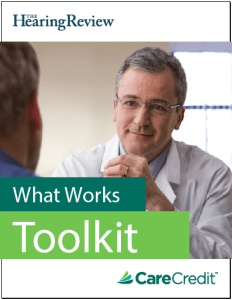 Get the What Works Toolkit: In conjunction with the webinar, CareCredit will be offering a free What Works Toolkit at Booth #209 of the Academy of Doctors of Audiology (ADA) Convention in Washington, DC. This toolkit includes a new hearing aid pricing survey, 10-year state-by-state sales statistics, customer loyalty business tools, focused white papers, and webinar overviews—all in a special report designed to help you and your practice succeed in today's business environment. To reserve your copy, click here.
The previous webinar in this 3-part series, What Research on First-time Hearing Aid Users Tells Us by Hearing Review Editor Karl Strom, is now available for on-demand viewing.