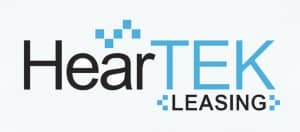 EPIC Hearing Healthcare has introduced HearTEK™ Leasing, the first hearing aid lease program with the option to upgrade to the latest hearing technology.
An estimated 48 million people in the United States have hearing loss, yet only 20% of people who could benefit from a hearing aid wear one. Cost is a major barrier as the average price of a hearing aid is $1,500 per ear, and hearing aids can run as high as $3,000-$5,000 each. With the introduction of HearTEK™ Leasing from EPIC Hearing Healthcare (EPIC), the company says that individuals with hearing loss now have access to the latest name brand hearing aid technology without the barrier of huge upfront costs and with the peace of mind that they will not be locked into out-of-date technology.
"Consumers have gotten used to the benefits of leasing their smartphones – no one wants to pay upfront for technology that could become quickly outdated as manufacturers regularly introduce new devices with updated features," said Brad Volkmer, president and CEO, EPIC Hearing Healthcare, who notes that the same is true for hearing aids and hearing aid technology. "The HearTEK Leasing program is an affordable new way to give more people with hearing loss access to [up-to-date] quality hearing aid technology, so they can start hearing life to the fullest."
How the Hearing Aid Leasing Program Works
Almost everyone qualifies during the application process and there are no application fees or required security deposit. With a licensed hearing aid professional, patients will select a hearing aid best suited for their needs and have access to all levels of technology at four monthly payment levels – $49.99 (basic), $79.99 (standard), $99.99 (advanced) and $149.99 (premium). By spreading hearing aid payments across a lease term up to 30 months, patients can finance a hearing aid up to $5,000. For more information about the program, view HearTEK Leasing Video.
Source: EPIC Hearing Healthcare