Hearing care professionals today have a wealth of information to share with patients about the various products and services offered by manufacturers. Here's a look at some of the product brochures, catalogs, and other informational literature that is available to guide professionals and patients through the experience of finding the right care products for their individual needs.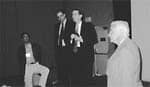 E-A-R Auditory Systems
The Inside Story About E-A-RTONE® Insert Earphones brochure by E-A-R® Auditory Systems, Indianapolis, explains the clinical and time-saving benefits of the E-A-R Insert Earphone. It highlights the advantages of the Insert Earphone—including reduction of backgroud noise, greater interaural attenuation, and improved hygiene—as compared to the problems and limitations of the supra-aural earphone . (800) 624-5955; www.e-a-r.com.
---

Bernafon
Bernafon LLC, Somerset, NJ, presents a new patient brochure, Symbio XT—Enjoy the Music of Life. The brochure explains problems typically encountered by those with hearing loss and how Symbio XT's unique ChannelFree™ processing can help bring conversation to life with clear, natural sound. The advantages of open fitting, directionality, and soft noise management are also explained in an easy-to-understand format. (888) 941-4203; www.bernafon.com.
---

Frye Electronics
Fyre Electronics, Tigard, Ore, provides a CD entitled FONIX Catalog, which features product sheets and pricing information about the FONIX line of products in PDF format. The information on the CD matches the paper version of the catalog, which consists of the collection of multiple pieces that also explain the features and options of the FONIX products. Both the catalog and the CD catalog are available upon request. (800) 547-8209; www.frye.com.
---

CareCredit
CareCredit®, Anaheim, Calif, offers Patient Presentation Charts, which detail payment options and payment amounts, to patients when they ask about CareCredit. All plans are nonrecourse and the practice receives payment at time of care. CareCredit exclusively offers Pre-Approval to find out if patients will be approved for financing through CareCredit before their appointment, so patients can be offered a financial solution before costs become a concern. (800) 300-3046; www.carecredit.com.
---

Oticon
Oticon Inc, Somerset, NJ, offers a promotional brochure for Syncro, Oticon's hearing aid that uses artifical intelligence. The 32-page booklet features background information about the use of artificial intelligence in Syncro, and explains the technology in terms of detection, analysis and decision, voice priority processing, Syncro identities, sound quality, and user intervention. (800) 526-3921; www.oticonus.com.
---

Phonak
Phonak, Warrenville, Ill, presents Five Facts You Should Know Before Buying Hearing Aids, a new consumer guide to hearing loss and hearing aids. This easy-to-understand booklet is a counseling tool for both current and potential wearers alike. Topics covered include anatomy of the ear, common causes of hearing loss, issues related to background noise, and available treatment options. Each booklet contains a pull-out card that describes the various levels of technology and how each level meets specific lifestyle needs. (800) 777-7333; www.phonak-us.com.
---

Rexton
To help hearing health care providers distinguish between each of its entry, middle, and high-level-digital hearing products, Rexton Inc, Plymouth, Minn, offers the Rexton Digital Family brochure. With a detailed, organized chart, the brochure compares the Arena (entry-level), Targa (mid-level), and Regatta (high-level) products in various categories, including maximum number of memories, channels, and output and gain. (800) 876-1141; www.rexton-online.com.
---

SeboTek
Sebotek, Tulsa, Okla, provides Patient Information Brochures, which assist hearing professionals in introducing an entirely new style of hearing instrument, the patented Voice-Q™ PAC. According to the manufacturer, PAC's advanced technology is virtually invisible when worn, soft, and comfortable, and makes deep canal fittings practical and comfortable for the first time. Brochures double as promotional mailers. (800) 388-9041; www.sebotek.com.
---
Siemens
Siemens Hearing Instruments, Piscataway, NJ, offers hearing care professionals a full-color product guide describing the TRIANO™ family of hearing instruments. The guide contains information about TRIANO's exclusive Speech Comfort System™ and automatic and adaptive directional microphone systems, as well as fitting and programming details. All models, from the Micro-CIC™ to the TRIANO 3 P BTE, are featured in the guide. (800) 766-4500; www.usa.siemens.com/hearing.
---
Sonic Innovations Inc
New from Sonic Innovations, Salt Lake City, Utah, is the Corporate Brochure. The 15-page brochure gives a quick insight into who Sonic Innovations is and how the company got its start. Professionals and consumers can use it to learn more about Sonic Innovations. (888) 423-7834; www.sonici.com.
---

Starkey Laboratories
Starkey Laboratories Inc, Eden Prairie, Minn, offers a brochure that explains Precision Directional Imaging (PDI) in Starkey's Precision Audio Imaging family of digital hearing solutions. By demonstrating the use of PDI in a noisy restaurant, the brochure explains how PDI's digital signal processor continuously monitors users' sound environments and when noise levels reach a consistently higher volume, the built-in microcomputer smoothly narrows the sound reception to focus on the area in front of the user. (800) 328-8602; www.starkey.com.
---
Unitron Hearing
Unitron Hearing, Plymouth, Minn, offers a full-color brochure for professionals highlighting the new Unison series. The new Unison series offers three unique models to fit a wide variety of hearing loss, lifestyles, and budget. Unison 6, Unison 3, and Unison Essential features and benefits are described in full detail, with charts, diagrams, and an easy-to-use summary guide. All BTE models in the affordable Unison product line are compatible with Unitron Hearing's WiFi Mic, a new wireless CROS/BiCROS system. (800) 888-8882; www.unitronhearing.us.
---

Widex
Widex, Long Island City, NY, offers a countercard, which highlights the Senso Diva™ hearing instruments and announces the company's appearance on the television show, "Good Morning America." The countercard is approximately 10 inches by 12 inches and can be used as a promotional piece for the Senso Diva products. (800) 221-0188; www.widexusa.com.