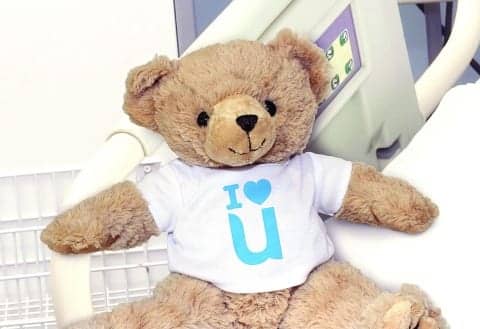 For a sick child in a hospital, a cuddle with a teddy bear can be a real day brightener. To help more children in need enjoy this simple pleasure, hearing healthcare manufacturer Unitron US, Plymouth, Minn. launched a program to create and deliver adorable teddy bears, each one individually stuffed and dressed, to children's hospitals across the country.
Unitron US kicked off the Teddy Bear initiative at its Plymouth, Minn., headquarters in May 2013. For the next several months, Unitron staff, joined by more than 300 hearing healthcare providers at special customer events, created and delivered hundreds of bears to the University of Minnesota Amplatz Children's Hospital.
"Our team at Unitron is passionate about helping people, and in this initiative we were able to join with our like-minded hearing healthcare customers to channel that passion into a fun and very gratifying activity to help children in hospital," says Dan Lindhorst, director of marketing, Unitron US. "After several Unitron staff members personally delivered the teddy bears and experienced the difference this gift can make for a sick child, we knew we had to keep this going."
Unitron expanded its Teddy Bear initiative in October 2013, marrying it with its regional seminar program delivered to customers in 35 cities across the country.
"A portion of each seminar was devoted to helping our customers, who are owners of small to medium-sized independent businesses, personally connect with their local communities," explains Lindhorst. "This time our customers helped us not only create, but also deliver the teddy bears to a local hospital, allowing everyone to experience that important connection to the children in the hospital."
To date, Unitron US and its customers have donated nearly 1,000 teddy bears to children's hospitals nationwide.
Source: Unitron