The Hearing Review has learned that Henry Meltsner, co-founder of Hal-Hen and Widex USA, passed away on Sunday morning. He was 92. Mr Meltsner, along with his lifelong business partner Harold Spar, founded Hal-Hen in 1946, and the two men were instrumental in the independent dispensing movement (ie, the break from single-line dispensing outlets) that swept the United States starting in the late 1950s. Mr Meltsner was well known for his sharp wit, spirited upbeat personality, and strong work ethic—as well as his encyclopedic knowledge of the hearing industry.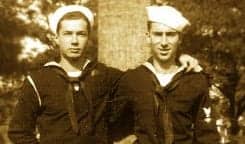 Harold Spar and Henry Meltsner during World War II.
As detailed in a November 2006 Hearing Review article, Hal-Hen was started by Meltsner and Spar, two high school friends from the Bronx following the completion of their service in the Navy during World War II—both enlisted right after the attack on Pearl Harbor. Meltsner was hand-picked to attend a special electronics program during the war that involved the top-secret technology of radar—he wasn't even allowed to say the word "radar" during his service. After the war, he and Spar decided to go into business together, pooling what little money they had between them—$400 in military discharge pay—and parlaying their Navy-acquired knowledge of electronics into a company that initially manufactured colored light bulbs, which were scarce at the time. Their fledgling company veered into the hearing aid industry a short time later when a manufacturer asked them to assemble a hearing aid receiver cord.
Upon completion of that job, Spar and Meltsner engaged in a bit of detective work and discovered that the industry practice at the time was for exclusive relationships between manufacturers and dispensers. As such, if a hearing aid user were traveling out of state and the receiver cord broke, he might encounter difficulty finding a shop that carried the brand. "We decided to produce replacement cords for each make and model, and provide them to all dispensers throughout the country so that users could get service anywhere they went," said Meltsner in the 2006 HR interview. He also said that, in the course of calling on dispensers to market the Hal-Hen line of replacement cords, he and Spar made a point of asking each retailer what other products individuals with hearing impairments might require. "We were looking for needs that we could fill."
And find them they did; they were successful in adding and innovating new products for what eventually became over 4,000 products in the Hal-Hen line, including necklaces that concealed hearing aid cords, hearing stethosets, as well as the earliest of hearing aid drying kits (Dry-Aid™).
"Early in the 1950s, Hal and I saw the future, and we recognized that it would not include hearing aid cords—which was our main line of products!" said Meltsner in the HR interview. "So we got together and started discussing the possibility of getting a hearing aid line."
In 1956, another pioneer of independent dispensing, Peter C. Werth of England, introduced Meltsner and Spar to a pair of Swiss and Danish entrepreneurs who had just started up a new hearing aid company: Christian Tøpholm and Erik Westermann whose new company was Widex A/S in Copenhagen. Spar and Meltsner became the fledgling company's US distributor, creating Widex Hearing Aid Company. It went on to become Widex USA, a part of one of the top six largest hearing aid manufacturing firms in the world, with the help of the founders' sons Ron Meltsner and Eric Spar. The Meltsner and Spar families sold their interests in Widex USA to Widex A/S in 2010, but continue to own and operate Hal-Hen.
Note: The official obituary for Mr Meltsner was not available when this article was placed online; please look for an updated article when it becomes available.