Today's emerging healthcare consumers are putting new pressures on hearing healthcare providers (HHCPs). In response to the challenge, HHCPs must broaden their communication channels and deliver increasingly remarkable customer experiences, said industry experts speaking to a select audience of HHCPs gathered in Chicago from October 3-5 for ENGAGE 2017!, Unitron announced. ENGAGE is an annual customer conference hosted by Unitron.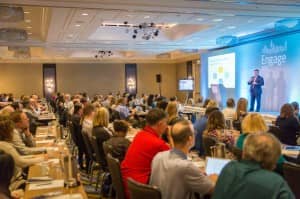 "Our focus is on supporting  hearing healthcare professionals in their success and prosperity in an increasingly turbulent and ever-changing market," says Lilika Beck, vice president of global marketing for Unitron. "The agenda at ENGAGE! is purposefully designed to address the three dominant forces shaping today's patient experience. These forces are: the changing expectations of the emerging healthcare consumer; the new communications pathways now available by which to reach these consumers and their caregivers; and the accelerating pace and impact of new technologies."
During ENGAGE 2017! HHCPs had an opportunity to get hands-on in solving the greatest challenges facing practitioners, by participating in a series of interactive workshops led by Unitron executives and thought leaders, according to the announcement.  Topics covered include: "From ordinary to remarkable," "Insight into itemizing," and "Would you get 5 stars?" The two-day ENGAGE 2017! conference was capped off with keynote presentations by:
Petra Marquart, principal at Petra Marquart and Associates, an internationally-recognized speaker and author of the best selling book The Power of Service—Keeping Customers for Life.
Kevin St. Clergy, chief business development officer with Medical Practice Builders, who spoke about how digital marketing for HHCPs can attract more new patients, for less.
"Unitron is not only patient-focused—they are focused on my success and future," said Engage 2017 attendee Jesse Hidalgo, Hearing Group, Wichita, Kansas. "Unitron has helped me understand the changes facing our industry and what the future holds for us and they are providing solutions such as Flex, which helps me weather these changes and remain successful today and for the future. This event is more evidence of this focus."
Source: Unitron
Images: Unitron