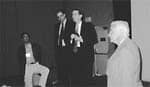 Entific Medical Systems, Powell, Ohio
Dave Schneider joined Entific in 2001 as President of Entific USA. He started his career as a regional sales manager with Diebold, Inc, North Canton, Ohio. He also served as vice president of sales & marketing for Three Rivers Option Care for 10 years. Schneider's background in the healthcare industry and impact on Entific's high growth since his arrival are evidence of his hands-on leadership style and focus on the future.

Molly Ferris, director of marketing for Entific USA, has led Entific USA's marketing team since 2002, where she developed and planned the company's first marketing initiatives. During the last 2 years, Ferris has worked to increase industry awareness about Entific and its products.

Teri Sinopoli joined Entific USA in 1999 as one of the company's first sales representatives. In addition to sales, she also provides critical clinical support for the company on a national level in a dual role of Mountain Territory Manager and Clinical Manager.

Krista Bramlet joined Entific USA in 2002 as Western territory manager, charged with assisting large clinics to develop successful BAHA system programs. Since joining Entific, she has been promoted to director of sales for the Western region where she works on strengthening industry relationships through business development with key physicians, audiologists, insurance carriers, hospital administrators, and other industry contacts.

Lonnie Castle joined Entific USA in 2003 as Southern territory manager, charged with assisting large clinics to develop successful BAHA system programs. Since joining Entific, he has been promoted to director of sales for the Eastern region contacts. Lonnie's philosophy is "Do the unexpected and show them that you care."

Frye Electronics, Tigard, Ore
Customers tell us that we have exceptional service. Our people make that happen. Here are some of our stars. These are only some of our dedicated staff members. Because we are a small, profit sharing company, our people know the importance of taking care of our customers. Kelli Bailey is the newest member of the marketing team. She has only been with us for 3 months, but she is already making a difference in our customer service. Her pleasant voice is the one that you hear first if you call our published telephone number. Kelli will find the right person for you to talk to, and send you the free items and literature that you need.

Sabrina Stein has been with us for more than 2 years. She is our in-house sales person who follows up on inquiries with personal attention, helping customers choose the unit that is right for them, letting them know what upgrades are available for their existing units, and scheduling the training when a direct sale is made.

Gererdene Gibbons has been with Frye for 15 years. She deals with international customers and distributors by e-mail, fax, and phone. Writing up the orders, faxing the confirmations, and dealing with any questions that arise keeps her quite busy. Since many people stay in our industry for many years, she has built long-term relationships with people around the world.

Adam McKinney, our newest technician, has been on board for less than a year, but he is already talking to customers who call in about questions about their instruments. He also calls people who have sent their units in for repair with information about the free updates he has put on the instruments.


Phonak Inc, Warrenville, Ill
How would you like a Phonak professional sitting right next to you as you go through your day? With our new Customer Response Teams, you'll feel like we're right there with you. Our goal is that each time you call Phonak, you will talk to a member of your specific team. The more you talk, the better we will get to know you, become familiar with your history, and understand your business. This diverse group of professionals works together to move you quickly through your call and let you get on with your day. Each team consists of 4-6 individuals. We'd like to introduce you to some of our many stars on our Customer Response Teams:
Kim Brown, manager, Customer Response Team
Nancy Bridges, team leader, West
Becky Finlen, team leader, Southeast
Larry Fisher, team leader, Northeast
Vicki Gillespie, training coordinator, IT Production
Aggie Henry, team leader, FM
Pam McGushin, team leader, Midwest
Steve Spencer, team leader, Heartland
Mindy Townsend, Custom Order Customer Service
Rita Wilson, team leader, VA

Sebotek Hearing Systems LLC, Tulsa, Okla
Brian Hill, MS, MBA, International Business Development Manager
Wayne Morris, Business Development Specialist
Kelly Riggs, National Sales Manager
Jeff Johnston, Inside Sales Supervisor & Account Executive, Central Region
William Antloger, Account Executive, Southeast Region
Kerry Hamm, Account Executive, Southeast Region
Robert Hamm, Account Executive, Western Region
Tracy Searcy, Account Executive, Great Lakes Region
Not pictured:
Heidi Hill, MA, Account Manager, Minnesota and Wisconsin
Mike Neumann, Account Manager, Texas
Dawn Lewis, MS, Account Manager, Michigan and Ohio
Sonus USA Inc, Plymouth, Minn

Rosalie Huynh, AuD
Rosalie has been with Sonus Hearing Care Professionals since Sept. 2001. She received her AuD degree from the University of Florida, Gainesville, Fla, in May 2001. Rosalie is a clinic manager in our Sonus Clinic in the city of Orange in Orange County, Calif. Rosalie is responsible for the day-to-day operations in this busy clinic, which provides extensive pediatric diagnostic audiological testing and hearing aid fittings and serves as a referral center for the California Newborn Hearing Screening Program. This clinic also has a balance center providing diagnostic testing for patients referred by local physicians to aid in the diagnosis of their balance disorders. They service the needs of the hearing impaired from pediatric through geriatric populations.

Tammy Prida, AuD
Tammy has been with Sonus Hearing Care Professionals since April 2003. Tammy recently earned her AuD degree from the University of Florida, Gainesville, Fla. Tammy is a clinic manager in a Sonus Clinic in the city of San Diego, Calif. Tammy is proactive in seeking out opportunities for community outreach on behalf of Sonus to educate the local hearing-impaired population as well as their primary care providers. Tammy utilizes the Sonus Patient Centered Approach to help the population she sees identify the specific areas in their lives where they would like to improve their communication abilities.

Tony Lacarra, MA, AuD candidate
(completion fall 2004)
Tony has been with Sonus Hearing Care Professionals since October 1996. Tony is completing his doctoral studies with the University of Arizona, Tucson, Ariz, and serves as the clinic manager in our Sonus Clinic in Chula Vista, Calif. Tony effectively manages a large patient case load of English and Spanish speaking hearing-impaired people in south San Diego county.

Debra Brockway, MA
Debra has been with Sonus Hearing Care Professionals since June 1997. Debra is a clinic manager in a Sonus clinic in Long Beach, Calif, and she consistently provides a comfortable environment for her patients to improve their communicative abilities and enhance their lives. Debra has a large, loyal group of patients who return to her again and again to upgrade their hearing aids as technology advances, as well as refer their family and friends onto a proven, caring health services provider.