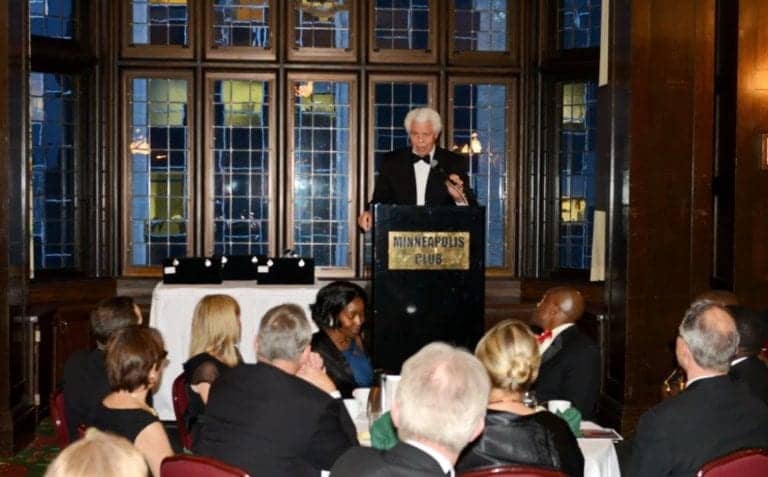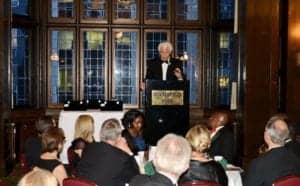 William F. Austin, the founder and chief executive officer of Starkey Hearing Technologies, Eden Prairie, Minn, recently received the 2014 Twin Cities International Citizen Award for his humanitarian work. Through the Starkey Hearing Foundation, Austin's leadership has provided the gift of hearing to hundreds of thousands of people around the world.
The Twin Cities International Citizen Awards honor individuals and corporations whose work has contributed significantly to international understanding, cooperation, friendship and development. The Awards were first given in 1992, hosted by the mayor of Minneapolis. Today, the International Leadership Institute hosts this annual international recognition event. The Awards recognize the depth and breadth of the Twin Cities' international connections, concerns, and commitments in the following categories: business and trade, research and human rights, agriculture and technology, the arts and medicine, education and journalism, and hospitality and humanitarian relief.
In 1984, Austin founded the Starkey Hearing Foundation with the premise, "Alone we can't do much. Together we can change the world." Today he is still the sole owner of the company, which is one of the largest hearing aid manufacturers in the world and the only American-owned and privately held company in the hearing industry. Starkey sells more than 1.1 million hearing aids a year, employs 3,600 people, operates 21 facilities, and conducts business in more than 100 markets worldwide.
Austin spends 10 months every year leading Starkey Hearing Foundation on dozens of hearing missions around the globe. Last year the foundation gave away 165,000 hearing aids to people in need. During this year's Starkey Hearing Innovation Expo in Las Vegas, former US Presidents George W. Bush and Bill Clinton both recounted their personal experiences in working with the Starkey Hearing Foundation while lauding Austin and his team for their efforts in providing hearing care to people around the world.
Source: Starkey Hearing Technologies