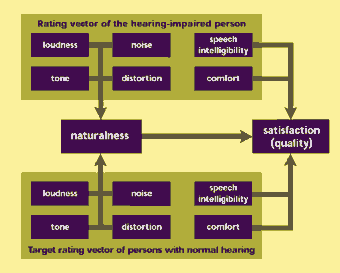 Interton's headquarters in Plymouth, Minn.
Interton is the customer responsive company that produces genuine, innovative solutions. Interton's core values are rooted in the goal of making our customers successful through the delivery of effective, reliable products that are easy to dispense.
While developing innovative products like the digital Wireless CROS/BiCROS, Interton has also succeeded in the business of making customers happy. Where many companies cut back on services under pressures from the economy and investors, Interton has upheld the core value of meeting and exceeding customer needs. More dispensing professionals are finding that modern technology alone is no substitute for old-fashioned service.
Interton
161 Cheshire Lane North
Suite 500
Plymouth, MN 55441
Phone (763) 404-1122
(800) 247-4741
Fax (763) 404-9095
www.interton-usa.com
"Our customers appreciate talking to a live person;" says Deborah Grant, regional account manager. "They like dealing with the same person when they call in."
Good customer service does not end with a pleasant phone call either. Each day, the account manager sits down with a staff audiologist and production group leaders to review each new order for the day. These reviews uncover challenges and, in some cases, offer solutions that are not part of the standard process. This team will also do a similar review on any repair item under 90 days old to identify potential product or patient issues during this critical trial period.
For patients whose need goes beyond standard configurations, Interton has a flexible production system that allows for the building of special orders with ease. This relates back to Interton's core values in that no need is too great nor is any customer too small to deal with.
Commitment to Customer
Interton's commitment to the customer means doing things in a manner that reflects that commitment. Honoring a 90-day return policy and not charging for options like user volume controls or multi-memories highlight an honest effort to deliver a product without hidden costs or hassles.
Even with all the attention given to customer satisfaction, Interton is busy developing products that are among the most advanced and effective on the market. Their vision is to tap the full potential of digital processing. Interton's researchers recognize that most high-tech instruments are a combination of digital hardware and analog-based processing. Additionally, many of their features were actually developed to resolve the problems created by amplification in the first place (ie, feedback control, multiple memories, compression, etc). Interton is rapidly moving toward true digital processing solutions, and away from those rooted in analog processing schemes.
In a strategic alliance with Dynamic Hearing of Australia, the developers of the sound processing scheme found only in the cochlear implant, Interton is pioneering the adaptation of a remarkable technology into its hearing systems. Soon the company will release Bionic™ with ADRO® (adaptive dynamic range optimization) technology.
ADRO is the only processing scheme that exploits the capabilities of modern digital hybrids, giving it numerous advantages over other technology. ADRO is not simply a digital representation of conventional amplification. It is instead a completely new method of hearing aid signal processing. It is based on statistical properties of the actual listening environment rather than look-up tables. The fitting process for ADRO instruments is based on comfort levels, audibility, and maximum output parameters. These parameters, or "comfort rules," are monitored in real time, and adjustments are made only when comfort rules are violated, giving the user a uniquely pleasant listening experience.
Raising the Standard
Arming dispensers with innovative products is not always enough. In March 2003, Interton launched IQ. IQ not only raised the standard for digital performance, it also raised the bar for patient satisfaction. Each instrument comes with a complete 3-year repair and loss and damage warranty. Also, IQ patients receive a 3-year supply of batteries and wax trap replacement cartridges. In order to protect their investment, each patient also goes home with a Global Dry & Store hearing aid dryer at no additional cost. Patients can also request one free technology upgrade when Interton releases its next product.
To provide the dispensing professional the opportunity to meet the needs of a wider client base, Interton offers a unique variety of products such as SilFlex, a new soft-solid shell material. A new digital Wireless CROS/BiCROS was released earlier this year. In 2002 Interton introduced Finesse. Finesse successfully bridges the gap for patients who are accustomed to output compression and now need a digitally based solution.
Interton is a strong supporter of and is active in raising hearing health awareness for consumers. Stephan Sagolla, company president, fills a board position with the Better Hearing Institute (BHI). Sales Director Brian Bender and Dr Todd Fortune, who heads US Research & Development, are members of the BHI technical advisory board.
Interton looks forward to pioneering better solutions through new technologies. It has earned a reputation as one of the world's leading suppliers of hearing aids and expertise. The company is committed to offering even more creative solutions as it continues to build relationships with its customers and global technology developers.