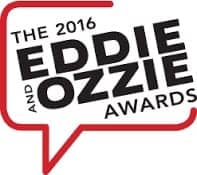 The Hearing Review is proud to announce that Folio 2016 has selected the magazine as a finalist for the 2016 Eddie & Ozzie Awards. The magazine was chosen as a candidate for an Eddie Award, along with five other finalists, in the Best Full Issue, Business-to-Business (B-to-B) category for healthcare trade magazines.
Hearing Review's selection as an award finalist was for its September 2015 issue, which was published in both print and digital format.
Hearing Review Editor in Chief Karl E. Strom worked with Guest Editor and hearing healthcare expert Douglas L. Beck, AuD, who gathered an "expert roundtable" of audiologists and hearing care researchers who contributed short articles, or seven "chapters" in a series, for the issue. These chapters were compiled as a special section devoted to cognition, audition, and amplification.
To produce the issue, Strom and Beck worked alongside Publisher Dana McLain and Associate Editor Christa S. Nuber. Art Director Ashley Miller created the eye-catching design and layout.
The first chapter in the special section was authored by Dr Beck, and titled, "The State of the Art: Hearing Impairment, Cognitive Decline, and Amplification." Chapter 1: A review of contemporary research…and what it might imply for our future."
Other featured chapters in the special section included:
"Cognitive Function and the Patient Landscape." Chapter 2: Adding cognitive function changes the fitting paradigm" (Brent Edwards, PhD);
"Beyond Audibility: The Role of Supra-threshold Auditory Processing and Cognition in Presbycusis." Chapter 3: The interactions between aging, cognition, and listening ability (Christian Fullgrabe, PhD);
"Hearing Aid Outcomes and the Influence of Non-auditory Factors." Chapter 4: Strategies for addressing unique patient needs (Gabrielle Saunders, PhD);
"Examining Relationships Between Cognitive Status and Hearing Aid Factors." Chapter 5: Lower cognitive function may be a risk factor for lower satisfaction with hearing aids (Jason Galster, PhD);
"The Amplification of New Information." Chapter 6: To learn new things, you need a clear message (Andrea Pittman, PhD);
"Why Cognition Matters for Hearing Care Professionals." Chapter 7: Three hot research topics in cognition and hearing healthcare that could fundamentally change our field (Gurjit Singh, PhD, CASLPO).
Other contributors of additional articles or columns in the September 2015 issue were Wayne J. Staab, PhD ("The Independent Hearing Aid Dispenser"); Marshall Chasin, AuD ("Back to Basics: In-ear Monitors Need to be Aimed at the Eardrum…True or False?"); Robert Sweetow, PhD, Francis Kuk, PhD, and Sueli Caporali, PhD ("A Controlled Study on the Effectiveness of Fractal Tones on Subjects with Minimal Need for Amplification"); and Dennis Van Vliet, AuD ("The Final Word: Ensuring Benefit from Experience.")
Folio, which hosts and judges the Eddie & Ozzie Awards, is a magazine publisher (Folio: Magazine—a 43-year-old publishing industry bible) and media resource company dedicated to providing magazine publishing professionals with the news, insights, and best practices that keep them in tune with today's media industry trends. Folio has a wide range of resources to help editors and publishers stay on top of the latest news and find real solutions that help drive revenue. In addition to its magazine and website, Folio produces newsletters, awards programs, webinars, conferences, and networking events.
The 2016 winners will be announced during a celebratory awards luncheon at The Folio Show on October 31, 2016 at the Hilton Midtown in New York City, where hundreds of magazine media professionals will gather to celebrate gorgeous design and uncompromising journalism.
B-to-B – Full Issue – Healthcare / Medical / Nursing [Eddies]
American Journal of Nursing (AJN), AJN, March 2016 – Wolters Kluwer Health
Dental Product Shopper, Dental Product Shopper March 2016 – Integrated Media Solutions, LLC
INVISION, May 2016 – SmartWork Media
Nursing Management, Nursing Management – Wolters Kluwer
Nursing2016, Nursing2016 – Wolters Kluwer
The Hearing Review, The Hearing Review/September 2015 – Allied 360, Anthem Systems
Source: Folio