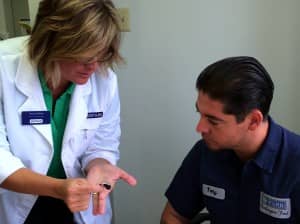 "I just want to be a part of my daughter and stepson's worlds." Those are the words of 36-year-old Antonio (Tony) Trejo, father of a 2-year-old daughter with a cochlear implant1 and stepfather of an 8-year-old boy who has autism and also suffers from mild hearing loss.
Trejo had recently been diagnosed with hearing loss following a Comprehensive Hearing Test (CHT) performed at the Long Beach (Calif) Sonus Hearing clinic managed by Marilyn Hildreth, AuD. The results of the test had brought tears of joys to Tony's eyes as he realized his condition would allow him to take the hearing aid journey along with his daughter and stepson.
As is often the case, Tony did not realize his hearing was deteriorating. As a mechanic for more than 14 years, Tony uses power and impact tools that generate considerable noise. His hearing was gradually affected though he did not realize. Tony thought that others were simply not speaking loud enough. His wife, Olivia, who Tony has known since junior high school, grew tired of him turning up the TV so loud and of constantly asking others to repeat themselves. "All the signs I saw in our kids, I started seeing in Tony. It was very frustrating. I kept thinking, 'it's getting worse, he needs hearing aids,'" says Olivia. Coincidentally, this is exactly when Tony decided to get tested, and surprised his wife with the results on her birthday.
Moved by the story of the Trejo family, the owners of Sonus Hearing Care Professionals decided to help and provided Tony with a free pair of Starkey Hearing Technologies Halo™ hearing aids, a recently released Made for iPhone® hearing aid, engineered to be compatible with iPhone, iPad® and iPod® touch.
Tony was ecstatic: "I am so happy with the new Halos. The difference is amazing. I can hear everything! I never knew how cool hearing aids could be! I feel very fortunate and blessed," he says. Sharing hearing loss with his daughter ha brought them closer together.
Source: Sonus