The European hearing aid industry gathered at the EUHA 49th International Congress to celebrate a tremendous year and chart the future.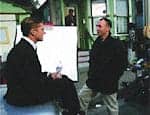 Frankfurt's modern convention center played host to the 49th International Congress of the European Union of Hearing Aid Acousticians (EUHA). The conference was held from October 20 through 22.
For such small devices, hearing aids can make a big impact. The difference they make in people's lives is clear to anyone involved in the fitting of hearing aids. But they can also make a big economic impact, as the 49th International Congress of the European Union of Hearing Aid Acousticians (EUHA) proved this October.
Held in the gleaming modern convention center in the business city of Frankfurt am Main, Germany, the congress was a colorful swirl of excited attendees, large bright booths, and innovative products in a year when German headlines daily reported dark news for the rest of the country's economy. According to the German hearing industry association Gutes Hören (Good Hearing), in 2003 the number of hearing aids purchased in Germany increased by 22% over the previous year—the most in the past 8 years—and major manufacturers contacted at the show reported even further sales growth so far in 2004.
In fact, some even got a sales boost last year because of worries in the rest of the economy. In an effort to reduce the cost of Germany's generous public welfare system and thereby reduce the country's high business taxes and employment costs, the government planned some cuts to health benefits for January 1 of this year. The hearing aid benefit was not substantially impacted, but many consumers, fearing that it would be, rushed out to get a hearing aid while they still could.
"Our growth was going along steadily and this was an added boost on top of that," says Horst Warncke, a technical engineer with Oticon's German group in Hamburg.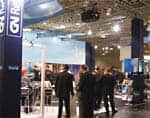 An estimated 5,400 individuals were in attendance at the recent International Congress of European Union of Hearing Aid Acousticians.
A New International Focus
With the addition of European to the name of the EUHA this year—previously it was simply the UHA—the organization is drawing attention to the fact that it is no longer just a German group. However, although this conference is considered by many the largest and arguably most important in Europe, the goal of adding European to the name was not necessarily to attempt to become the biggest organization in Europe, says Martin Blecker, vice president of the EUHA. (In fact, this year's estimated attendance of 5,400 is greater than it was last year before European was added to the name). Rather, what Blecker and the EUHA would like to see is for the high German standards of hearing health care to be spread to other countries, especially the 13 former communist countries that joined the European Economic Union (EU) on May 1 of this year. As a step in that direction, this year, in addition to presentations by United States, Canadian, Australian, and Swiss experts, the EUHA also invited Marzanna Radziszewska-Konopka, PhD, from Warsaw, Poland, to speak to the attendees.
"This [German] market is the key market in the whole world," says Gerhard Hillig, a member of the executive committee of the German hearing aid industry organization VHI (Vereinigung der Hörgeräte Industrie). "If the product sells in Germany, it is good all over the world."

Dr Gerd Herbst represented Widex at the conference.
But it is not the facts that Germany has professional fitters and high standards for hearing health care alone that have made this the leading conference in Europe. It also has a lot to do with economic factors and even some luck, say manufacturers such as Stephan Sagolla, president of Interton, Plymouth, Minn. First of all, Germany is a large country with a corresponding large free market open to high-end hearing aids, he points out. In countries where the government controls more of the purchase and fitting of hearing aids, such as England, there is less need for a trade show where manufacturers can present their new products. Plus, this conference, although primarily German speaking, does not insist on using German alone, Sagolla adds. Finally, in Germany the manufacturers are let in to help organize the conference—a win-win for both the companies exhibiting and the conference organizers.
"It is good for the industry to have this show where we can present ourselves," Sagolla says.
The Dominance of the BTEs
Take a trip around the trade show floor and the German industry's influence is immediately clear from the preferred position BTE devices are given. BTE devices, while not the preferred devices in every European country, are dominant in Germany because of the way its government has structured its hearing aid benefit, Blecker says.
In Germany, almost everyone with a diagnosed hearing loss is entitled to a set amount—usually between 350 and 500 Euro—to pay for a hearing aid device and there is a fixed rate for repairs. Furthermore, the government requires that hearing aid dispensers allow their customers to try out and compare a minimum of three devices before choosing one. With such restrictions, it is not surprising that BTE devices, which usually require less custom fitting and, over time, may be less prone to maintenance issues related to wax and other environmental factors inside the ear, are preferred.
In contrast, neighboring Austria—which has a reimbursement system that recognizes the differences between BTE and ITE devices—has a hearing aid market that is 75% ITE, Blecker says.

Horst Warncke of Oticon presents the company's latest introduction, the Syncro hearing aid with artificial intelligence.
Warncke, of Oticon, agrees. He says that their French and Italian markets are about 75% to 80% ITE, while in Germany it is 80% BTE. But BTEs dominate in Germany for more than just practical reasons like device and maintenance costs and the number of devices customers get to try out before settling on one, he says. The German dispensers are handicrafters and like to do their own modifications, a task that is easier with the larger BTE devices, Warncke says. And there is also the issue of what is considered more invisible. In Germany, a BTE device is thought of as much less noticeable than the larger ITE devices, he says.
However, whichever view you take on the subject of which devices are more attractive, the market for both BTE and ITE devices in Europe seems primed for future growth. Not only does Europe, like the United States, have a growing population of elderly people that are living longer and healthier lives than ever before, but the innovations in the hearing market are also opening up new doors and creating new customers.
"When I travel around, I ask people I meet what they think about hearing aids and usually their opinions are negative, but this has become less so in the past few years," Warncke says. "As hearing devices improve and problems are lessened, those who currently have negative opinions of hearing aids will [see them more favorably], and [as a result] more people will buy them."
If Warncke is right, this should mean continued success for the EUHA's 50th International Congress. It will be held next year at the Nuremberg Exhibition Centre, in Nuremberg, Germany, on October 19-21, 2005. For more information, visit the EUHA Web site at www.euha.org.
Lena Kauffman is a contributing writer living in Berlin, Germany.