Oticon is almost as well known in the hearing industry for its "People First" brand strategy—the idea that the hearing aid wearer is at the center of the hearing (re)habilitation process—as it is for the company's advanced hearing instruments. So when editors of the US trade press were invited to Oticon AS headquarters in Kongebakken, Denmark, to learn more about its "new rebranding approach," we were a little mystified: Why would they want to change that?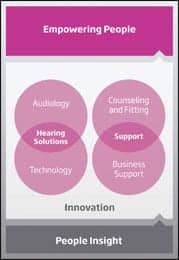 Oticon is devoting significant resources into gaining greater insight into the needs of people with hearing loss, as well as assisting dispensing professionals in satisfying those needs. This knowledge (People Insight) forms the core of the company's decisions in developing its Hearing Solutions products and its Support for professionals.
The answer is Oticon isn't changing its People First or "human link" philosophy; however, the 105-year-old company is throwing even more of its considerable weight behind "People First" by placing it at the core of everything it does, including its research, engineering, and a significantly expanded dispenser support program. It also believes the "proof of concept" is reflected in its recently launched Agil premium hearing aid.
Empowering People by Addressing Individual Needs
With the possible exception of power aids, hearing instruments have traditionally been developed and marketed as "one-model-fits-all" devices. Soren Nielsen, president of Oticon AS, says this product strategy is changing; hearing instruments of the future will focus on clearly defined end-user needs.
"We see more and more that products need to be dedicated to specific end users, whose needs may differ substantially depending on their hearing loss, whether they are children or adults, first-time or experienced users, and other factors," says Nielsen. "We view these types of segments as increasingly important for product development and market growth."
He cites as an example the Oticon Delta, arguably one of the most successful products in hearing industry history. Oticon's market research shows that Delta, an open-fit hearing aid intended for losses of about 60 dB or less, was widely embraced by first-time users, as is its successor Epoq, due to the products' unique design features tailored for that specific market segment.
In a tour of the headquarters (see sidebar), one of the stops featured a sizable department that includes psychologists and sociologists devoted to assessing the needs of many different user groups. The goal of these researchers is to gain new insights that form the starting point for technology that anticipates and addresses users' expectations, needs, and social interactions in everyday life. The team then works closely with the audiology, engineering, and other teams to translate these insights into key features that positively impact patient outcomes.
"We're still doing what we've done [relative to People First], but with a new picture of the end-user group, research and development process, and the needs and expectations of both consumers and dispensers," says Nielsen. "Our new strategy is built on three guiding principles: 1) People are the starting point; 2) Innovation is the means; and 3) Empowering people is the company's goal."
Holistic Dispenser Support for a New Generation of Users
Nielsen warns that a new active generation of end users is coming—with major consequences for the industry. These patients, most of whom are now ages 55 to 75, expect a lot more from dispensing professionals and their products.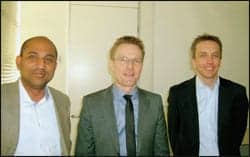 From left to right: Oticon AS Senior Audiologist Ravi Sockalingam, Product Development Manager Troels Rygaard, and President Soren Nielsen.
"Today's aging generation is better informed, more demanding, and more health-conscious than ever before," says Nielsen. "These are the people who come into your office with a stack of printouts about the products. They are actively looking for, and expecting to find, new technology that suits their own personal needs…They also tend to jump back and forth between the product information supplied online by manufacturers and the materials supplied by the dispenser. Given these changes in end users [and their media habits], the manufacturer can no longer just sit back and expect dispensing professionals to supply all the patient information; we need to provide guidance and resources that support the dispensing process."
Oticon Vice-president of Marketing Ole Asboe Jorgensen says the company is significantly expanding its professional support with a wide range of online and offline tools intended to assist in matching end-user needs with the appropriate technology, facilitate dialog and patient interaction about hearing options, and guide patients to seek professional hearing care.
Nielsen emphasizes that the dispensing professional's focus should be on end-user needs. He says Oticon has committed to making all its technology easier to use and explain to the patient; thus, professionals will be freed to move toward a counseling approach instead of what might be viewed as the traditional prescriptive approach.
Keeping It Natural
A preview of Agil, the company's newest and most ambitious premium product launch to date, was presented by Oticon AS Director of Audiology Joel Beilin, Premium Solutions Development Manager Troels Rygaard, and Senior Audiologist Ravi Sockalingam.
One common phrase all three used to describe Agil's function was "keep it natural." According to Rygaard, Agil implements a host of audiological concepts developed by Oticon in the new RISE 2 platform—a system that offers twice the processing power of RISE. He says the goal of the new device is to preserve natural auditory cues and safeguard signal fidelity, reduce the cognitive workload of the end user, and thereby liberate more "brain power" for easier, more natural social interaction. Agil comes in a full line of extended bandwidth instruments, and includes open-fit, RITE, and new mini-RITE and power CIC designs.
Spatial Sound 2.0 and Speech Guard, two of the most impressive new features of Agil, combine to "keep sound natural" for the user, says Beilin. Spatial Sound preserves interaural loudness differences (ILDs) and other natural binaural cues. Speech Guard is a new compression system that uses a guided level estimator, or dynamic moving "linear window," to monitor and choose the best elements of linear and WDRC processing, in addition to using slower attack/release times when the input signal is relatively stable for smoother, more natural sound quality without distortion.
The company is also rolling out its second-generation wireless technology. Called Connect[+], it features Power Bass, which restores the bass sound typically lost through open fittings, and Music Widening, which applies advanced reverberation research to reproduce a sense of more natural 3D-like space and realism.
More on Agil. For details on Spatial Sound 2.0 and Speech Guard, see the article by Douglas Beck and Ravi Sockalingam, and for a general overview of Agil, see the article by Gordon Wilson in this month's AAA Exhibitor's Showcase supplement. ?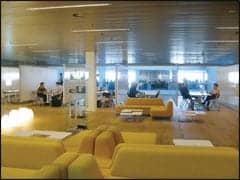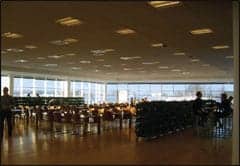 True to its corporate tradition that dates back to former-CEO Lars Kolind's vision of an open workplace without boundaries, the Oticon headquarters in Kongebakken provides many common areas for collaboration (as shown above) on each of its four floors, as well as a large airy cafeteria (bottom) overlooking a natural setting of fields and trees—and even the ancient burial mound of King Svend for which the area is named.
Oticon's "House" Designed for Innovation
Wander around Oticon headquarters in Kongebakken, situated in the small town of Smørum about 20 miles west of Copenhagen, and you'll inevitably be impressed with how open, sunny, and airy it feels. You'll also get an inevitable reply from one of the 650 employees who work in the building that "Yes, it's a really nice house." Everyone refers to it as a "house"—or even "our house." This isn't a hiccup in Danish translation; that's how they think of it.
Sitting atop a small hill surrounded by large open fields, the 230,000-square-foot three-story (and full basement) building was built in 2000 by Intel as a prototype factory with plans to build two more identical structures next to it. However, the building's construction roughly coincided with the bursting of the tech bubble, and Intel was forced to abandon its plans before the interior was finished. Oticon purchased it a few years later, completely refurbished it into a "house of its own," and moved in during November 2005.
Prior to the move, Oticon's headquarters were located in the historic but comparatively small confines of the former Tuborg Brewery building, which famously featured an open floorplan, e-mail and "paperless" office, and rolling workstations—futuristic ideas in the early 90s (see "Oticon Celebrates Its Centennial" in the October 2004 HR). Oticon grew rapidly under the leadership of Niels Jacobsen, now Oticon Holding's chairman after passing over the reins of the company in 2008 to Nielsen and Executive Vice-president Mikael Worning. As Oticon continued to expand, it became obvious that the Tuborg building was too small.
However, in renovating and moving into the new building, many key features that made the Tuborg office so unique were retained or refined. It is apparent that "the house" is designed to create a work environment that fosters unconventional thinking. It features two large atrium areas, both surrounded by glass-walled work spaces. Combined with the exterior glass walls that look out onto open fields, it creates a bright expansive feeling. On the lower and basement levels are sound-rooms, labs, a machine shop and quality control center, a gym, a technical training center, and an in-house fitting/research clinic. All employees have the same basic work spaces organized into groups or teams, including management. Meeting facilities spread throughout the building range from informal high-stooled coffee islands to table-less brainstorm bays. Writable, movable walls also provide for customizable work spaces.
"The personal element is part of our DNA," says Nielsen. And "the house" is yet another reflection of Oticon's People First philosophy.
Citation for this article:
Strom KE. Oticon renews and re-energizes its "People First" strategy with new support tools and launch of Agil. Hearing Review. 2010;17(4):56,65.